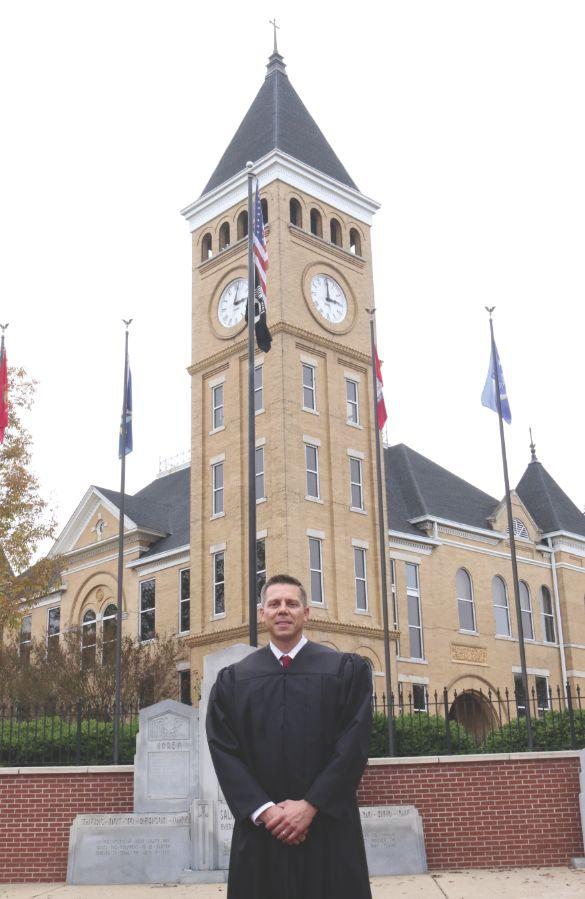 From his loving parents to the federal judges he has had the privilege to work for, one judicial candidate has plenty of inspiration to serve the community he now calls home. 
Josh Newton, who is currently serving out the Saline County District Judge position vacated by the retirement of Judge Mike Robinson, is seeking election as Circuit Judge for Division 3 in Saline County. 
Newton was selected by Gov. Asa Hutchinson in July to fill Robinson's post for the remainder of the term. He cannot run for the position because due to his appointment. 
"I was already planning to run for circuit judge prior to (being appointed)," Newton said, adding it hasn't changed his plans. 
Newton grew up in Conway where his father was a firefighter. His mother was a stay-at-home mom until Newton and his siblings began attending school, when she went back to school and became a teacher. 
"My childhood was abundant with love but not a lot of extra money," Newton said. 
His parents taught him about faith, family, hard work and helping others. With a firefighter and teacher as parents, serving others was a strong value. 
Newton lives in Bryant with his wife, Shannon, and their children, Nash, 12, and Nyla, 10. Shannon and her family are from Benton, which is what brought him to the area, though both knew they wanted to live somewhere in Arkansas. They met while attending UCA, where Newton earned his undergraduate degree. 
His graduate degree came from the University of Arkansas School of Law. 
After graduation, Newton was offered a job as a judicial law clerk for Federal Judge Margaret Mahoney in Mobile, Alabama. He held the position for two years. 
"It was an incredible opportunity," he said. 
Newton added it was there the seed was planted that made him want to one day become a judge himself. That time gave him an inside look at what judges do. 
After his time in Mobile, Newton earned a job as a clerk for Federal Judge Lavenski Smith in Little Rock so he and his wife moved to Bryant. At the time, Smith was a member of the U.S. Court of Appeals for the 8th Circuit. Now he is the chief judge. 
Typically, clerkships like the one for Smith last only one year. Newton said he was asked to continue for a second. 
Like his first federal clerkship, Newton said his time with Smith was another great experience in his career. 
At the end of the clerkship, Newton worked for a financial firm before being hired to work for the U.S. Department of Agriculture Little Rock office. He said the office handled legal matters for the USDA in Arkansas, Louisiana, Mississippi and Tennessee. Because the USDA covers a wide variety of agencies, his work dealt with more than agricultural law, from contracts to litigation to foreclosure. Defending a coastal restoration contract case, Newton was able to save the government quite a bit of money. 
From the USDA, Newton went on to be the legal counsel for the University of Arkansas Division of Agriculture, which has its own campus and is over the Cooperative Extension offices. 
That is where he was working when Hutchinson appointed him to fill Robinson's position. 
"I was just fortunate he felt I was qualified and he had confidence in me," Newton said. 
Newton knew Hutchinson through events with his wife, who is the president of the Arkansas Trucking Association, which is the main lobby for trucking companies in Arkansas. She often has to work with the governor and members of state legislators. 
Hutchinson and Newton share a love of basketball as well. Newton was asked to play in the governor's regular game. Newton feels sports are a great way to get to know who a person really is. 
Newton has been serving as district judge since July 1 of this year. One change he has made is he hopes makes the process better by giving each defendant the chance to speak to him and really understand the process. He doesn't want his court to just be a place for people to pay a fine. 
"They need their day in court," he said. 
In his role, he handles misdemeanor criminal offenses and traffic court. He also sets bond for cases. In district court, there are no juries. 
As a circuit judge, if elected, Newton would preside over felony cases. 
In his role, he plans to lean on the values his parents taught him of integrity and fairness. He understands he must be unbiased and set aside any personal beliefs no matter who is in front of him. 
"Justice should be blind," he said. 
For Newton, if elected, this position is where he wants to stay. He said he doesn't see it as a stepping stone to higher office. 
The election for Circuit Judge Division 3 will be March 3, 2020. The position is currently held by longtime Judge Grisham Phillips, who will be retiring at the end of his term.