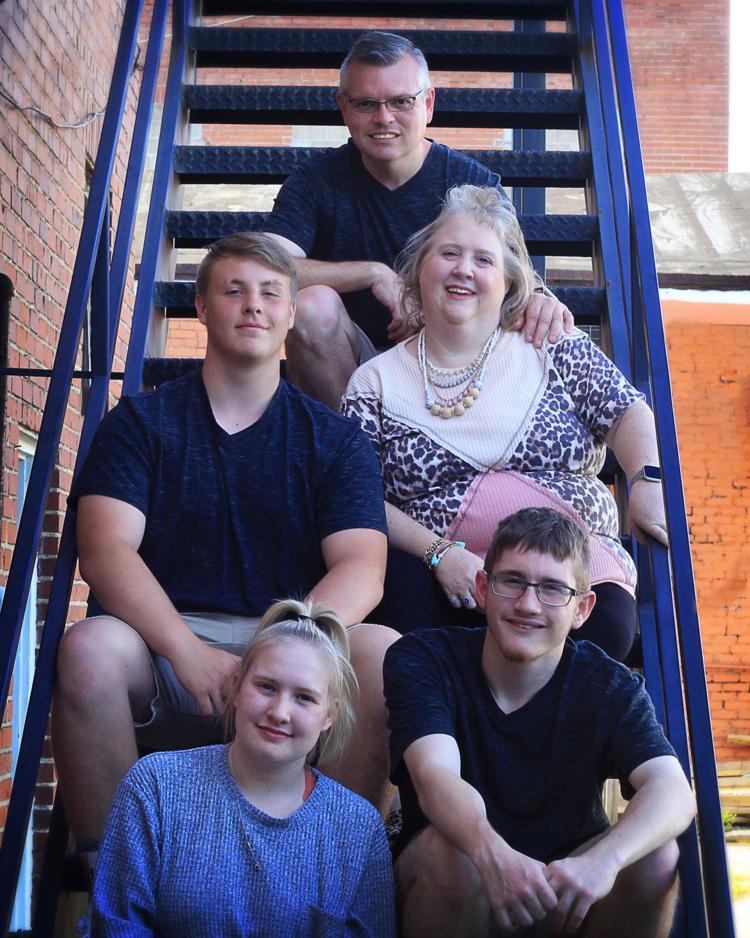 "My heart is here in Saline County and I want to do all I can to help our county grow spiritually," said newly appointed Saline County Area Representative for Fellowship of Christian Athletes Bobby Shell.
When Shell announced his retirement from the Benton Police Department in January, a FCA board member approached him about becoming the FCA Saline County area representative. After months of interviews and background checks, Shell stepped into the role in April.
As an officer with the BNPD, Shell worked at a school resource officer which gave him a solid foundation to build his FCA vision.
"I've been really blessed working with the school the past six or so years as a school resource officer," Shell said. "This position became open and they reached out to me to continue working in the schools here in the county."
Shell will be able to work the Benton, Bryant, Harmony Grove and Bauxite schools in his new role. He will work with the coaches at each school and be a resource for them both professionally and personally. He plans to make himself available to them in every area of their lives.
"My goal is to really grow FCA in our county and see revival in our coaches" Shell said. "To see a revival in our students which will lead to the homes and eventually the entire county. I really want to see our county grow in honoring God and what He does for us every day."
Shell's experience as a school resource officer will help him in his new role.
"Having those contacts with the parents in the Benton School District is going to be very, very valuable to me," Shell said. "Those parents, I'm sure, have contacts with parents in other districts that can get me in touch with those parents."
Shell said that his good relationships with the parents in the BSD are invaluable because he has people who know he is someone who can be relied upon.
"I think in my work as a school resource officer, I did good work," Shell said. "Now I'm going to do not just good work, but Godly work with those kids."
Shell added that is excited that his wife Dawn will helping him in his new role.
"We will be working a lot of stuff together through FCA," Shell said.
Both Shell and his wife are looking to expand the Fields of Faith gathering that are held across the nation on the second Wednesday in October. The interdenominational student-led event is a rally point where students can invite, pray for, share with and challenge their peers to read the Bible and follow Jesus Christ. At last years event, there were 70 professions of faith and Shell hopes to see that number grow by expanding the event. It's his desire to see all the stadiums in the district filled with not only students, but the families as well.
"We want to expand that across the county instead of just having it at one school responsible for the entire county," Shell said.
Shell hopes to meet soon with local youth pastors and school districts across the county, but until the guideline are set on how the upcoming school year will be organized, it's difficult to make plans. If the school year ends up being a non-traditional learning environment such as the recent spring semester, Shell does have plans in place to keep students involved by holding Zoom meetings and other virtual activities.
"The kids still need ministering to," Shell said. "The kids can invite their friends to our Zoom that don't know Christ and still get the Salvation story and hear the Gospel."
Whether the school year will be traditional or non-traditional, Shell is preparing for either outcome.
"Right now I'm laying the groundwork for what the school year is going to look like," Shell said. "I really cannot do much of anything though until a get fully funded through FCA."
Shell is currently about 25 percent funded. Once he is fully funded, his salary, benefits and ministry work will be covered and he can move forward with putting his plans into action.
Another new program Shell would like to add is having an FCA player of the week at the junior varsity level. Currently it's only varsity players that are featured.
"I think it's important," Shell said. "If they are showing up, what FCA wants to represent is integrity, serving, teamwork and excellence. We should be honoring those kids with some kind of small reward each week."
Shell also wants to host 5th Quarter events which are outreaches that center around FCA type events following the conclusion of games.
Born and raised in Saline County, Shell and his wife are the parents of Baley, a BHS graduate, Dale and Cole. The family attends New Life Baptist Church in Salem.
"It's a growing church with a great ministry," Shell said.
Dale is a master sergeant in the Benton ROTC and Shell is interested in holding some joint events.
"We are looking at hosting a Huddle with ROTC this year," Shell said. "FCA is not just about athletes anymore, any student can participate as an extracurricular activity."
Dale is also a member of the E-sports team.
Cole will be playing for the Panther football team as a defensive end and is also a member of the track team where he throws discus and shotput
According to Shell, the FCA vision is to see the world transformed by Jesus Christ through the influence of coaches and athletes.
"Everything we do is through the coaches and everything is student led," Shell said. "Everything that is done through FCA at our schools is student led."
When thinking about how to sum up the importance of the work FCA does with coaches and students, Shell said that it's a quote by the Rev. Billy Graham that defines it perfectly, "A coach will impact more people in one year than the average person will in an entire lifetime."
Shell said that the FCA serves a vital role in the community and that it's his desire to get the word out that the group is still around and that it's his intention to see it grow in Saline County.
Shell invites anyone who wants to know more about the FCA or how they can help through volunteering or financial donations to contact him at bshell@fca.org or to check out the new Saline County Fellowship of Christian Athletes Facebook page.