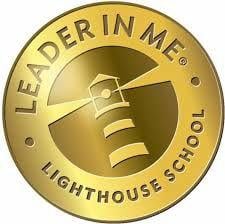 After the implementation of the Leader in Me program five years ago, Springhill Elementary School was recently named a Leader in Me Lighthouse School.
Springhill Elementary School is only the sixth school in Arkansas to obtain a Lighthouse school status. 
"We are honored to have been certified and named a Leader in Me Lighthouse School. We have seen amazing results from implementing the Leader in Me process at our school over the past five years. Our teachers and staff have worked hard to build our school community and embed these processes in our culture. Our students have learned valuable leadership and life skills, which will help prepare them for success. We are all about creating leaders," according to a prepared statement by Principal Russ Sherrill. 
Students and teachers were surprised by the announcement Tuesday.
"This was never the end in mind," Sherrill said during the presentation. "We didn't start the process with this being the end. This is just a point in the journey where somebody recognized us." 
He commended everyone involved who works on this program everyday. 
"We have these goals because we know that you never reach full maturity. There is always room to grow, always room to get better," he said. 
As part of the celebration, Mayor Allen Scott's assistant, Dana Poindexter also read a proclamation naming Dec. 3, 2019 Springhill Elementary School Day in the city of Bryant. 
"Springhill Elementary School in Bryant has created a culture of schoolwide classroom family and community leadership, providing authentic environments to celebrate leadership and allow students to practice leadership skills," according to the proclamation. 
Bryant Officer Paul Tarvin and K9 Maya also performed a few tricks for the students, and the Bryant High School cheerleaders ended the presentation with a cheer.
The Lighthouse Certification is a highly-regarded standard set by FranklinCovey Education that is attainable by every Leader in Me school. As it is a significant benchmark, applying for this certification typically occurs three to five years after a school begins the Leader in Me process.
"We are thrilled to recognize Springhill Elementary as a Leader in Me Lighthouse School. Schools who achieve this Lighthouse Certification are great examples of a strong leadership model and process, and of what it means to be a Leader in Me school. This school has experienced transformational results by implementing the principles and practices related to Leader in Me. And, we are so pleased and honored to celebrate the success they are experiencing," said Sean Covey, president of FranklinCovey Education. 
Of the nearly 4,000 schools across the country that have adopted the Leader in Me program, approximately 300 have achieved the prestigious Lighthouse certification. 
To earn the certification schools must demonstrate the following:
•The principal, school administration and staff engage in ongoing learning and develop as leaders, while championing leadership for the school.
•Leadership principles are effectively taught to all students through direct lessons, integrated approaches and staff modeling. Students are able to think critically about and apply leadership principles.
•Families and the school partner together in learning about "The 7 Habits of Highly Effective People" and leadership principles through effective communication and mutual respect.
•The school community is able to see leadership in the physical environment, hear leadership through the common language of the seven habits, and feel leadership through a culture of caring, relationships and affirmation.  
•Leadership is shared with students through a variety of leadership roles and student voice leads to innovations within the school.
•Schoolwide, classroom, family and community leadership events provide authentic environments to celebrate leadership, build culture, and allow students to practice leadership skills.
•The school utilizes the 4DX process to identify and track progress toward Wildly Important Goals (WIGs) for the school, classroom and staff.
 •Students lead their own learning with the skills to assess their needs, set appropriate goals and carry out action plans. They track progress toward goals in Leadership Notebooks and share these notebooks with adults in student-led conferences.
•Teacher planning and reflection, trusting relationships and student-led learning combine to create environments for highly engaged learning.
Springhill Elementary will maintain its Lighthouse Certification the next two years while continuing the Leader in Me program. At the end of that time, school officials will be able re-certify its Lighthouse Certification through a virtual self-assessment, describing and celebrating its growth and accomplishments since its original Lighthouse designation.