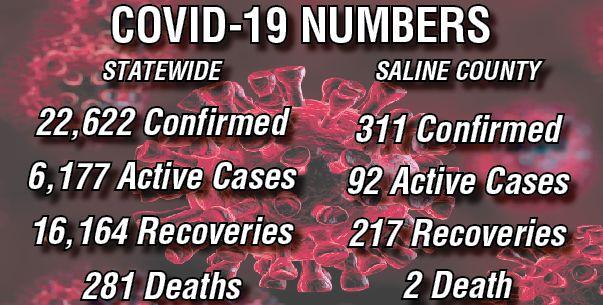 Gov. Asa Hutchinson announced a model ordinance mandating masks in public for cities in the state during his daily COVID-19 briefing Friday. 
Hutchinson discussed a recent survey asking 600 likely voters conducted by the Gilmore Strategy Group. He plans to discuss the results in more depth Wednesday but he chose to discuss the results of one question Friday. 
The survey found that 82 percent of participants choose to wear a mask in public. 
He feels that shows the success of the state's efforts to educate people about the need. 
He worked with the Arkansas Municipal League over the past week to create a model mask mandate ordinance cities can choose to adopt. 
He also announced an executive order giving cities the authority to adopt the model ordinance. 
John Wilkerson, general council for the Arkansas Municipal League, discussed the contents of the model ordinance. 
It will require mask wearing in accordance with Arkansas Department of Health guidelines. It will use law enforcement and the cities to educate and encourage mask wearing. Wilkerson said the ordinance will support business choosing to require masks. He called it an extra tool for cities. 
The ordinance does not carry any penalties or enforcement. 
The state had 547 new cases of COVID-19 for a total of 22,622 with 6,177 active and 16,164 recovered. 
Hospitalizations rose by 13 to 285 with 70 on ventilators. There were two additional deaths bring the total to 281. 
The top counties with new cases are Washington with 84, Benton with 74 and Pulaski with 74. All the other counties have less than 20 new cases. 
The state received results for 6,947 tests. 
Saline County has had 311 positive cases with 92 active, 217 recovered and two deaths. 
Across the country, there have been 2,772,395 cases with 781,970 recoveries and 129,150 deaths. 
More information about today's briefing will be in the Saturday edition of The Saline Courier.