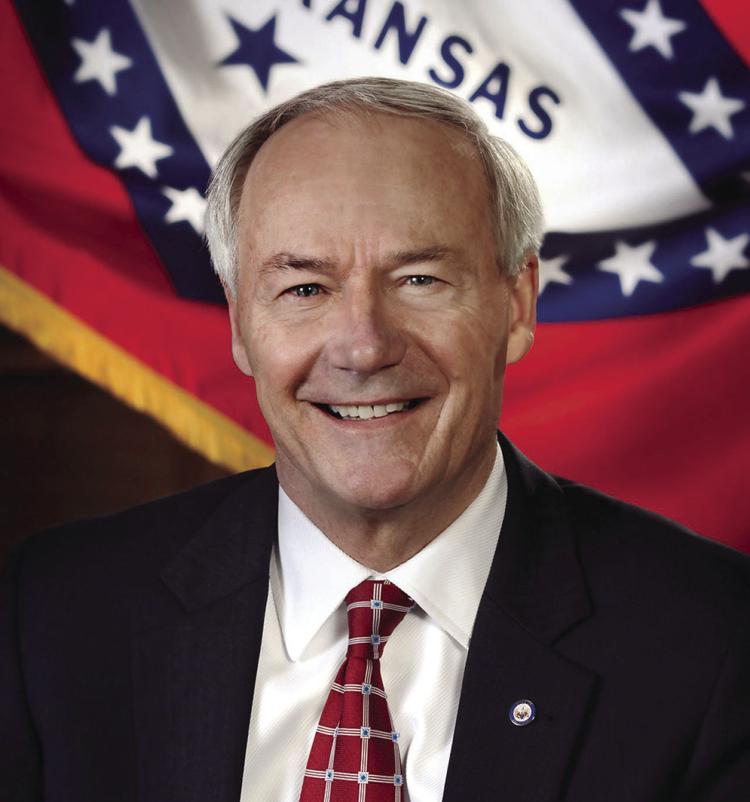 During his weekly COVID-19 briefing, Gov. Asa Hutchinson announced adjusted guidance for nursing home visitation, as well as guidance for a safe Halloween.
Hutchinson began the briefing by paying tribute to Officer Kevin Collins, of the Pine Bluff Police Department, who was killed in the line of duty Monday. He has ordered both the United States and Arkansas flags to be flown at half staff in his honor.
"Kevin Collins was an extraordinary person," Hutchinson said.
He also addressed the COVID-19 diagnosis of President Donald Trump and First Lady Melania Trump. He feels it has shown Arkansans the seriousness of the virus, resulting in more people following the guidelines.
He reminded that flu season is starting and there is a risk of suffering from both viruses. He encouraged people to receive their flu shot.
"We don't want double trouble," he said.
Hutchinson read two letters from people in Arkansas.
The first was from a nursing home resident asking to see their family. He said he has had many similar letters.
The state received a recommendation from the Centers for Medicare and Medicaid Services indicating nursing homes could have visitors if they go 14 days without a case of COVID-19.
Hutchinson announced he is loosening the restrictions for nursing home visitation.
Minimum visitation will be permitted, if approved by the resident's healthcare provider for medical treatment or compassionate care, such as a resident with depression or refusing to eat.
Expanded visitation will be permitted if a facility goes 14 days without a case, meets all staffing requirements, has adequate personal protective equipment, screens every visitor and employee, contractor and vendor who enters and restricts access to those who do not meet screening criteria.
"This is a very important step," Hutchinson said, adding these regulations keep nursing homes as protected environments.
The second letter from Amanda Elizabeth Carter, of Parkway Elementary in Bryant, asked to be able to trick-or treat on Halloween.
"If we can go to school I think we can certainly trick-or-treat," the letter read.
Hutchinson shared some of the guidelines the state is putting out to encourage a safe holiday. The full list will be available online.
The guidance recommends wearing a cloth mask instead of or with a costume mask. Parents should limit the number of houses children visit. Children should only eat factory wrapped candy.
The guidance suggests a list of low-risk activities, including carving and decorating pumpkins, decorating homes and having a virtual costume contest.
Hutchinson reported 532 new confirmed cases of COVID-19, bringing the total cumulative case total to 84,203.
Hospitalizations went up by five to 529, which he said is a new high.
In answer to a question, Hutchinson said there is a more than an adequate number of available ICU beds.
Deaths rose by 22 to 1,321. Secretary of Health Dr. Jose Romero said one death was a delayed report and four were in nursing homes. He reported no clusters.
Hutchinson said the state received results for 6,157 PRC tests and 1,059 antigen tests.
The top counties with new cases are Washington with 57, Pulaski with 43, Benton and Faulkner with 27 and Sebastian with 25.
Saline County has had 2,275 cases — 2,165 confirmed and 110 probable. There are 200 active — 184 confirmed and 16 probable. Recoveries have reached 2,050 — 1,958 confirmed and 92 probable. The county has had 24 deaths — 22 confirmed and two probable.
Across the country, there have been 7,447,363 cases with 2,911,789 recoveries and 210,043 deaths.
Romero said the White House report shows Arkansas has had impressive, but fragile, declines in key areas.
The state is still in red for new cases and yellow for positivity.
"We know this is a highly contagious virus," he said.
Dr. Ivy Pfeffer, deputy director of the Arkansas Department of Education, said she continues to be proud of educators.
There are 22 school districts taking part in some form of virtual education. She is encouraged that last week there were only 13 new districts pivoting to virtual and so far this week there have been six.
She said 25 percent of students are learning virtually.
Pfeffer announced a new initiative to support districts with virtual learners who may become disengaged or are struggling. The initiative is Engage Arkansas.
It helps districts by identifying, locating and reengaging students. It allows the districts to focus on providing education supports.
It is a partnership with the state's six education renewal zones, Graduation Alliance and the Arkansas Department of Human Services.
The initiative will determine how the pandemic has affected student enrollment and create strategies to help find no-show students, identify at-risk students and identify disengaged students.
It will provide outreach counselors, academic coaching, technical support and telehealth.
In answer to a question about the three educator deaths in the state, Hutchinson said they are a loss not only of those people but of their dedication and passion. He went on to say it is hard to trace where their cases came from.
Hutchinson believes with the recent additional funding, the unemployment trust fund is stable.
Regarding Hurricane Delta expected to hit Louisiana, Hutchinson said the state is prepared for evacuees, especially since this is the third hurricane that was expected to hit the southern state. He added Louisiana is also in a better place to help its own evacuees than it was during Hurricane Katrina.