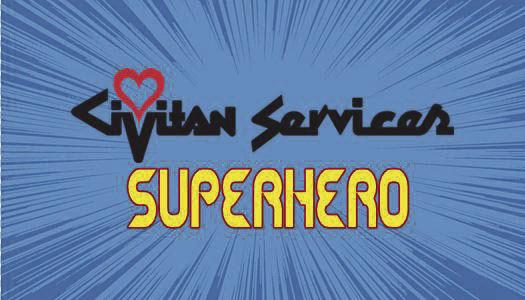 Civitan Services Superhero Walk will be from 8 a.m. to noon Saturday, starting at Civitan Services Preschool at 121 Cox St. in Benton. 
"We are feeling really good," said Special Events Coordinator Bekka Wilkerson. "We have got a lot of support."
She especially loves how excited and involved the Civitan clients are for the event. Wilkerson said there are many of the clients planning to take part in the walk which is a great opportunity for them to interact with the community. She feels interacting with clients will help the community be more invested in the mission of Civitan to raise money for the men, women and children with developmental disabilities in the community to continue to receive the services they need.
The route for the walk is 2 miles, but Wilkerson said participants can walk as much or as little as they choose. If someone wants to walk the route twice and make it a 5K, they are welcome to or if they only want to walk a few feet and turn around, they are welcome to. 
"You go as far as you feel comfortable with. You are still a superhero either way," she said. 
To help beat the heat and make it a little more fun, walkers will be battling villains along the route. Each participant will have a water gun in their bag and filling stations will be set up along the route to keep them loaded for the fight. 
Wilkerson said Civitan used to do 5Ks, but decided they wanted a more inclusive fundraiser that focused the competition more on fundraising than on a race. 
"That puts the competition into something that benefits the people at Civitan," she said. 
To take part in the walk participants need to raise at least $25, which will receive a superhero cape and goody bag. Those who raise $50 also get a Civitan Services Superhero Shirt. Raising $75 adds a Civitan Services Superhero tumbler. Those who raise $150 or more also get a stadium blanket. 
Before the race begins, the awards for individual and team most raised and best costumes will be handed out. The group most raised trophy is a traveling trophy that stays with the winner until the next year's walk. 
Last year, the trophy was won by the Civitan Adult Services Fitness Class and Wilkerson said they really want to defend their title. 
On Friday, Civitan held a bake sale to sponsor clients in the walk. They are still seeking businesses and individuals to sponsor clients at $25 each. 
So far, they have sponsors for 102 clients, but would like more than 200. 
"If we could get (sponsors for) the other 98, that would be phenomenal," she said, adding it would help reach the fundraising goal of $10,000. 
To sponsor, people can contact Civitan or follow the link through the Facebook event or www.tinyurl.com/SuperheroWalkCS19 and click donate now. Sponsors can put in the amount and at the bottom, can indicate how many they would like to sponsor, or specify a client to sponsor.
Participants can also follow that link and click start a fundraiser to start a walk team or can register their team starting at 8 a.m. the morning of the walk. 
During registration, participants can also get bagels sponsored by Panera Bread. 
Both during registration and after the walk, the vendor area, known as the training center, will be open with snow cones, a photo booth, obstacle course and other booths. Wilkerson is seeking additional vendors for the event. She would like to have a bounce house and dunking booth. She is excited about the training center. 
"We have some really great vendors," she said. 
After the walk, Bank OZK will be grilling lunch for the participants. The preschool will hold an open house for the community. 
Sponsors for this year's event include Bryant Family Pharmacy, First Electric Cooperative, Alcoa Community Federal Credit Union, Everett Buick GMC, Rivendell Behavioral Health Hospital and Middlebrooks Electric. 
Wilkerson said they are still seeking additional sponsors. Sponsors can go through the link or call Civitan at 501-776-0691.
She encourages the community to come out and support Civitan's clients and take part in the Superhero Walk.