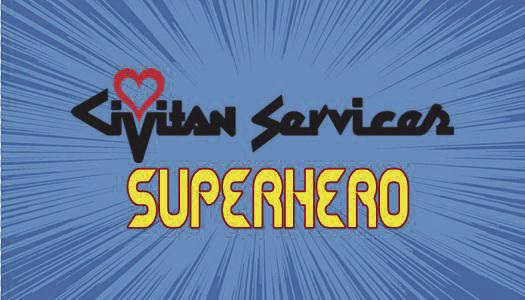 Holy caped crusaders! Civitan Services will be holding its second annual Superhero Walk on Aug. 24 at the Civitan Preschool Building, located at 121 Cox St. in Benton. 
While the route for the walk is two miles, Special Events Coordinator Bekka Wilkerson said participants can complete the whole thing or just do what they feel they can and head back to the start. They can run or walk or, if they are in a wheelchair, roll. 
"We were really looking for a way to hold an event to include everyone," she said. 
Registration and the training center will open at 8 a.m. The awards will be given at 8:30 a.m., followed by the walk. 
Instead of competing to see who can complete the route the fastest, Civitan is focusing the competition on the team and individual that can raise the most money for Civitan. The top individual and the top team will both get honored. The team trophy is a traveling trophy that goes to the winner for one year. 
Wilkerson said the Civitan Adult Services Fitness Class won last year and is already working as a team to try to keep the trophy in its classroom. 
"That puts the competition into something that benefits the people at Civitan," she said. 
To take part in the walk, participants need to raise at least $25, which will get a superhero cape and goody bag. Those who raise $50 also receive a Civitan Services Superhero shirt. Raising $75 adds a Civitan Services Superhero tumbler. Those who raise $150 or more also will earn a stadium blanket. 
In addition to the awards for top fundraisers, there will be awards for best costume for individual and teams. 
Wilkerson would like to have friendly team rivalries, such as between clubs and organizations or between businesses in the same industry. If she gets those, she plans to recognize those winners. 
In the goody bags, participants will have water guns. During the walk they will be able to fight "villains" with the water guns. Wilkerson said that was added because she knows it may be a bit warm during the walk. 
Bank OZK is scheduled to grill hamburgers and hot dogs for lunch for participants. Panera Bread is sponsoring bagels for breakfast. Both are included in the $25 to register. 
The superhero training center will be the place for vendors. It will be open before, during and after the walk. So far, there are a snow cone vendor, a photo booth and obstacle course set for the center. Wilkerson is accepting additional vendors for $25 a booth. 
Last year's event was a success, raising $5,000, according to Wilkerson. Her goal this year is $15,000, which she thinks is doable because this year she has added sponsors. 
So far, the sponsors are Bryant Family Pharmacy, First Electric Cooperative, Alcoa Community Federal Credit Union and Everett Buick GMC. 
Anyone interested in sponsoring the event can email Wilkerson. 
"(The Superhero Walk) is to raise money for the men, women and children with developmental disabilities in our community to continue getting the service they need," Wilkerson said. 
She said last year's event was fun, and she is looking forward to this year. She hopes to have as many teams and individuals as she can to take part. She said this event allows them to showcase the superheroes at Civitan Services. 
"Throw on a superhero costume, put on your alter ego and come out for a day and have fun," Wilkerson said.