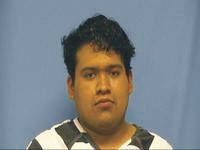 The Arkansas State Police has arrested a 20-year-old Benton man on charges of class B felony negligent homicide, class B felony reckless driving and driving under the influence as part of the investigation into a deadly crash that killed an Alexander woman early Thanksgiving Day in Bryant.
According to the ASP crash report, Alfred Cuanas Pascual was traveling west on the Interstate 30 north service road at approximately 6:15 a.m. Nov. 28 when the 2008 Ford Mustang he was driving veered off of the road and crossed the median.
Pascual came to a stop facing north in the number one traffic lane of I-30 West.
Jennifer Kelton, 24, was traveling west on I-30 in the same lane when the 2015 Nissan Altima she was driving struck the right front of Pascual's vehicle.
Pascual was treated for his injuries, but Kelton later died from hers.
According to the affidavit, authorities said they smelled alcohol on Pascual and he admitted that he had been drinking. Pascual's blood alcohol content tested at 0.03 after a breathalyzer test was administered. A blood sample was also taken for analysis by the Arkansas Crime Lab. The blood test were returned with a result of .026
Arkansas law states that underage drivers can be charged for DUI when the blood alcohol level is between 0.02 and the legal limit of 0.08.
Pascual is currently out of custody on bond and is due in court Feb. 25.
This fatal accident was one of two that happened Thanksgiving Day in Bryant.
At approximately 5:15 p.m., three victims were pronounced dead at the scene after the vehicle they were in was struck in the rear by a commercial truck — a 2019 Volvo — according to the Arkansas State Police.
A Preliminary Fatal Crash Summary stated that the passenger vehicle — a 2007 Nissan Altima — was stationary on the shoulder of eastbound Interstate 30 near mile marker 123 when it slowly began to re-enter traffic.
It was then the vehicle was struck from behind, according to police.
Katrina Dunnick, 39, of Little Rock, and two juveniles died as a result of the accident.
Two other juveniles, including the driver, were also injured in the crash and transported to Arkansas Children's Hospital in Little Rock.
Mavlyud Akhmedov, 52, of Michigan, the driver of the commercial truck, also was injured and transported to an area hospital.
Conditions were reported as wet at the time of the accident.