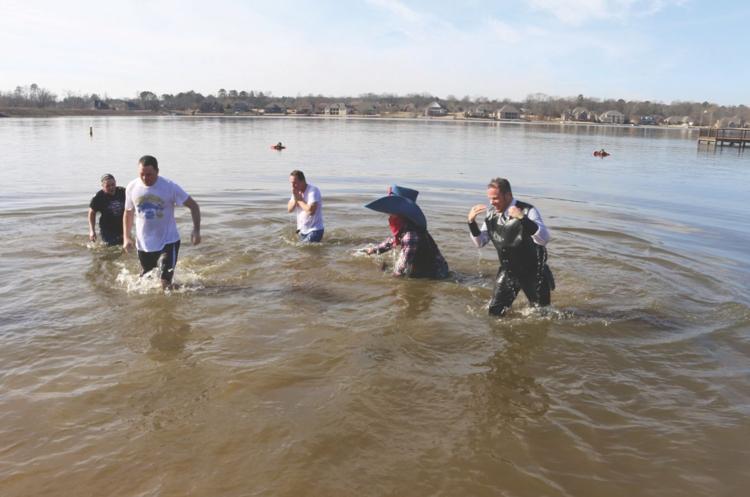 Special Olympics of Arkansas will hold the 10th annual Polar Plunge in Saline County Jan. 25 at Hurricane Lake Estates, 6015 Worth Avenue in Benton. 
Registration will begin at 9 a.m. in the Estates clubhouse. The costume parade will take place between 10 and 10:30 a.m. Awards will be given out at 10:30 a.m. The plunge will take place at 11 a.m. 
"The Polar Plunge is to raise money for Special Olympics to send athletes to competitions," said Bobby Shell, school resource office and coordinator for Benton Police Department. 
Shell said participants can forming a team and signing up through www.firstgiving.com/organization/soar to start raising funds or just start raising funds to turn in the day of the event. Teams can be as little as one person or as many people as want to join.
According to Shell, last year Saline County had a record number of teams and was the number one fundraiser for the state raising more than $25,000. 
The organizers hope to beat last year's amount and raise even more. 
"If we could reach $30,000, that would be awesome," Shell said. 
While First Giving tracks the amount raised up to the plunge, Shell said every year teams that raised cash only show up that the organizers didn't even know about. Sometimes those teams can change the rankings drastically. 
Typically, Shell said, there is quite a bit of competition between groups from the same industry. There are usually real estate agents competing to raise the most money, banks competing against each other. The different law enforcement agencies compete. 
"It is just a great fun time," Shell said. 
Before the plunge, there are several awards. The top awards are for the individual and the team that raises the most money. 
During the costume parade, a panel of judges score the individual and team costumes and awards are given for the best costume and group costume. 
"Some are kind of wild and crazy and some are bizarre," Shell said. 
Some teams have already started to organize. Benton's JROTC and a group from the Benton Junior High School have both gotten started. Shell wants to see more Benton teams and Bryant teams. He'd really like to see Bryant's JROTC have a team. 
"We welcome everybody," he said. 
He'd love to see Benton and Bryant have a Polar Plunge Salt Bowl to see which school could raise the most. 
There is no cost to sign up but every team must fundraise. There will be prizes based on the amounts raised. 
For those who want to support but not plunge, they can donate to a team or purchase a  "Too Chicken to Plunge" T-shirt for $25. 
With the plunge being in January, Shell said, it is impossible to know ahead of time how cold the water and the weather will be that day. He said there have been years the water has been freezing and at least one year where it was more than 60 degrees outside. 
To keep the plungers safe, Grant County Search and Rescue will provide a dive team that will be in the water to help any plunger in distress. 
Everett Buick GMC will once again be a partner for the plunge. 
"They are a huge supporter of Saline County," Shell said. "Many things wouldn't get done in schools and county without Everett."
Chick-fil-A will be providing breakfast sandwiches and Starbucks on Alcoa will be providing coffee and warm beverages. 
Shell said the plunge could not happen without Hurricane Lake Estates allowing them to use its facilities and lake. 
Horton Brothers Printing, the Benton and Bryant police departments and the Saline County Sheriff's Office are all sponsors of the event. 
Shell encourages the community to take part and support Special Olympics. He said the Special Olympics athletes love to have people attend and cheer them on during the costume parade and the plunge. Shell called the athletes a blessing. 
Shell said any business that would like to support the plunge financially or by making donations can contact the Benton Police Department at  501-778-1171. Last year, the organizers were able to collect enough donations that they were able to put together goody bags for the athletes. 
Anyone interested in Polar Plunge can contact the Benton Police Department or Paula Calhoun, field representative, at 501-425-8343. 
Whether a person plunges, donates or cheers on the plungers, Shell encourages the community to attend the plunge.