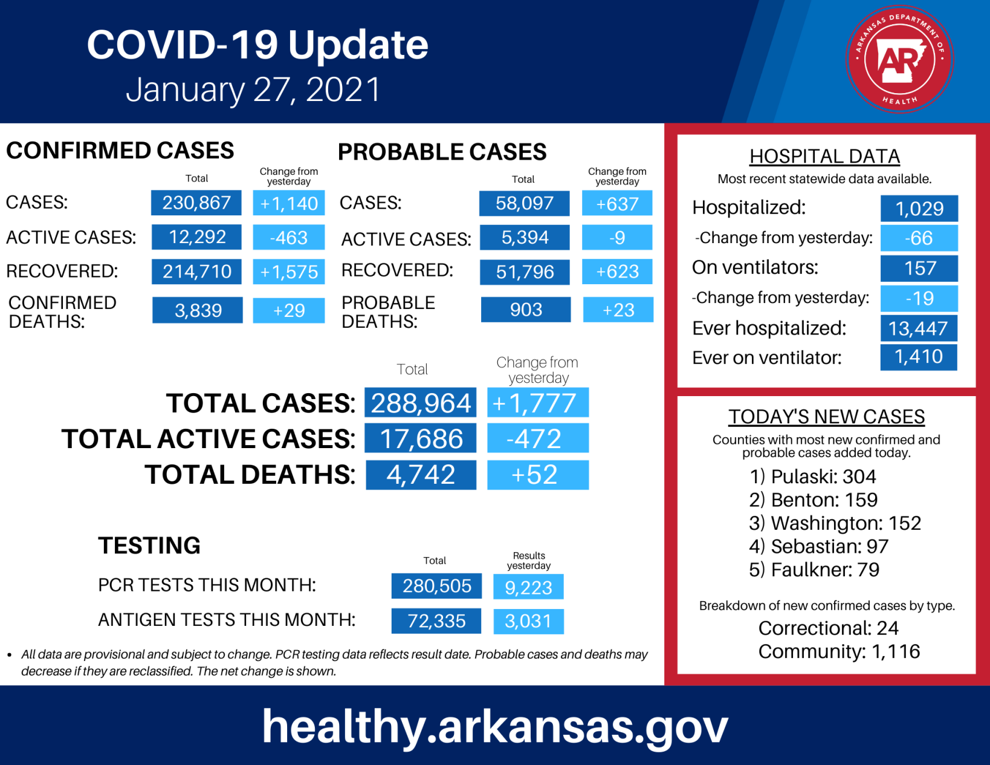 According to the Arkansas Department of Health, the state has had 1,140 new confirmed cases of COVID-19 for a cumulative total of 230,867 with 12,292 active and 214,710 recoveries.
Probable cases went up by 637 to 58,097 with 5,394 probable active cases and 51,796 recoveries.
Confirmed deaths rose by 29 to 3,839 and probable deaths increased by 23 to 903.
Hospitalizations dropped by 66 to 1,029 with 157 on ventilators.
The state received results for 9,223 PCR tests and 3,031 antigen tests.
The counties with the most new cases are Pulaski with 304, Benton with 159, Washington with 152, Sebastian with 97 and Faulkner with 79.
Saline County has had 10,112 cumulative cases — 7,661 confirmed and 2,451 probable. Active cases are at 672 — 456 confirmed and 216 probable. There have been 9,293 recoveries — 7,079 confirmed and 2,214 probable. The county has had 145 deaths — 124 confirmed and 21 probable.
"There are over 700 fewer new cases and over 2,700 fewer active cases than this time last week," said Gov. Asa Hutchinson in the release for the numbers. "Our vaccine distribution efforts remain a top priority while we gradually receive additional doses. The steps we are taking to slow this virus appear to be having an effect. We cannot relax from following health department guidance."