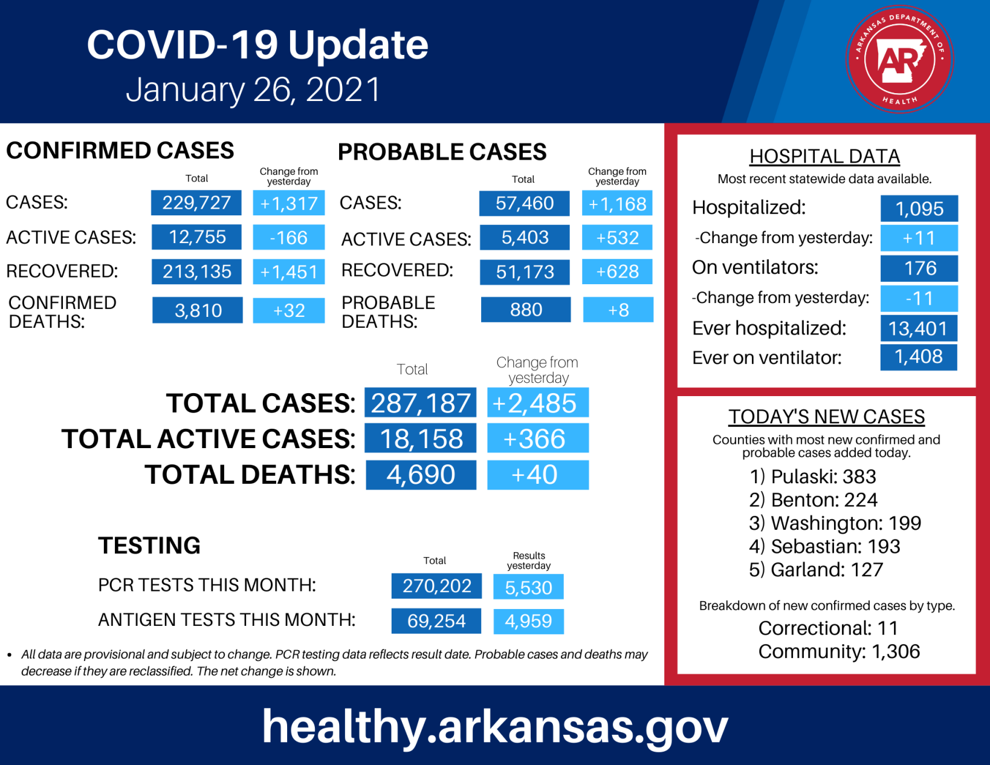 On Tuesday, the Arkansas Department of Health reported 1,317 confirmed new cases of COVID-19 for a cumulative confirmed total of 229,727 cases with 12,755 active and 213,135 recovered.
Probable cases rose by 1,168 to 57,460 with 5,403 active probable cases and 51,173 recoveries.
Confirmed deaths increased by 32 to 3,810 and probable deaths went up by eight to 880.
Hospitalizations rose by 11 to 1,095 with 176 on ventilators.
The state received results for 5,530 PCR tests and 4,959 antigen tests.
The counties with the most new cases are Pulaski with 383, Benton with 224, Washington with 199, Sebastian with 193 and Garland with 127.
Saline County has had 10,036 cumulative cases — 7,604 confirmed and 2,432 probable. Active cases are at 691 — 472 confirmed and 219 probable. There have been 9,200 recoveries — 7,008 confirmed and 2,192 probable. The county has had 143 deaths — 122 confirmed and 21 probable.
Across the country, there have been 25,362,794 cases with 423,010 deaths.
Gov. Asa Hutchinson gave his weekly briefing. He discussed the state's effort to get the vaccination out to as many people as possible as quickly as possible.
The full story of his briefing will be in the Wednesday edition of The Saline Courier.