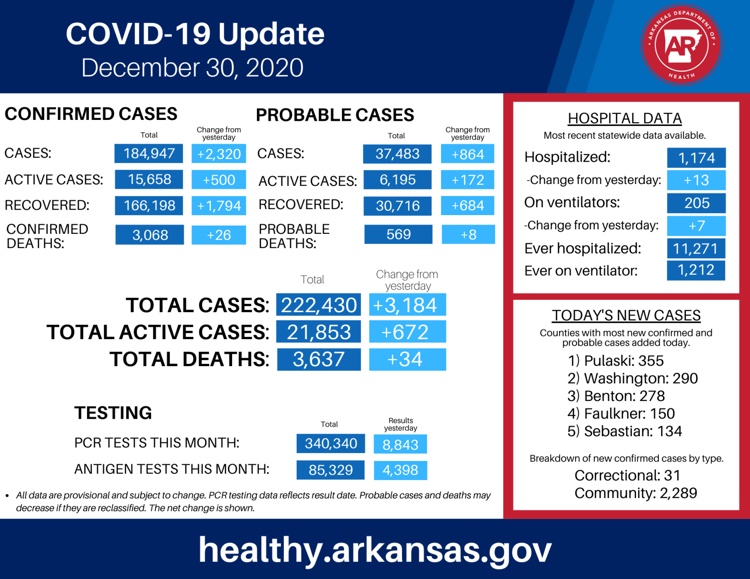 The Arkansas Department of Health COVID-19 case report for Wednesday shows 2,320 new confirmed cases for a cumulative confirmed total of 184,947 cases with 15,658 active and 166,198 recovered. 
Probable cases increased by 864 to 37,483 cumulative probable cases with 6,195 probable active cases and 30,716 recoveries. 
Confirmed deaths rose by 26 to 3,068 and probable deaths went up eight to 569. 
Hospitalizations increased by 13 to 1,174 with 205 on ventilators.
The state received results for 8,843 PCR tests and 4,398 antigen tests. 
The counties with the most new cases are Pulaski with 355, Washington with 290, Benton with 278, Faulkner with 150 and Sebastian with 134. 
Saline County has had 7,494 cumulative cases — 5,916 confirmed and 1,578 probable. Active cases are at 772 — 556 confirmed and 216 probable. There have been 6,619 recoveries — 5,269 confirmed and 1,350 probable. Deaths in the county are up to 102 — 90 confirmed and 12 probable. 
Nationally, there have been 19,715,899 cases with 341,845 deaths.
"We continue to see high numbers of new cases and capacity pressures on our hospitals," Gov. Asa Hutchinson said in the release. "I urge everyone to be careful as we enter another holiday to reduce the virus spread, and we need to support each other as Arkansans while we work to distribute the vaccine."