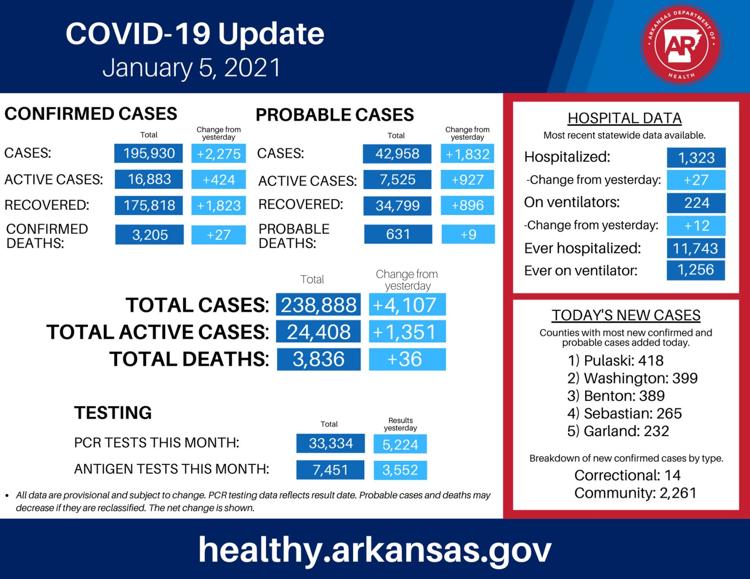 During his weekly news briefing Tuesday, Gov. Asa Hutchinson shared the COVID-19 numbers.
There were 2,275 new confirmed cases of COVID-19 for a cumulative confirmed total of 195,930 with 16,883 confirmed active and 175,818 recovered.
Probable cases increased by 1,832 to 42,958 cumulative probable cases with 7,525 probable active cases and 34,799 recoveries.
Hutchinson called this new number of cases high.
Confirmed deaths rose by 27 to 3,205 and probable deaths increased by nine to 631.
Hospitalizations went up 27 to 1,323 with 224 on ventilators.
Chancellor of the University of Arkansas for Medical Sciences Dr. Cam Patterson said both new cases and hospitalizations have hit a milestone.
The state received results for 5,224 PCR tests and 3,552 antigen.
The counties with the most new cases are Pulaski with 418, Washington with 399, Benton with 389, Sebastian with 265 and Garland with 232.
Saline County has had 7,934 cumulative cases — 6,210 confirmed and 1,724 probable. Active cases are at 813 — 573 confirmed and 240 probable. There have been 7,012 recoveries — 5,542 confirmed and 1,470 probable. The county has had 108 deaths — 94 confirmed and 14 probable.
Nationally, there have been 20,981,023 cases with 356,228 deaths.
The full story on Hutchinson's briefing will be in Wednesday's edition of The Saline Courier.