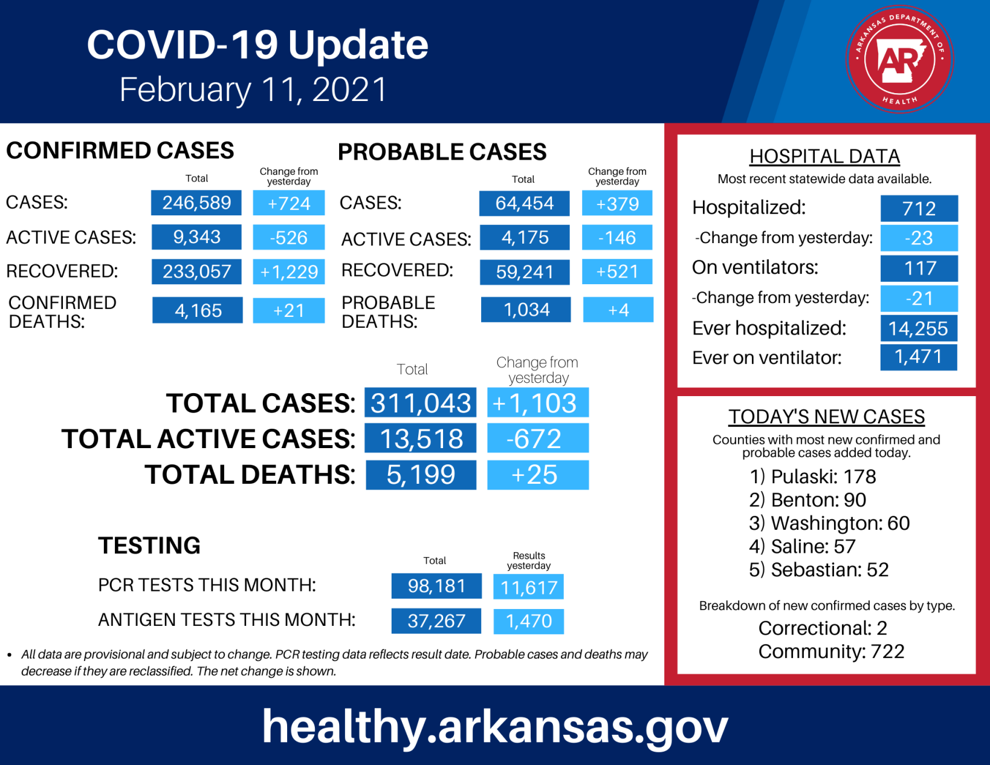 The Arkansas Department of Health reported 724 new confirmed cases of COVID-19 on Thursday, bringing the total confirmed cases to 246,589 since the pandemic began. Active cases fell by 526 to 9,343 and there have been 233,057 recoveries. 
There were 379 new probable cases for a probable total of 64,454. Probable active cases decreased by 146 to 4,175 with 59,241 recoveries. 
Confirmed deaths rose by 21 to 4,165 and probable deaths increased by four to 1,034. 
Hospitalizations dropped by 23 to 712 with 117 on ventilators. 
The state received results for 11,617 PCR tests and 1,470 antigen tests. 
The counties with the most new cases are Pulaski with 178, Benton with 90, Washington with 60, Saline with 57 and Sebastian with 52. 
Saline County has had 11,097 cumulative cases — 8,327 confirmed and 2,770 probable. Active cases are at 611 — 294 confirmed and 217 probable. There have been 10,325 recoveries — 7,797 confirmed and 2,528 probable. The county has had 159 deaths — 134 confirmed and 25 probable. 
Nationaly, there have been 27,366,838 cases with 474,554 deaths. 
"For the second day in a row, we see a decrease of over 50 percent in new cases from last week," said Gov. Asa Hutchinson in the release for the day's numbers. "Vaccine administration has progressed throughout the state, with an increase of over 94,000 since last week. We must continue doing our part in this fight."