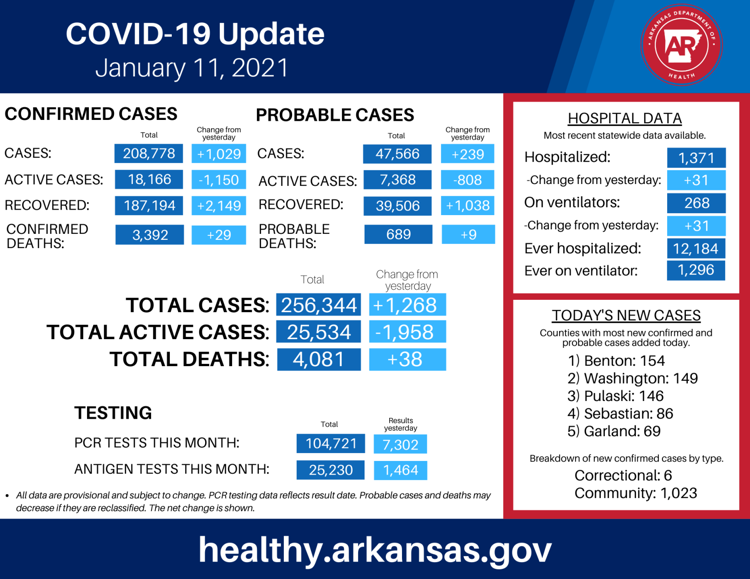 According to the Arkansas Department of Health, confirmed cases of COVID-19 rose by 1,029 to 208,778 cumulative confirmed cases with 18,166 active and 187,194 recoveries. 
Probable cases increased by 239 to 47,566 probable cumulative cases to 7,368 active and 39,506 recoveries. 
Confirmed deaths went up by 29 to 3,392 and probable deaths rose by nine to 689. 
Hospitalizations increased by 31 to 1,371 with 268 on ventilators. 
The state received results for 7,302 PCR tests and 1,464 antigen tests. 
The counties with the most new cases are Benton with 154, Washington with 149, Pulaski with 146, Sebastian with 86 and Garland with 69. 
Saline County has had 8,791 cumulative cases — 6,800 confirmed and 1,991 probable. Active cases are at 993 — 669 confirmed and 294 probable. There have been 7,677 recoveries — 5,996 confirmed and 1,681 probable. The county is up to 120 deaths — 104 confirmed and 16 probable. 
Across the country there have been 22,575,895 cases with 375,838 deaths. 
"Today's report of 31 additional hospitalizations will add to the load of our health care workers," Gov. Asa Hutchinson said in the release. "The better news in the new cases are starting to slow somewhat. Let's work toward a true downward trend."