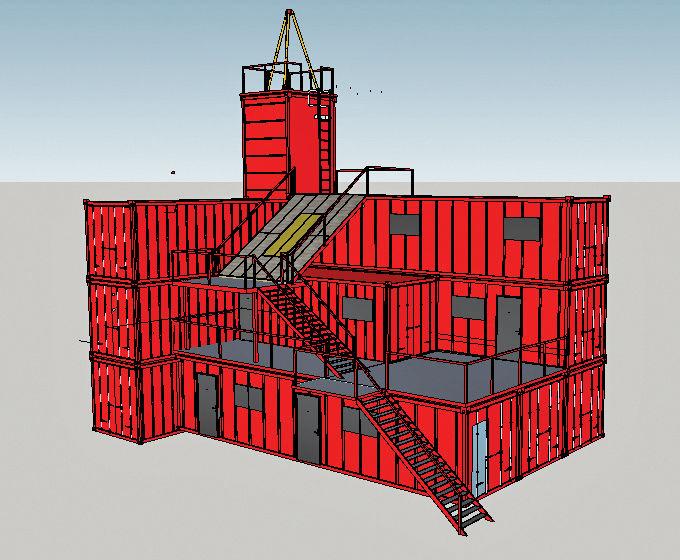 After the recent construction of two Bryant fire stations came in under budget, the Bryant Fire Department will use surplus funding for a new training facility. 
The 2,270 square-foot steel structured facility will be located behind Fire Station 2 on South Reynolds Road. 
The building which will consist of 10 Conex boxes can be used for a variety of training purposes. 
"I've wanted to do this every since I've been here," Jordan said. 
Currently, Bryant officers must do training on parking lots or in apparatus bays. For other options, the firefighters have to travel to nearby training facilities. 
"The addition of this training facility will assist fire department personnel in staying current on the skills that are the basis of their job, while simultaneously providing a place to gain additional, more advanced skills that can improve their overall performance and capabilities.  This is something our department has needed for a long time," Jordan said. "We can do it here and save time and money.  We also can use the facility anytime we want.  Our firefighters are motivated and want to train.  I'm excited we can finally give them a place to properly do it. 
Because the facility is constructed using Conex boxes, firefighters will be able to do live burns inside the building. Jordan said majority of the time the trainings in the facility will not include live burns. In the facility, firefighters can practice, search and rescue, victim rescue and hose advancement, Jordan said. 
With movable walls and interior staircases, the firefighters will be able to practice a variety of different situations. 
The facility will also be lit so firefighters can conduct trainings at night. 
During a recent Bryant City Council, members voted to waive competitive bidding for the purchase of the facility. 
According to the ordinance, the purchase of the facility has been determined to be a "exceptional situation where the bidding procedure is hereby deemed not feasible or practical."
The facility will be purchased "through a vendor with special demonstrator model pricing utilizing bond funds," according to the ordinance. 
The cost of the facility is $130,000.  
The facility has been purchased through a company owned by a Texas firefighter. 
The pieces of the facility will be fabricated in Houston before it is trucked in Bryant. Jordan is hoping to have the facility constructed by the end of September, he said. 
"It is always a benefit to the community when we provide additional support for our public safety personnel.  This structure will allow the Bryant Fire Department to train on various scenarios, from technical rescues to basic firefighting operations, on their own time schedules."