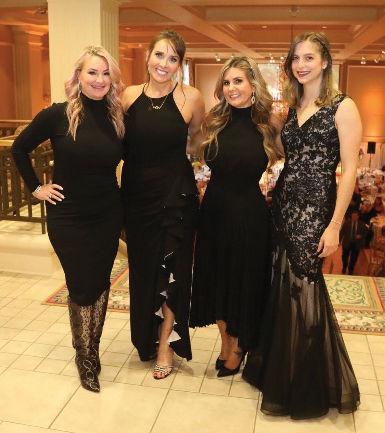 With the help of Brandi Passante from the show "Storage Wars," Women's Own Worth, an organization that helps survivors of domestic violence and violent crimes, recently raised more than $100,000.  
During WOWapalooza, an annual event to benefit the organization, Passante served as emcee. 
Passante met the organization's founder Jajuan Archer, who is a survivor of domestic violence, through a mutual friend, Cari Cellini, and a common love for NASCAR. 
While attending an event in Dallas, Passante heard Archer's story and decided she wanted to help. 
"I have experienced some things in my life, and it's a really wonderful cause. It's things that are needed, so I wanted to help in any way possible," Passante said. 
Archer, very appreciative of Passante's help said, "our time is our most valuable asset. She took a lot of time doing this." 
Passante is known for being featured on the show "Storage Wars." She started attending storage auctions as a hobby and later started a business. She was cast on the show by chance. 
While doing a pilot, the production company for the show was attending auctions and filming people. 
"They asked if we wanted to be on camera for a few minutes … we really didn't think it would go anywhere, but it became a big deal," Passante said. 
She said she enjoys attending auctions, but they are a lot of work. 
"It's like moving day every day," she described. 
When asked about the show, she said it is a pretty accurate depiction of what actually happens during the auctions, but usually there are more people in attendance. The character's depictions on the show are also accurate, she said adding that there is a competition between individuals featured. 
"We're not buddies. We don't go hang out afterwards," Passante said. 
The TV star said she plans to participate in the WOWapalooza event again. Passante only had kind words to say of her time in Arkansas. 
"I just love it here. Everyone has been so kind and generous," Passante said. 
While in Central Arkansas, she had the opportunity to hike Pinnacle Mountain. She called the view stunning and "worth it." 
Archer said she is still finalizing the numbers from the recent event but said she estimates the organization raised between $115,000 and $120,000. 
This is the most the organization is ever raised. Last year, a goal was set at $85,000 and a total of $93,000 was raised. The goal for this year's event was $100,000. 
Half of the proceeds will go into the organization's regular budget which is used to provide assistance for survivors. The organization provides survivors with mental health therapy as well as "anything that our clients need," Archer said. 
This year the organization also provided $6,000 in scholarships. Archer hopes to provide $10,000 in scholarships during the upcoming year. 
The other half of the proceeds will be used to construction a home in Saline County for survivors. 
This is the first of five homes on a 2-acre tract of land on Springhill Road. 
Archer said the home will allow survivors to establish themselves and become a part of the community. 
One family will be able to live in the home for up to two years. Rent for the property will be set based on HUD housing requirements, Archer said. 
"It's a home that people can enjoy as their own," Archer said adding there there is a need for transition homes. "If you go somewhere that is a crisis emergency facility, you can't stay there very long and then what do you do?"
The home will provide a place where survivors can enjoy "a free life like everyone is able to live."
Prior to the event, the organization had land available, $100,000 raised and services donated for the build. With the proceeds from the event, Archer plans to begin construction at the beginning of the year. 
One Bryant company, River City Flooring, is providing supplies and labor for flooring and back splashes at the home.  
Other individuals who would like to donate services or supplies for the project are encouraged to visit's the organization's website, www.womensownworth.com.
Saline County companies that donated to the organization during the event included LKQ Corporation in Bryant, Everett Buick GMC, Walmart in Bryant and Cross Iron Construction. 
Along with donating to the organization, Sissy's Log Cabin also gave Passante a gift for volunteering her time.