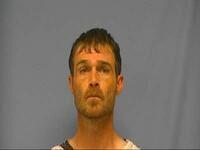 According to the Saline County Sheriff's Office, two men have been arrested after allegedly attacking a The Saline Courier independent contractor in her vehicle while she was delivering papers Saturday.
Justin Ausbrooks and Chris Hall have been charged with aggravated assault, a Class D felony; leaving the scene of an accident, a Class B misdemeanor; second-degree criminal mischief, a Class D felony; reckless driving; and obstructing governmental operations, a misdemeanor.
According to the SCSO incident report, deputies responded to the area of Donna Lane and N. Sardis Road early Saturday morning. Dispatch advised that the victim, who was driving a white Chevy Cavalier, was being chased by two vehicles, a grey Dodge Ram and a blue jeep. The victim, a female, said she had been rammed four times by the jeep.
After making contact with the victim, the victim led deputies back to the residence where the Dodge Ram was located, later identified as Ausbrooks' residence.
Ausbrooks told deputies that the victim was shining lights into his home and was on private property and that he had seen three people in the victim's vehicle. At that time, he also stated no other vehicles were involved. In a post Miranda interview, Ausbrooks told investigators that he contacted Hall about the incident and that Hall responded in his blue Jeep.
Hall and the jeep were later located at Hall's residence. He told investigators that he received a call from Ausbrooks about three guys messing with his residence. Hall admitted to driving the blue jeep and ramming the victim's vehicle four times due to the victim slamming on her brakes.
Hall's vehicle was photographed and white paint, the same as the victim's vehicle, was seen on the front bumper of Halls's jeep.
Ausbrooks and Hall were booked into the Saline County Detention Center. The investigation remains on-going.