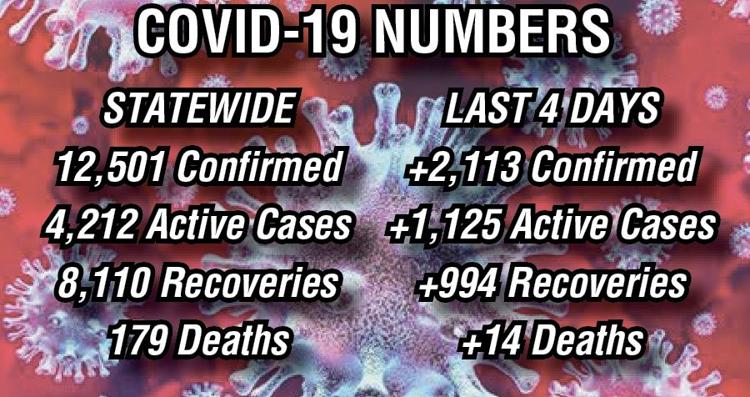 Citizens of Arkansas saw a spike in COVID-19 cases from Thursday until today.
In the last four days, 2,133 additional confirmed cases have been reported by the Arkansas Department of Health. Also, an additional 1,125 active cases are now being monitored while 994 have recovered during that time.
There has also been an additional 14 deaths since Thursday.
In all, there are 12,501 confirmed cases with 4,212 active cases 8,110 recoveries and 179 deaths.
On Friday, the state saw and increase of more than 730 cases, a single-day high since the start of the pandemic.
On Saturday, an additional 500-plus were reported.
Hospitalizations have topped 200 in the state with more than 1,000 ever being hospitalized due to the virus. 
Forty-five are currently recovering on ventilators and 163 total have had to be placed on a ventilator throughout the pandemic in the Natural State.
In Saline County, numbers did not see a rapid increase as 15 additional confirmed cases were reported with an increase of three active cases, 12 recoveries and no more deaths during that four-day timeframe. 
In all, 174 confirmed cases have been reported in the county since the start of the pandemic with 48 remaining active, 124 recovering and deaths are currently at two with the most recent being reported last week.
During a news conference late last week, Arkansas Gov. Asa Hutchinson announced today would be the start of moving the state into phase two of reopening.
Hutchinson continues to update citizens daily at 1:30 p.m.