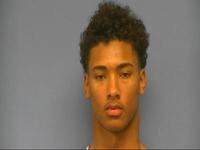 In a negotiated guilty plea to a number of amended charges, Catrell Lamont Wallace has been sentenced to 120 days in the Saline County Detention Center and 12 months of probation.
According to court documents, Wallace, 20, was originally charged in June 2020 with rape, a Class Y felony; tampering, a Class D felony and possession of child pornography, a Class C felony.
Wallace pled guilty Wednesday to public sexual indecency, a Class A misdemeanor; contributing to the delinquency of a minor, a Class A misdemeanor and tampering, a Class A misdemeanor.
He will not be required to register as a sex offender or provide a DNA sample. A no contact order has been established with the victim and Wallace will not be allowed any unsupervised contact with any minor female under 16 years old. He will also pay $1,190 in court costs and fees.
Wallace was booked into the SCDC on Wednesday in relation to the jail portion of his sentence.
Inmate records show that Wallace was first booked into the SCDC in February 2020 in connection with an incident which reportedly occurred during the early morning hours of New Years Day. He was later released after posting bond. Formal charges were filed in June of that year.
Arkansas law states that anyone who engages in sexual intercourse or deviant sexual activity with a person less than 14 years of age may be charged with rape.
According to court documents, the victim was 12 years of age at the time of the incident.
"Wallace was 18 years of age at the time of the incident; the victim was 12. Although it appears to have been a consensual encounter, (Benton Police Department) detectives were able to determine that Wallace had reason to believe the victim was underage at the time of the crime. It was also noted that Wallace instructed witnesses to lie about the crime in an effort to conceal it," said BNPD spokesperson Krista Petty at the time of Wallace's arrest.
Since Wallace was a Bryant student and football player at the time of his initial arrest, the Bryant School District also issued a statement.
"We were made aware of the arrest of one of our students. At this time, we have no information that the alleged incident happened at school or at a school sponsored event," according to a statement from the Bryant School District. "We consider this a law enforcement investigation and refer all questions to the Benton Police Department."
Following the 2019 football season, Wallace signed his letter of intent to join Coach Sam Pittman and the Arkansas Razorbacks and was recruited as one of the top players in the state at the time.
During a teleconference with reporters following Wallace's arrest, Pittman later announced that Wallace would no longer play for the Razorbacks.