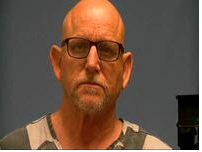 Circuit Judge Josh Farmer issued a warrant and set a bond of $1 million for a Benton man after he failed to appear in court Monday. 
According to Farmer's order, Robin Russell Roberts, of Benton, signed an agreement Friday that he would plead guilty to two counts of first degree sexual assault. He was scheduled to appear in court Monday to enter that plea. Legal counsel for Roberts appeared and said that he had told Roberts to be in court Monday. 
"Without excuse, the defendant did not appear before the court onethat day and is in violation of the terms of his bond," according to the order. 
Roberts, 63, was charged in 2020.
According to court documents, the victim came forward to investigators stating that he had been raped by Roberts and was coming forward because he feared that Roberts was also assaulting another victim. The victim stated that he had seen Roberts do similar things with the second alleged victim that Roberts had done to him.
Investigators followed up with the second juvenile victim who disclosed that Roberts had assaulted him as well.
A jury trial for the case was set to begin Wednesday.