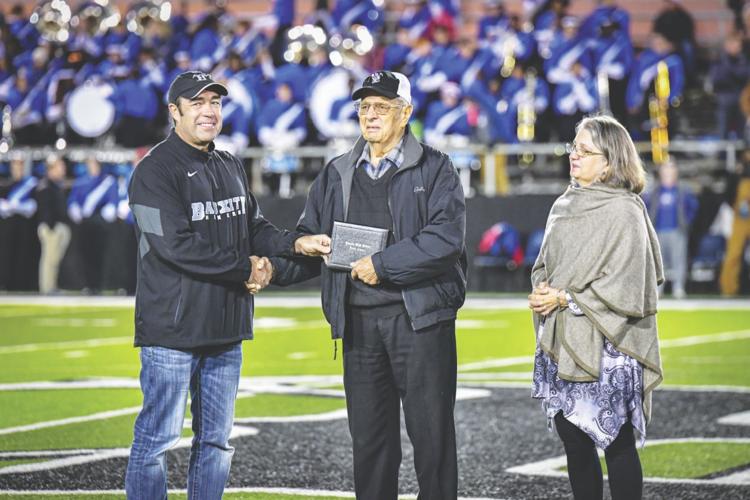 Many decades after he left school to join the U.S. Marines at the end of World War II, one local man was recently honored with his high school diploma during a Bauxite High School football game. 
"It is a once-in-a-lifetime deal," said Hubert Spann, who left the Marines as a private first class. 
Spann attended Bauxite from the third to ninth grade. In the ninth grade, he was an All-State football player in the 1943-44 season. Due to an injury to his hand, he couldn't complete his typing course, which made him ineligible to play the following year. 
"That is when I decided to join the Marines," he said. 
He spent two years in the Marines at the end of World War II. He went to boot camp at Paris Island and was deployed in Guam. When the war ended, he was sent to China where he and his fellow soldiers worked to rebuild the country. 
When Spann returned home at the end of his duty, his family had moved to Benton. He re-enrolled in school. The district credited his service as 10th grade and put him in the 11th grade. He played football for the school until he passed his GED so he dropped out again. 
He attended Arkansas Tech University for a year and then transferred to the College of the Ozarks and studied in the School of Pharmacy. He earned his degree in pharmacy in 1951 and took a job out of town. 
He returned to the community to work for Smith-Caldwell Pharmacy for four years before leaving again to become a drug representative for a company covering western Tennessee — a job he held for 30 years. 
He moved back to Benton to be closer to his son, Greg, a preacher at Cross Bar C Cowboy Church, and his grandchildren. 
Spann was hired part-time at West Side Pharmacy, but became full-time when one of the partners fell ill. He spent 28 years working for the pharmacy. 
His daughter, Carol, a pharmacist in Texarkana, moved back to Benton to be with her father. 
Spann's brother and sister were also involved in Bauxite athletics and his sister and brother-in-law have been involved in the Bauxite Museum. The family has donated items, including the charm Spann received for All-State, to the museum. 
Ginger English, who is also involved with the museum, had long wanted to have Spann recognized for his athletics with the Hall of Fame, but ran into problems finding any documentary evidence of his time in Bauxite. English found some hand-written notes that mentioned Spann as an All-Star player. She also found a picture of the team with his name listed. 
While preparing to celebrate 100 seasons of football at Bauxite, the school realized Spann received a diploma. He had tried to get one through Veterans Affairs years previous, but was told it wouldn't be possible. 
The school approached Spann saying it wanted to honor him with a diploma. 
Before the start of the Senior Night football game — and after all the senior athletes were recognized — Bauxite Superintendent Matt Donaghy presented Spann with his diploma. 
"It has been a world-wind journey," Spann said, adding he thought it was neat. 
His diploma shows him as being a part of the Class of 1948, which was the class he was in the ninth grade with. 
He said he wanted to jump up and down when he got his diploma. 
"It is a feeling you only get once in a lifetime," Spann said. 
Now that he is officially a Bauxite graduate, Spann said he is following the teams a lot closer. 
Spann had previously made appearances talking to Bauxite players. He said whenever he gets the chance to talk to players he reminds them someone is always watching. 
As a teen, he looked up to two boys. One went into the Marines and the other was a "Christian," while Spann was not. He looked to the second boy as an example of right and wrong, though the boy never knew it. 
Spann believes his time in the military helped him grow up. He said he had duty drilled into him, that God, country and his fellow man came first. 
He believes his time playing football helped him as a soldier because it taught him to follow directions. 
"I am proud of my service and I am proud to be an American," Spann added.