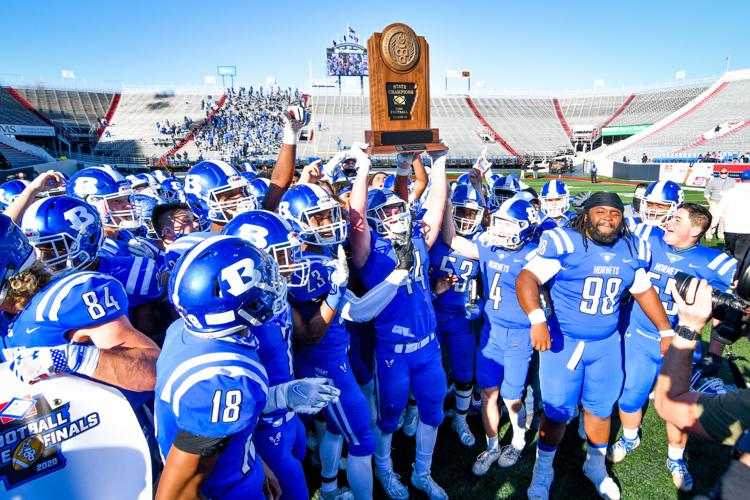 LITTLE ROCK — No 7A Arkansas high school football team had ever won three straight state championships — until Saturday.
On the cusp of a second straight 13-0 season and a third straight title, the Bryant Hornets entered War Memorial Stadium with everything to lose Saturday.
Standing in their way was the most familiar of foes — North Little Rock — the team Bryant had beaten the past two title games and the last five meetings overall.
Bryant's last loss came at the hands of the Wildcats in Week 9 of 2018.
Though not the blowout most have been used to the past two seasons, Bryant held strong, fending off the Charging Wildcats — which made adjustments and calmed the Hornets storm — winning the championship 27-17. The victory was also the 30th straight for the Hornets.
"I'm glad we won," said six-time state champion Head Coach Buck James. "It was a hard-fought game. My hat's off to North Little Rock. Those guys really brought a lot of heart and character. After Week 9 (58-21 Bryant win), to be able to come back and play that hard I think is a testament to their coaches and players and their community.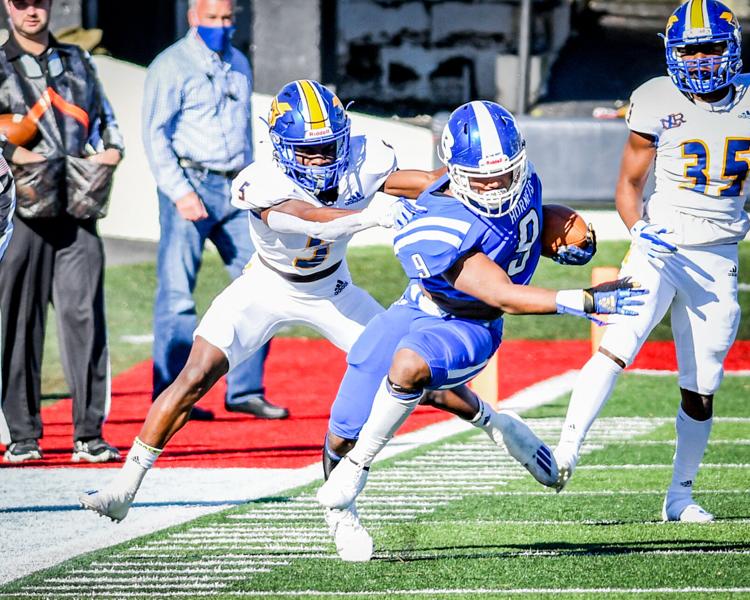 "I know how it feels to lose this game, especially as hard as they played and as well as they did. I know it hurt. I am equally as proud for our kids. We didn't play our best game and I know North Little Rock had a lot to do with that, as well. But they, too, showed a lot of character and heart. When it was time to dig down and get it, they got it."
In the first match of the year between these two, Bryant was able to do nearly anything it wanted on the road, gaining nearly 900 yards against the Wildcats.
Saturday was a different story as North Little Rock held Bryant to nearly its lowest output of the season — 401 yards from scrimmage.
However, the Hornets defense was a monster, keeping North Little Rock under 300 at 289, including forcing a missed field goal and snatching two interceptions.
"In the big games they have played big," James said. "To hold those guys under 20 points is a phenomenal feat. I'd say we would have won the game every time if we had held them under 20. Our guys did a good job."
With North Little Rock holding Bryant's all-time leading quarterback Austin Ledbetter in check the entire game, James and company turned to its leading rusher — Tanner Anderson — for the victory.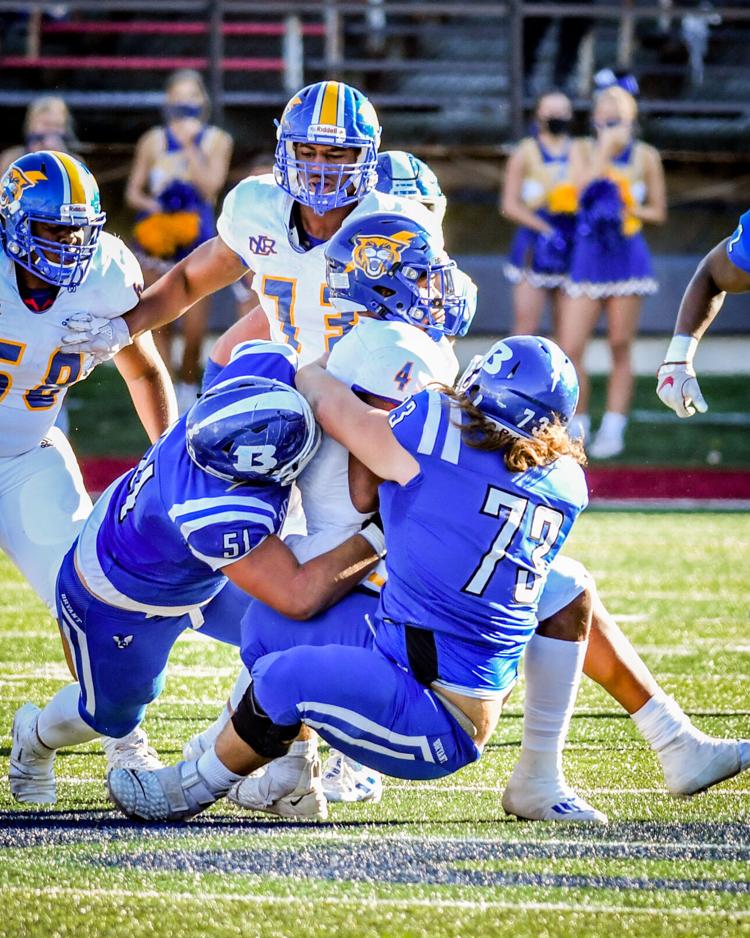 Anderson, the game's most valuable player, led all rushers with 18 carries for 146 yards and two scores, including the nail-in-the-coffin score late from 25 yards away.
For the season, Anderson finishes atop Saline County with 1,160 yards and 14 scores.
"I thought him and Jamarien (Bracey) did a super job," James said. "They had a will not to get tackled and our offensive line are unsung heroes. They did gentleman's work all season long to allow us to run the football. I think our balance is the reason why I am sitting here talking. We can run the football just as well as we can throw the football.
"Tanner has the heart of a lion … he plays football great. When he gets on the field he is a true champion, a dog, and a guy that wants to win."
Bracey finished the game with 94 yards and two scores on 14 carries.
"Jamarien Bracey could have won the MVP just as easily as Tanner," James said. "And you could have given it to any one of those offensive linemen. I am proud of those guys."
For the first time in his starting career for the Hornets, Ledbetter was held to zero passing touchdowns in a game, completing 11 of 16 attempts for 127 yards.
Despite North Little Rock's ability to keep Ledbetter under control, James had major kudos for his senior.
"I will go on record and say he is the greatest quarterback to have ever played in Arkansas' history," James said. "His stats put it up there, but the guy is nothing but a winner. He has never lost a game since the ninth grade at quarterback. He's done an unbelievable job. Someone has missed out on an unbelievable quarterback on that guy right there. He is a leader among men and does a super job."
Ledbetter recently signed to play baseball for the Arkansas Razorbacks. He said in a recent interview with The Saline Courier that he has not received any official offers to play college football.
In his career, Ledbetter has set new school passing records in eight categories, including:
•Most yards in a career — 6,946.
•Most yards in a season — 3,413.
•Most yards in a game — 542.
•Most touchdowns in a career — 88.
•Most touchdowns in a season — 43.
•Most touchdowns in a game — 6.
•Most 300-plus yard games — 7.
•Most 200-plus yard games — 19.
The Wildcats also took away Ledbetter's favorite target — Bryant's all-time leading receiver Hayden Schrader.
The senior was held to two catches for 27 yards. In Week 9, Schrader torched North Little Rock, breaking the Bryant single-game receiving mark with 10 catches for 265 yards and a pair of scores.
See Sunday's issue of The Saline Courier for the full story.