Three Bryant Hornets track and field athletes were honored recently in being named to the Arkansas Track Coaches Association All-Academic Team for their performances not only on the track, but also the classroom. Senior Ethan Ives, and juniors Bresner Austin and Ammon Henderson were all named to the team.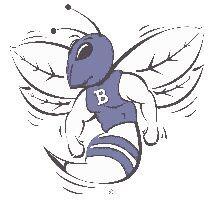 "The ATCA All-Academic team was a little different this year," Bryant Coach Steve Oury explained. "Normally the top 10 academic qualifiers (five boys, five girls) would be awarded at the Arkansas Track and Field Hall of Fame Banquet, which is usually in late May or early June. Since the banquet was canceled this year, it was decided to award all athletes who competed at the state indoor track meet and met the academic criteria, which was at least 3.5 GPA and 25 on the ACT. 
"We had a couple of athletes who would have also been recognized but were unable to compete in the indoor meet because of injury or other conflicts."
Ives had a 4.12 GPA and scored a 27 on the ACT. 
"Ethan was really coming on this year in the 800-meter run," Oury said. "I was looking forward to seeing how he would progress in the outdoor season. He was also the student leader of Bryant's JROTC program, which was quite an undertaking. He's an outstanding young man and he will be missed next year." 
Austin scored a 25 on the ACT and had a 4.05 GPA. 
"Bresner is an extremely hard worker and is very focused on the track and in the classroom," Oury said. "He's going to be a key component for our cross country team this fall and he will be a team leader in both cross country and track."
Henderson also scored a 25 on the ACT with a 3.67 GPA. 
"Ammon is one of the better 800-meter runners in the state and he takes care of business in the classroom," Oury said. "Although he prefers track, we need him in cross country as well. He was hoping to break the school record in the 800, but obviously that didn't happen with the season being cut short. Thankfully he will get another shot next year." 
That season was cut short due to the coronavirus COVID-19 pandemic, which has almost 8,000 total virus cases (2,115 currently active) and a 136 deaths in Arkansas, and almost 2,000,000 cases and over 106,000 deaths in the United States. 
Despite that, Arkansas Gov. Asa Hutchinson allowed student-athletes to return to school for conditioning this past Monday, but Oury said the Hornets will wait until July. 
"We have decided to wait until July to start meeting for practices," he said. "We have sent workout plans to our cross country athletes so that they can train on their own until we start practicing together. Based on info we had back in March and April, we made the call to start in July and are sticking with that plan. 
"We will have practices at different locations, based on grade levels. Coaches at the middle schools, junior and senior highs will be communicating information about practices and tryouts as we move closer to July."
The Hornets competed in the Benton Panther Invitational to start the year, but due to the virus, all spring sport athletic events were postponed on Thursday, March 12. 
"We were scheduled to compete in a track meet at Robinson High School on the day that the schools were shut down," Oury said. "The Robinson coach sent a message that the meet was off, but that it wasn't because of the threat of bad weather. Not long after that we got word that schools were shut down until after spring break. It was a little surreal at the time, and it only seems more so now."
With everything up in the air at the time, and with the original postponement set to end on March 31 before ultimately cancelling the season, Oury had a tough task in telling his athletes. 
"The day we got word that schools were closing, I just passed along the information as we got it," he said. "We continued to encourage them to keep training on their own just in case we were able to have some sort of track season. Once it became obvious that spring sports would not be continued, it was heartbreaking. I hate it for our seniors, especially. There's not a whole lot you can say to make them feel better. We've never had a school year like this and I hope we never do again."
But even should the fall sports season commence, there are still many unknowns.  
"Obviously things are going to be different moving forward," Oury said. "I think everyone is ready to get back and resume training and competing, but we have to take this virus seriously. I know some parents may have some concerns about allowing their child to resume practicing or even going to school, and I totally understand that. We will follow all the guidelines that are being provided for us and make sure we are doing everything we can to minimize the risk, while also training for a successful cross country season this fall." 
The Hornets will say goodbye to seniors Ives, Christian Cain, Roderick Forte, Kyle Green, Chris Howard-Williams, Tre'vun Herron, Jordan Hunter, Gabe Macchi, Logan New, Darrick Rose, Ethan Saffle and Adam Whaley.