After shining for the Benton Lady Panthers and the University of Arkansas - Little Rock Trojans volleyball teams, Taylor Lindberg turned pro last season, a year which has been a whirlwind for her. 
From Saline County to Little Rock, Lindberg crossed the Atlantic Ocean to play professionally for Liigaploki Pihtipudas in Finland. Lindberg and Liigaploki were set to start their league playoffs in March after finishing third in the regular season, but just as many sporting leagues and seasons have since been canceled due to the coronavirus COVID-19, so was Lindberg's. 
"We won out our last two games and were seeded third and the playoffs were about to start," Lindberg explained. "That was going to happen on March 12. I was taking my pre-game nap before the game and I woke up to a text that we weren't doing the playoffs."
And just like so many sports seasons across the world, Lindberg's came to an end as well, but she and Liigaploki had much to show for a season cut too short. 
The club finished 24-7 overall and 21-7 in league play as Lindberg had several honors throughout her rookie year. Liigaploki started hot and the fans noticed.  
"We had a great season," Lindberg said. "It was actually the best season in club history. We weren't projected to really do much and then we were 4-0 and that's when the whole town of Pihtipudas, which is like 5,000 people, started talking about how this is the best start that LiigaPloki's ever had.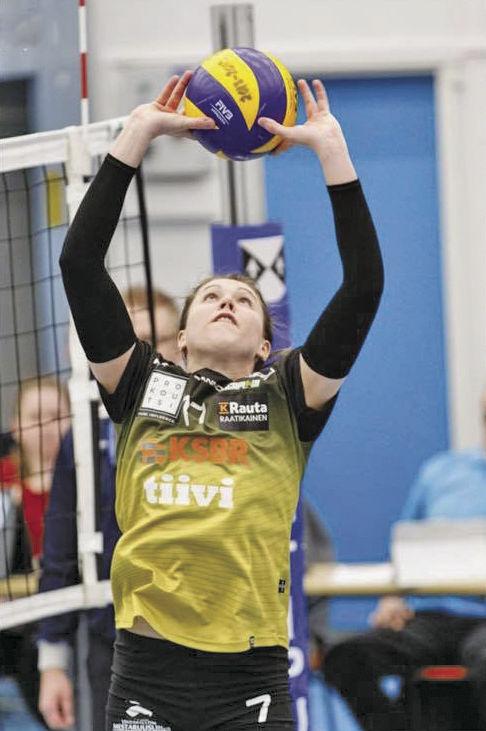 "We just kept winning and we were all the way up to 12-0. Then we played Hameenlinna and we took our first loss of the season. It was a little more extreme than most teams' first loss because both our outsides (hitters) went down in the same game. One tore her Achilles and then our other one … one of our players flew and landed on her foot and fractured it."
Despite Liigaploki struggling a bit after that first loss, not helped by the fact of dealing with an abusive coach, Lindberg and her teammates made it to the Finnish Cup finals in January. Despite getting down two sets to zero, Liigaploki would come back to take gold, which was huge for the town of Pihtipudas. 
"Our team woke up, thank goodness, and we won in the fifth set 17-15 and we got to bring the medal back with us," Lindberg said. "It was really nice to see the whole town happy, and we were happy."
But, it wasn't all smiles for Lindberg and her teammates as their coach was still causing problems. 
"It was not a good situation," she said. "He was just so traumatic and things he said, if he said that to an employee, you would be fired immediately. That was interesting for me, trying to get used to that my first year. 
"Things started to get more difficult with that coach and he ended up getting fired right before our last two conference games."
Liigaploki would sweep those games, but the season would come to an abrupt end right before the playoffs started. 
"It was upsetting because we had just had the turnaround of getting our assistant coach as our head coach and you could just tell we were like a different team out on the court with the new coach," Lindberg said. "That was upsetting that we didn't really get to finish that, but we did get to win two games with him.
"I was upset, of course I wanted to play in the playoffs, but also at the same time I really had no idea how extreme this whole coronavirus thing was. As a team, Liigaploki, we got there a whole month earlier before other teams, so whenever they said, 'Hey, we're going to rebook y'alls flights to go home,' I was upset, but I was also happy to be getting back to the US. I did my quarantine in Florida and ended up coming back, but it was just nice to be back on US soil. 
"I think we left the club in a much better position than we found it and we accomplished a lot of things this season that people didn't think we would. We won Finnish Cup and finished third, and I can't really ask for a better ending unless we were to win playoffs. But nobody knows what would have happened."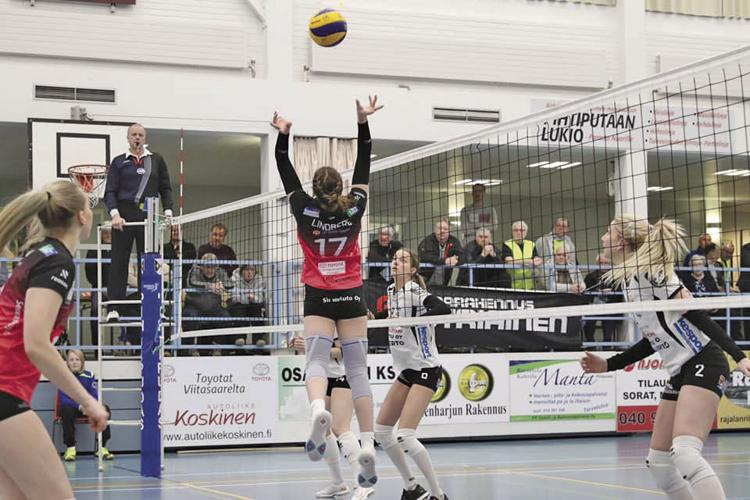 Lindberg was named Setter of the Month twice during the season and also brought home an unofficial honor.  
"Every month, from September to March, they do (honors) and I got Setter of the Month for two months, and at the end I guess there was some survey for fans to vote on and 17,000 people voted and I got setter," she said. "It wasn't an official one from the league, but it was nice."
What ensued after Lindberg woke up from her nap to find out the playoffs had been canceled was a crazy next 30 hours to get back to the United States before the coronavirus could wreak any more havoc. 
"We were originally supposed to fly from London to Charlotte, but Charlotte wasn't on the list of 13 airports that are allowing flights in from overseas, so we had to rebook to Miami," Lindberg said. "It wasn't too bad, the flight from London to Miami, it was probably about halfway full, maybe a little less, so it was nice we all got to spread out."
And when Lindberg got back to the United States, she was able to enjoy something for the first time in a long time many people may take for granted.  
"The next day I got some Mexican food and I was super happy about that," she said. "That was my first Mexican meal, basically, after nine months. I would make it sometimes and there was one Mexican restaurant in Helsinki that I went to before I saw Halsey in concert, but it was terrible. I was very unhappy when I left."
Shortly after returning home from her rookie campaign, Lindberg signed with Athletes Abroad in March. She explained the process. 
"Usually to go play overseas, the easiest way to do that is finding an agent that will represent you," Lindberg said. "This last season I didn't have one. It was a weird situation how it worked out, but this year I signed with Charlotte from Athletes Abroad and she's been really great keeping me up to date on what teams are interested."
Lindberg decided on where her next professional stop will be this past week as she will be returning to Finland to play in Kuusamo. 
"It's still in Finland, but it's a little more north from my team last season," Lindberg said. "They are actually going to a traveling cup where we'll be playing in other countries. More opportunities to travel, so I'm excited about that."
Lindberg will really get to know what cold is in Kuusamo as it is just 37 miles south of the Arctic Circle.  
"I didn't think I would get much more north of where I was last season," Lindberg said. "Last season I was six hours north of Helsinki and now I'm about nine hours north, but there is an airport so that's much more convenient."
And not only will cold be a freezing factor, but Lindberg won't get to see as much sun she is accustomed to in Arkansas, or even Pihtipudas, which is three hours south of Kuusamo.
"Last year when I arrived the first night, at 11:30 the sun was setting and the sun rose at like 3 p.m. the next day. I thought, 'This is going to be hard to adjust.' Where I'm at now, Kuusamo, in the winter I think I'm only going to get like an hour and a half of sunlight. 
"It's crazy, but I don't know, I guess it didn't really bother me last year because we were inside so much because it was cold. Anytime we're not at practices, we're usually sleeping because you're so exhausted. It's not like the darkness really bothered me too much, but I think this will be a little different than last year."
Despite the cold and lack of sun, Lindberg is excited about her new destination.  
"I want to be in a good league with a good level of play," she said. "Also, I get to travel with this team a little bit more. This last season I got to see the Northern Lights one time. Now, where I'm going to be, they're going to be there all the time because it's so far north."
For now, though, Lindberg awaits the day the coronavirus runs its course and keeps busy doing it. 
"I'm excited because I get to see some of girls I've coached play, maybe in a tournament or two, if everything kicks back into normality," she said. "Until then, hopefully these camps will start rolling if we get everything under way again. 
"Doing a lot of yard work to help out my dad and mom, visiting a few friends with social distancing guidelines, just saying hey to people. I've also been able to work out some, trying to stay in shape. Mostly yard work. I had my teammate from Finland come up so we can work out together and keep each other accountable, so that's been nice to have friend here at my house."