Making a valiant run out of the loser's bracket of the Junior American Legion State Tournament, the Benton Everett Buick GMC (17U) juniors season would come to an end late Thursday night. Downing Texarkana 10-7 in their first game Thursday, Everett ran out of pitching and fell 18-7 to Jacksonville Gwatney.
Everett finishes its season 8-9 overall. After it couldn't finish its comeback against Cabot in the first round of the tourney, a 6-5 defeat, Benton won three straight (6-3 over Carlisle, 4-3 over Crossett and 10-7 over Texarkana) before succumbing to Jacksonville.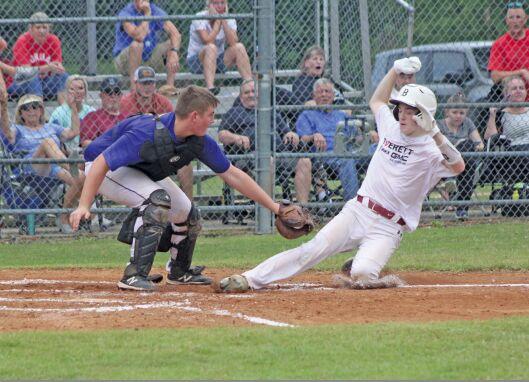 Though Everett outhit Jacksonville 11-5 in the contest, seven Benton pitchers combined to issue 14 free passes, while also hitting six Gwatney batters to give Jacksonville 20 runners reaching without a hit.
It was a close game to start, though, as Jacksonville put up two runs in the top of the first, but Everett fought back to tie it after one inning. Jake Green singled in leadoff man Caleb Goines, who reached on a dropped third strike by the Jacksonville catcher, and Brendan Burks singled in Green two batters later for the 2-2 game after one.
Jacksonville scored two runs on an error in the top of the second to take a 4-2 lead, but again Benton would fight back, scratching across a run in the bottom of the inning to get within 4-3.
Everett starter Goines retired eight straight at one point and the Benton offense took advantage in the bottom of the fourth when Jackson Regan led off with a double and scored on Buchanan's single to right field to tie it at 4-4. Green followed with a single, with both runners advancing to second and third on a wild pitch, but a foul tip out and strikeout ensued. But, Ethan Matthews came through in a big way with a two-out, 2-run triple to give Everett a 6-4 lead after four.
It was the fifth inning, though, when the wheels fell off for Everett. Four walks and two hit by pitches began the inning, allowing Jacksonville to take a 7-6 lead and Gwatney never looked back. A 2-run double followed, as did two walks, a sacrifice fly and RBI single to put JVille up 12-6 after four and a half.
Another Buchanan RBI single in the bottom of the fifth made it 12-7, but Jacksonville took advantage of tired Benton pitching to put up six more runs in the sixth to put the game out of reach.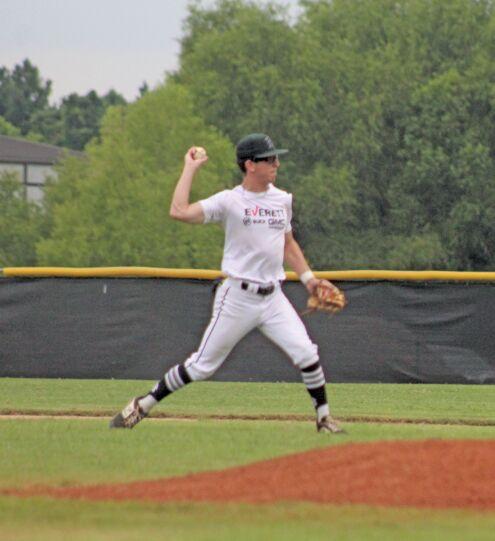 Buchanan led the way at the plate with a 3-for-3 day, knocking in three runs and scoring one himself. Green was 2 for 4 with two runs and an RBI and Regan was 2 for 4 with a run. Matthews went 1 for 2 with two RBIs, Burks 1 for 4 with an RBI, and Goines, Rowland and Jorge Acosta each added a hit in the loss.
In the 10-7 win over Texarkana, Everett trailed 4-2 after three, but exploded for a 5-spot in the fourth to take the lead for good. Junior Acosta had a 2-run single to tie things up, Goines a squeeze bunt RBI single and Regan had a 2-run single to center for the 7-4 Benton lead.
Everett broke it open in the sixth with another three runs and would hold the Jr. Hogs at bay the rest of the way, holding on for the 3-run victory and limiting the damage of five errors committed by Everett.
Rowland started giving up seven runs (three earned) on eight hits and two walks, striking out two in a complete seven innings for the win.
Benton pounded out 12 hits with Regan going 3 for 4 with two RBIs, Burks 3 for 4 with an RBI, Green 2 for 3 with two runs, and Goines, Buchanan (two RBIs), Dawson Goines (RBI) and Acosta (two RBIs) all added a hit in the win.