Bryant Lady Hornet graduate India Atkins will be moving on to the next level in her athletic career as she recently signed with the National Park College Nighthawks basketball team.
Located in Hot Springs, NPC is a Division II National Junior College Athletic Association which finished 11-9 last season under Coach Marvin Moody. According to Atkins, it was a perfect fit.
"It was just a good feeling that I had," she said. "It was just the perfect school for me. Plus, their nursing program is really good and it's what I want to major in. It just worked out really well. And it's close to home."
Though considering another junior college in Tennessee, the Nighthawks were no doubt the team Atkins wanted to play for after her visit.  
"I was thinking about going to a school in Tennessee, Motlow State," she said, "but due to circumstances (COVID-19), I couldn't visit and it kind of just threw off everything. When I visited National Park, this was the best for me. Coach Moody made it feel like the perfect option for me."
Playing prominent minutes for the Lady Hornets since her sophomore season, Atkins was known for her defense, but her offense improved each year for the three-time All-Conference performer.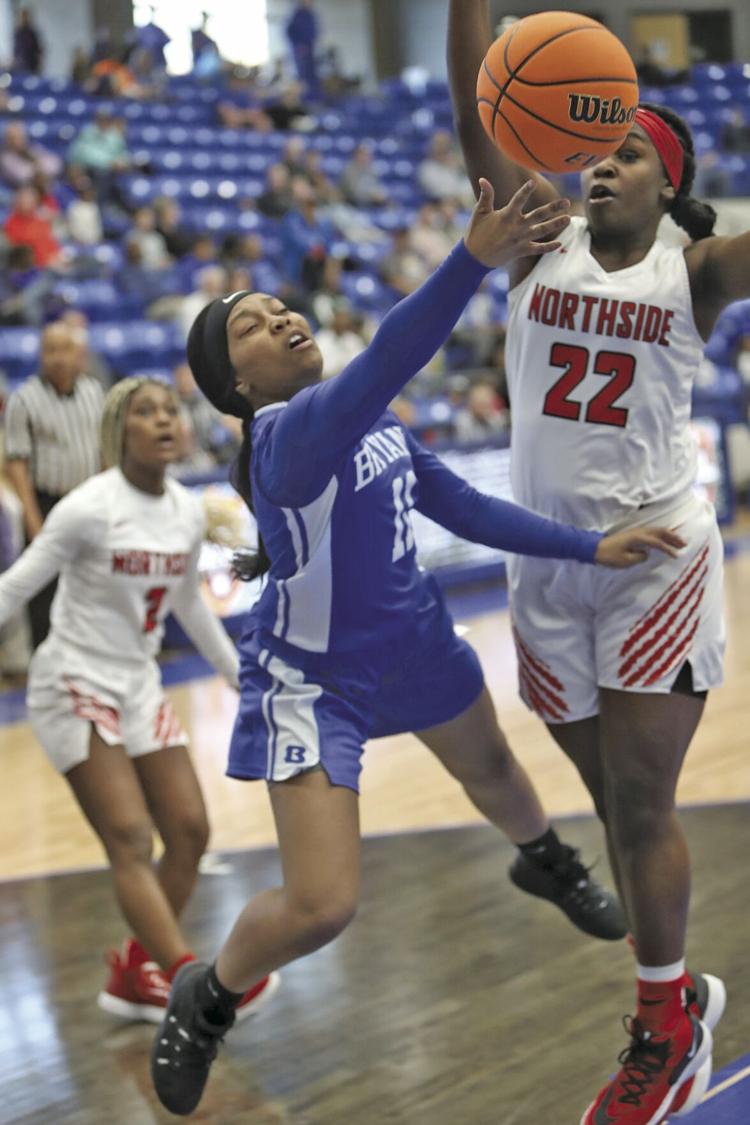 "India, her sophomore year, was a great defensive player and has just steadily worked on her offense where she got more and more consistent," Bryant Coach Brad Matthews said. "She's always been a really good defender, a really good effort kid, good practice kid, great kid on and off the floor. Her offensive skills have improved as every year has gone by. It's really good to see her get an opportunity to keep working on that."
Averaging 3.4 points per game in major minutes her sophomore season, Atkins averaged almost eight points per game in both her junior and senior years, while also playing excellent defense, not to mention pulling down four rebounds a game. It's that defense Atkins takes the most pride in.
"Defense, for sure," she said. "The thrill of stopping my defender and getting steals. It's just way better to me than offense because everything is moving fast, I'm moving around."
Atkins was also key in turning around the Lady Hornets fortunes in the tough 6A Central Conference. After going 11-16 overall, 6-8 in the Central her sophomore year, Bryant finished 34-22 (14-14 conference) her next two seasons. Atkins said playing in one of the toughest, if not the toughest, conference in the state just made her a better player.
"I actually like playing in that conference because it made me work even harder," she said. "Many teams and people out there were just as good as I am, it just made me better as a player, skills-wise."
Atkins' most memorable moment came during her junior year after the Lady Hornets defeated Van Buren 54-35 in the first round of the state tournament.  
"When we went to Bentonville for state and we were all like really pumped making it to the second round my junior year," she said. "We were just really pumped about it because we worked so hard preparing for that game. It was just the best feeling."
And though the coronavirus has affected everyone's life in some form or fashion, Atkins is still able to get on the court every now and then.
"I've gotten to play," she said. "There's courts around or I try to find a gym that actually is open and try to get in as much as I can when it's convenient."
To Matthews, Atkins is in good hands at NPC.  
"National Park is up and coming," he said. "Coach Moody is their coach and he obviously has a great history with Marvin (Moody, former Bryant football player currently playing at Tulane) at Bryant. I have so much respect for that family and I'm glad to see her land where I know they're going to be good and she's going to be well taken care of.
"It was about her hard work over the last three years and continually improving her offensive skills to where she could put herself in the position."