The 2020 season-opening football games for Benton Junior High School turned into scoring shootouts as the Panthers and Pulaski Academy Bruins split two games.  The eighth-grade Panthers blitzed the Bruins 54-20 while PA got the better of the Freshman Panthers, 46-34.
To say the eighth-grade Panthers are explosive on offense would be an understatement. Maddox Davis threw for three touchdowns (30 yards, 10 and 8). Elias Payne caught two of those passes (30 and 8) for touchdowns, ran for a 54-yard score, and picked off a PA pass. O'Marcus King scored on runs of 60 and 48 yards for the Panthers. J. Thomas Pepper added a 10-yard touchdown run while Quentin Godley chipped in a 4-yard touchdown run. Julius Stinson also caught a Davis pass for the other Panther score.
The Freshman Panthers battled back from a 30-14 halftime deficit and had a chance to win in the fourth quarter. With PA leading 38-34 late in the fourth quarter and facing fourth-and-8 at the Panther 49-yard line, an incomplete pass that would have given the ball to Benton was nullified by a defensive holding penalty against the Panthers.  Two plays later, PA salted the game away with a 13-yard touchdown run by Jordan Wicker and the 2-point conversion sealed the win for the Bruins.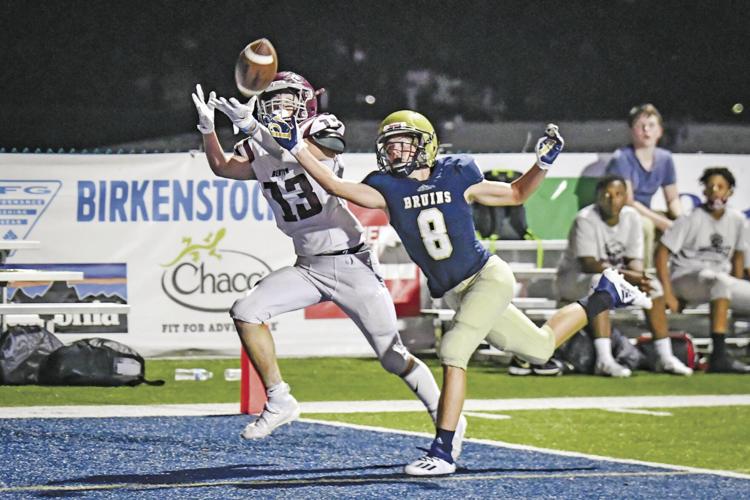 Benton opened the freshman game with a flare. On the game's second play, Ethan Busch picked off a Wicker pass and returned it to the Bruin 16-yard line. Two plays later, Christopher Barnard scored on a 13-yard run.  Peyton McNeely ran in the 2-point conversion to give Benton an early 8-0 lead.
After back-to-back Bruin scores, Benton cut the lead to 16-14 with 6:24 in the second quarter on a 43-yard touchdown pass from McNeely to Colby Howard.
The Panthers jumped on the Bruins out of the halftime break with a 4-play, 47-yard touchdown drive, all coming on the ground. McNeely ran twice for 19 yards before Barnard busted loose for 20 yards before an 8-yard touchdown run.
Benton scored again late in the third quarter, converting two fourth downs on the drive. Facing a fourth-and-17 at the Bruin 26-yard line, McNeely connected with Jake Burks for a 26-yard touchdown pass.
Barnard led the Panther ground attack with 74 yards on 10 carries. McNeely completed 11 of 20 passes for 156 yards with Burks catching five passes for 81 yards.
Defensively, Howard picked off two PA passes while Busch added an interception.  Keandre Boson, Burks and Triston Ray led the Panther defense with five tackles each.
Both Benton Junior High teams will be at home the next two Thursdays as Central Arkansas Junior High Conference play begins. Next Thursday, both the eighth grade and Freshman Panthers will host Conway Blue at 5:30 p.m.