Beaten out for the South's No. 1 seed last year by the Lakeside Lady Rams with the teams sharing a 13-1 conference record, the Benton Lady Panthers made their presence known early in the 5A South season with a 3-0 sweep in Hot Springs Tuesday. 
The Lady Panthers (9-1, 3-0) jumped on the Lady Rams in the first set, winning 25-14, and would hold on the rest of the way with 25-16 and 25-20 victories for their fifth straight sweep to start the season. 
"That was a good volleyball match," Benton Coach Michelle Shoppach said. "What I really liked about the team was the way we separated and finished. I thought we did a good job there."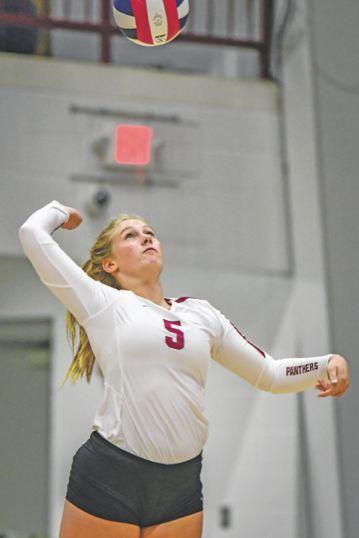 After a set in which Benton never trailed in the 11-point win, Lakeside would fight back in the second set with Adachi Igbokidi's kill to give the Lady Rams an 11-10 lead. But, Benton senior Lydia Buchanan placed a kill to start a 3-0 run and Benton separated from Lakeside after that, outscoring the Lady Rams 15-5 the rest of the way, including Buchanan's kill to end the 9-point victory. 
Lakeside (4-1, 2-1) again kept it close midway in the third set, taking a 14-13 lead before freshman Abigail Lagemann's kill tied things up and Buchnan's ace gave Benton a short lead. 
Tied 17-17 after a Lakeside double block, Benton junior Hannah Brewer spiked one down and the Lady Panthers didn't trail again. Two big solo blocks by Brewer and an ace by sophomore Bissette Childress helped Benton extend its lead to five before senior Riley Hathcote and Brewer both got kills to cap the win.
In the first set, Benton jumped to a 5-0 lead and never looked back ending the first set on a 6-0 run capped by sophomore Laci Bohannan and Buchanan's double block for the victory.  
"First set I think we blocked really well, but after the second and third set we didn't block as well," Shoppach said. "But we kept our kills going all three sets, so I was pleased with that. And because we didn't block as well, our back row had to do a lot of work and did a good job with that."
Benton's libero, senior Mary Grace Guerra, was big in the back, getting many impressive digs to keep plays alive. Guerra, who led the squad with 21 digs, was happy to get a little revenge on the Lady Rams after Lakeside beat Benton out for the No. 1 seed.  
"We were pretty upset about last year," Guerra said, "but we've worked really hard over the summer and over the school year so we can come back and beat them this year. It felt really good."
Guerra added that the Lady Panthers are clicking on all cylinders now.  
"I think the chemistry between our team, we just work so hard together and work together as a team well, and everybody was just on fire. We were ready to bring home a win."
Buchanan put up 31 assists in the three-set match, adding five kills, while both Brewer and Lagemann had 11 kills apiece to lead the Lady Panthers. Brewer added three solo blocks for points as she was big at the net. 
Bohannan added seven kills on the night, while Hathcote had six. 
As for dominating Lakeside early on in the season, Shoppach said it was important not to lose sight of what's at stake.  
"We ended up getting the second seed out of our conference and we have harped on that," she said. "Don't let them steal something from you."
And like last year, Benton won the first match against the Lady Rams before Lakeside swept the Lady Panthers in the second to claim the one seed.  
Shoppach said Lakeside Coach Rhonda Thigpen conceded defeat in this one, but it's a long season. 
"Her statement was, 'You're better than us now. I hope we can say we're better than you again.'"
The Lady Panthers host Fair on Thursday in more South action at Benton Arena.