CONWAY – Both the Benton boys and girls cross country teams picked up victories at the Hendrix College - MacDonald Timing Invitational this past Tuesday at Beaverfork Lake in Conway. 
The Panthers took the top three spots overall at the meet on their way to putting up 22 points for the win, with their top five runners in the top 11. North Little Rock followed with 40 points, St. Joe's was third with 72 points and Quitman had 112 for fourth. 
"Weather conditions were nasty," Benton Coach Matt Ginther said. "Lots of rain, however the temps and cloud cover were awesome for running."
Benton senior Brendan Redmond was tops with a time of 17:02.80, which broke former Panther Jake Hanley's school-record time of 17:14.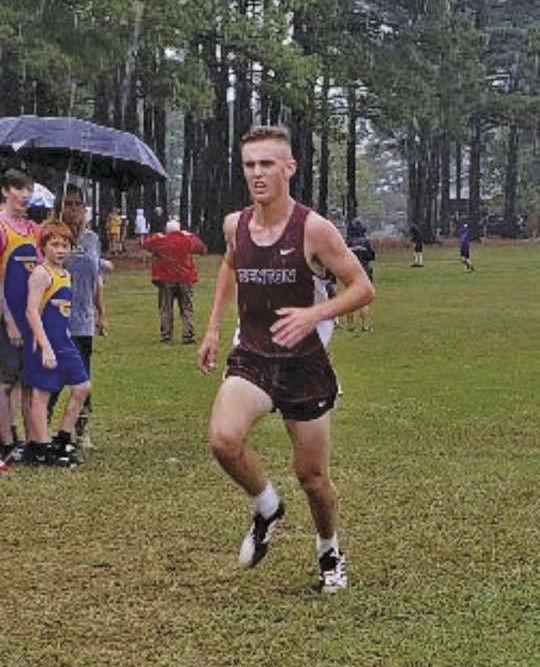 Panther sophomore Samuel Morales would have broken the school record if not for Redmond's performance, taking second overall in a time of 17:13.90, while junior Gage Epperson took third overall in a time of 17:21.30. 
Junior Jesse Bennett earned top 10 with a seventh-place finish in 18:17.40, while seven more Panthers had runners in the top 20, including Colton Phillips, who rounded out Benton's scoring at 11th place in a time of 18:32.20.
Junior Zac Benham was a close 12th in 18:32.40, while sophomore Joseph Dockery (13th - 18:37.60), freshman Ben Watson (14th - 18:39.40), sophomore Mason Lucas (16th - 18:46.30), senior Nathan Bond (17th - 18:47.90) and junior Tyler Smith (19th - 18:51.70) were all top 20.  
"Nathan Bond really showed up (Tuesday)," Ginther said. "I am going to have a tough time picking nine to run in state. There are about 15 guys competing for those positions. It is a nice problem to have."
Benton junior Emma Selph finished first overall in dominating fashion, with her time of 20:03.30 49 seconds better than runner-up Taylor Hooten of Quitman. It was Selph's third meet win of the year, while also taking second at two other meets this year. 
With Selph's performance, the Lady Panthers would put its top five scoring runners in the top 10 to give Benton 25 points for the top spot. Quitman (41) followed with 41 points, with North Little Rock third with 60.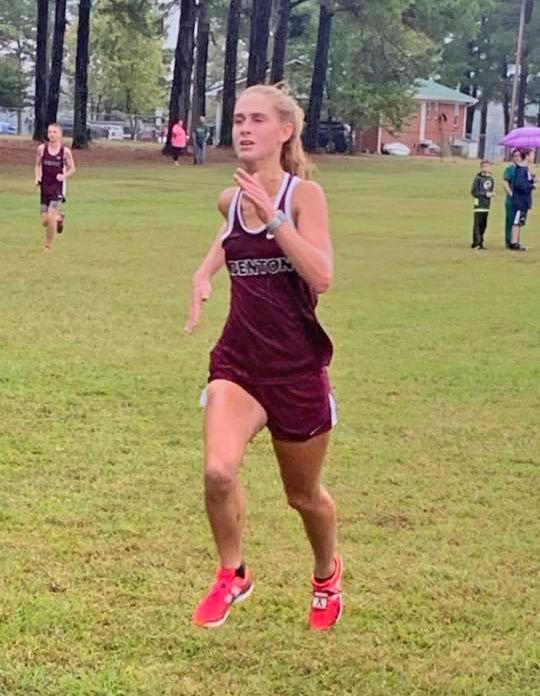 Lady Panthers sophomore Melina West took fourth in a time of 21:42.40, while sophomore Abby McElhaney (12:55.40), senior Cintya Olvera (21:56.70) and freshman Morgan Calaway (21:59.80) took spots 7-9 to round out the scoring. 
Sophomore Emma Schlitz was 16th in a time of 23:22.20, with freshman Mallory Crosby also earning top 20 with a 19th place in 23:55.10. 
"Super proud of the girls," Ginther said. "Especially Morgan Calaway and Mallory Crosby. Both ninth-graders having super seasons."
Benton sophomore Anna Dixon (22nd - 24:28.30), sophomore Emily Reyes (30th - 26:38.50) and freshman Lela Smith (31st - 26:56.10) rounded out the Lady Panther top 10. 
Benton will get a preview to the 5A State Meet when it travels to Hot Springs Saturday to compete in the Lake Hamilton Invitational at Oaklawn, the site of the state meet. 
"It's a big-boy race with like 70 teams entered," Ginther said of Saturday's meet. "We'll go see what we are made of."