BENTON – Playing in a technically junior varsity match, the Benton Panthers varsity golf team got some extra time on the course before next week's 5A Central Conference Tournament Tuesday at Longhills Golf Course in Benton. 
Playing in a nine-hole match, Benton senior Anthony Miceli led the Panthers with a 40, and if one doubled those scores for a full 18 holes, most of the Panthers shot a 90 or below. 
"If you double those scores, that's four scores close to being right there in the 80s," Benton Coach Mark Balisterri said. "That's our goal for conference, to have four scores in the 80s. We feel like if we do that, we could possibly win the conference. Our conference is pretty equal. There's not any real, real strong teams. We're all about the same."
Miceli's performance was one of the better ones this season, but he has steadily been playing better golf recently.  
"He has broken into the 80s a couple times this year," Balisterri said of his senior. "Anthony has probably shown the most improvement over the last three weeks of any of our players."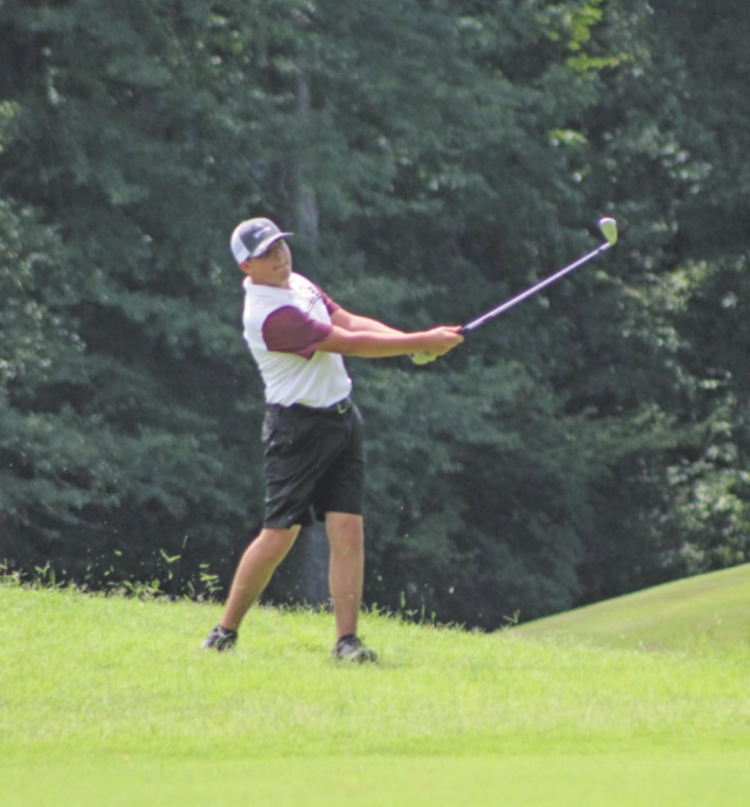 Following Miceli's day, sophomore Whit Warford had a 42, with sophomore Eli Cowden and Jay Rogers both shooting 45s. Sophomore Lane Von Dresky came in with a 46.
"Whit Warford has been pretty consistent," Balisterri said. "He stays around 86 to 92, and Von Dresky the same way. The keys are if Anthony and Jay play to their capabilities. Jay is the longest hitter we have on the team, but he just struggles hitting it straight sometimes." 
Cowden began the year leading the Panthers in most matches, but has struggled of late. 
"Eli Cowden is our guy capable of shooting in the low 80s, even possibly in the upper 70s if he plays real good," Balisterri explained. "He's been struggling here lately, but it's one or two holes. (Tuesday) he started out making a quadruple bogey on the first hole and a triple bogey on the third hole, and he still shoots a 45. He's just having a bad hole or two and then he gets his stuff together."
But, Balisterri does see improvement from a squad with no varsity experience returning from a season ago, including three sophomores.  
"With a team that doesn't have any experience back and we've got three out of our top five guys are sophomores, and the two seniors we have had never played a varsity match, we have shown signs of improvement," Balisterri said. "I just hope we go in there next week and play the best we can play. I think we'll have a good chance of making it to state."
For the Benton girls, senior Gianna Miceli also shot well. Miceli, the lone Lady Panther of late due to fellow senior Erica Hutson's injury and freshman Presley Pallette focusing more on volleyball, shot a 42 on Tuesday at Longhills. 
"Gianna played pretty good," Balisterri said. "She shot a 42, which is an improvement. She's just been really struggling lately with consistency. She just hadn't been striking the ball well. The last two matches she didn't score the ball well, but she hit the ball a lot better. (Tuesday) she played a lot better."
Balisterri said he believes Hutson will be able to play now and Pallette could also play in the conference tourney next week, which would give the Lady Panthers a full team of three. But if not, Miceli would have to shoot an 89 or better at conference to reach state as an individual after a rule change. And should the Benton boys team not make state, an individual will have to shoot 78 or better to go it alone. 
Benton will get one more warm-up match Thursday against conference foes Sylvan Hills and Jacksonville at the Greens at North Hills in Sherwood. The 5A Central Conference Tournament begins next week with a practice round on Monday, with conference being played Tuesday at Southern Oaks Country Club, which was formerly Foxwood Country Club, in Jacksonville.