The Benton Panthers golf team will look much different than a year ago when they finished second in the 5A South Conference and fifth overall at the state tournament. Losing four seniors to graduation, the Panthers will rely on golfers with no varsity experience this year.
"We're going to be really, really young and inexperienced," Benton Coach Mark Balisterri said. "It's just going to be a rebuilding year. I've got two seniors and they've never played varsity golf. I've got 12 golfers and about six or seven of them are about the same. It's going to be a battle to see who's in the top five every week.
"We're going to be young. We don't have any juniors on the team. We've got two seniors, no juniors and the rest are sophomores or freshmen. It's going to be a different kind of year, but we're going to have fun, we're going to work hard and try to get better every week."
Balisterri shared who he thinks will vie for the top five spots (top four scores count in scoring) on the squad in varsity competition.  
"Our two seniors are Anthony Miceli and Jay Rodgers," Balisterri explained. "They're going to be right there competing for one of those five spots. Then we've got (sophomores) Eli Cowden and Whitt Warford. Those four, along with Lane Vondresky (sophomore), will probably be vying for those five spots, in no in particular order. The rest of them, I just don't know or where they're going to factor in."
But, Benton does have some good news on the girls side of competition. Senior Gianna Miceli returns after being the lone Lady Panther golfer last season. This year, though, Miceli, who averaged a shooting average of 92.4, including a career-best 80 at Longhills Golf Course in Benton, will get a little help in fulfilling a full team of three, barely, as fellow senior Erica Hutson and freshman Presley Pallette will also compete.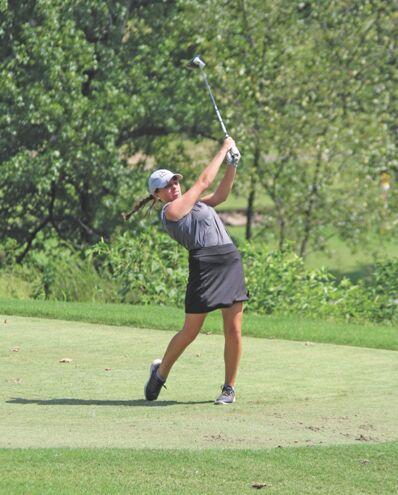 "Gianna's back for her senior year and Erica Hutson is coming back to play again," Balisterri said. "She's (Hutson) gotten a little bit better. Then we've got a newcomer, a freshman, Presley Pallette. Peyton's (Pallette, pitcher for Arkansas Razorbacks) sister. She plays volleyball and basketball, but they're working with us to try to get her where she can do golf, too. She's a really good athlete. She's just learning how to play golf, but when you're a good athlete, have good hands and good eyes, you can pick it up pretty quick. The rest of it is how much you're going to work at it."
In high school girls golf, three golfers are the minimum to field a full team and Balisterri explained its been tough the past few years for getting girls to come out to play.
"Golf in this day in time … I wouldn't say it's a dying sport because a lot of people play golf," he said. "It just seems like there is so much more for kids to do and it's hot outside. It's hard to get them to go and play golf.
"Back when I was growing up, that was the thing to do. Parents dropped you off at the golf course and come pick you up later that day. Now there is so many other things to do, especially for the girls. There's not a lot of girls playing. You can't blame them. They don't want to go out and play by themselves or with boys. I'm trying to talk to every girl I can that's interested in golf to get a friend and try to get them interested also."
With the season beginning on Thursday, Benton has been practicing at Longhills and Hurricane Golf and Country Club recently in preparation.
"We've been practicing," Balisterri said. "We've had to follow all the guidelines and do all the things we're supposed to do. We've played probably six nine-hole rounds. We'll be able to practice Monday, Tuesday and Wednesday and then we play on that Thursday, unless the AAA (Arkansas Activities Association) comes and says we're not. I don't suspect they will since we're a non-contact sport."
Balisterri delved deeper into the restrictions all golfers will have to deal with due to the coronavirus COVID-19, which is spiking across the United States.
"When we're on the bus, we have to wear a mask and social distance," he explained. "If you're congregated anywhere before your match, you have to wear masks. You're supposed to social distance at all times. Parents aren't allowed to get off the cart paths. We can only have threesomes, no foursomes. Nobody can take the flag stick out of the hole."
The Panthers and Lady Panthers will put it to the test on Thursday when they travel to Sherwood to take on Sylvan Hills and Jacksonville at The Greens at North Hills.