After accepting a tough 3-2 loss to the Greenbrier Lady Panthers to open the season last week, the Benton Lady Panthers notched their first win Tuesday at Benton Arena in a match added to the schedule due to the fact that all tournaments have been canceled due to COVID-19. 
Though given a good shot by the Mount St. Mary's Belles Tuesday in Benton, the Lady Panthers came away with a 3-0 sweep, winning 25-23, 25-18 and 25-22 to improve to 1-1 on the young season.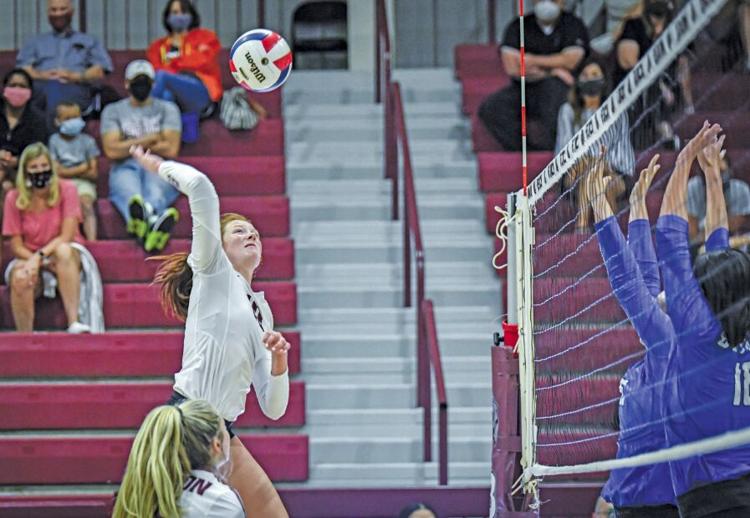 "They challenged us immensely," Benton Coach Michelle Shoppach said. 
It was a block party for the Lady Panthers on Tuesday after not getting many against Greenbrier in their previous match. Benton assistant coach Rachel Dodson offered to do some running should the Lady Panthers net 15 blocks on Tuesday. Dodson was on the verge of doing just that, but Benton came up just short. 
"Coach (Rachel) Dodson challenged them to get 15 blocks," Shoppach said. "She works with them so much on blocking and against Greenbrier, we got maybe six blocks where we touched the ball. They got 14 blocks last night. The challenge was accepted by our team, but they ended up with one block short. I was glad they responded to their challenge."
Benton sophomore Abigail Lagemann led the way with six blocks in the win, while fellow sophomore Henley Hooks had five blocks. Junior Grace Anne Shelnut, senior Skylar Goff and senior Sakari Faulkner added one apiece. 
"Lagemann did a really good job," Shoppach said. "She graded out well blocking, which made a huge difference."
Lagemann also led the way with nine kills, matched by junior Laci Bohannan's nine kills as well. Senior Hannah Brewer added seven kills, with Hooks chipping in two. 
Lagemann wasn't finished leading the Lady Panthers with three aces, with Bohannan and sophomore Kenzie Garrett adding two apiece, and senior Katie Strickland one. 
Bohannan led Benton with 14 assists, Garrett had 10 and Strickland two. Junior Bissette Childress was the leader in digs with 12, while Garrett added eight and Lagemann seven. Strickland, Bohannan and Brewer all had six digs apiece.
Benton is back in action on Tuesday to open conference play against Beebe at Benton Arena.