Beginning the 5A South Conference with three straight losses, and four straight overall, the Benton Lady Panthers snapped that streak in dominating fashion Tuesday against the Fair Lady War Eagle at Benton Arena. The Lady Panthers jumped to a 9-0 start on their way to a 58-20 rout to improve to 4-11 overall, 1-3 in South play, while Fair falls 1-13, 0-4. 
Benton senior Rhema Riley double-doubled with 14 points and 12 rebounds, while junior guard Jordan Miller scored a season-high 12 points in the win as both got off to a good start in this one. 
Miller began the scoring with a layup and 3-pointer, while Riley's bucket and 2 for 2 free throws put Benton up 9-0 at the halfway point of the first quarter. 
The Lady Panthers upped that lead to 13-4 after one quarter and started the second with a 10-0 run began by senior Emily Hopper's bucket assisted by junior Tuesday Melton. The run was capped by Miller's bucket to put Benton up 23-4 with 1:56 left in the half they led 27-6.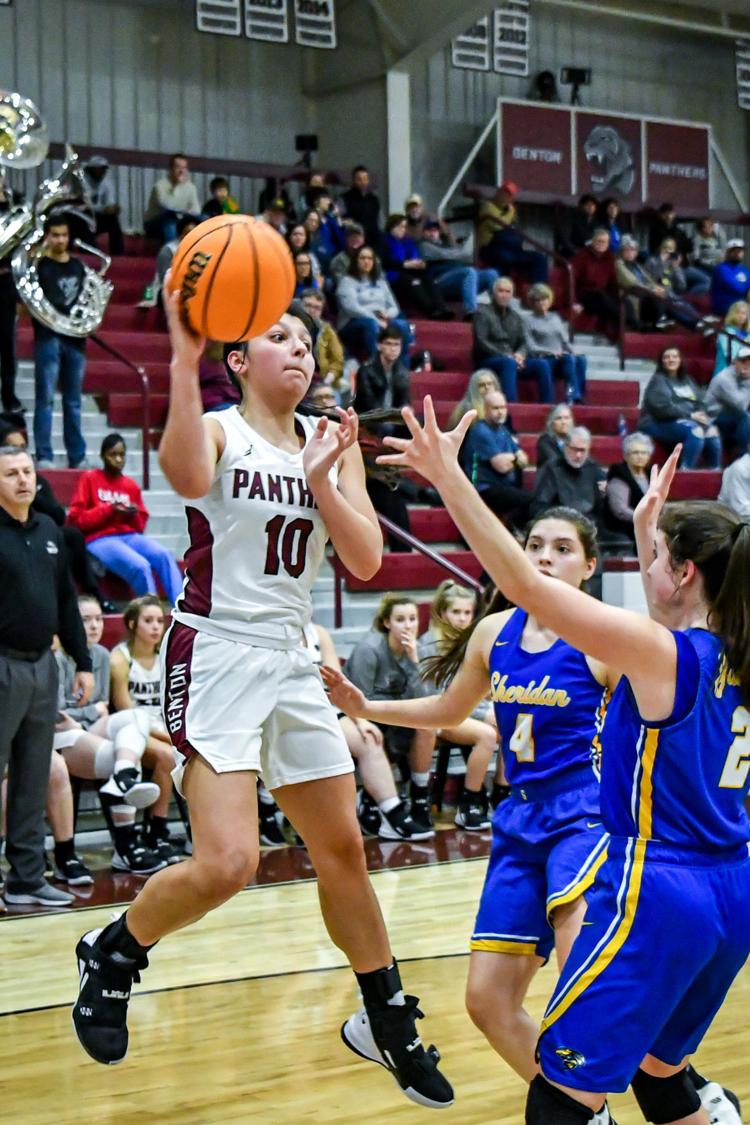 The third quarter was much of the same as Benton outscored Fair 14-7 to lead 41-13 going into the fourth where sophomore Reagan Swindle drained three 3-pointers for her game total nine points for the 38-point victory. 
Benton dominated the glass, outrebounding Fair 39-14 and forced 17 Lady War Eagle turnovers, as opposed to 13 for the lady Panthers. Benton shot 18 of 48 (38 percent) to Fair's 7 of 29 (24 percent), with the Lady Panthers shooting 18 of 30 (60 percent) from the free-throw line, including 8 of 8 in the first half. 
Hopper followed with seven points and eight rebounds and senior Cayla Clayton added six points. 
Leading 19-14 at the half after a slow third quarter, the Benton Panthers couldn't handle the Fair War Eagle second-half pressure and would ultimately fall 36-34 Tuesday in 5A South Conference action at Benton Arena. 
Benton's 21 turnovers came back to bite the Panthers (11-6, 1-3 South) as they attempted just 27 shots total in the game. 
"We had almost as many turnovers as we did shot attempts and that was issue," Benton Coach Dexter Hendrix said. "We couldn't get a shot off in the second half. When we did, it was highly contested, highly pressured. We just couldn't finish because of their pressure. At the end of the day, we didn't rebound like we can. Defensively, overall was pretty good, we just couldn't handle their pressure."
It didn't help that sophomore point guard Cameron Harris went out early with a knee injury.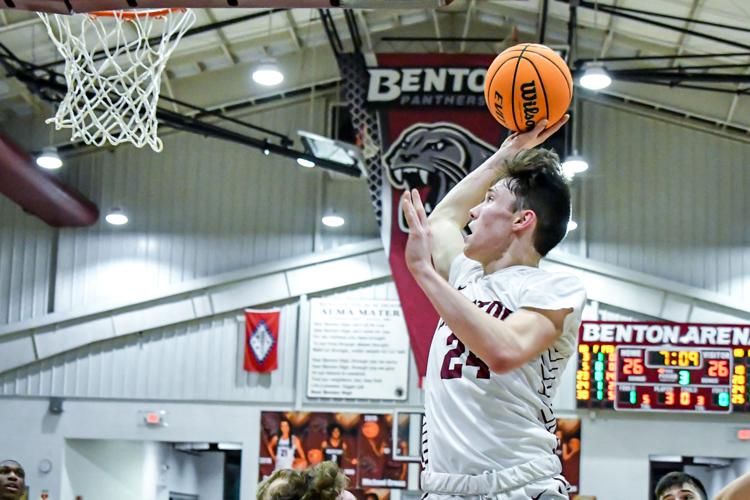 "With Cam going out with his injury, that hurt us handling that pressure and they made us pay for it."
The Panthers led 29-24 with 11.5 seconds left in the third quarter after senior Ethan Hilkert's 3-pointer, but Fair made it a 29-26 game with a late bucket for the third quarter score. 
But, it was all Fair (9-7, 2-2 South) in the fourth quarter as they tied it at 29-29 with 1 of 2 free throws and a bucket midway through the fourth. Benton junior Jaylen Bell hit 2 of 2 free throws to put Benton up 31-29 with 2:42 to go, but the War Eagle went on a 6-0 run for a 35-31 lead with 22.5 seconds remaining. 
Benton junior Chase Ramsey threw up a prayer 3-pointer that banked in to get the Panthers within 35-34 with 11.4 left, but Fair closed it out to get a road win over Benton.
The first quarter wasn't pretty for the Panthers either as nine total turnovers in the quarter was a bad omen for things to come as Benton trailed 8-4 going into the second quarter.  
"The first quarter, even though they weren't pressing, we just had a hard time making direct, clear passes," Hendrix said. "We told them at halftime, 'Guys, they're going to come out and press us,' and sure enough they came out and pressed us and we had trouble executing that."
The second quarter, though, was all Benton as the Panthers began it on a 9-0 run started by senior Colton Phillips layup assisted by junior Russ Hooks and the run was capped on a bucket by sophomore Gage George for the 13-8 Benton lead with 3:30 to go in the half. 
Fair made a run to get within 15-14, but two free throws from Hilkert and a bucket by senior Jalen Cox gave the Panthers a 19-14 halftime lead. 
Hilkert had seven points and seven rebounds, while Phillips and George scored seven as well. 
The Panthers and Lady Panthers will hit the road to Hot Springs Friday to take on the Trojans.