After scoring well at the Junior Phenom Camp last July in San Diego, Saline County local Bino Stephens is at it again. Stephens has been invited to participate in the MADE Hoops Middle School Academy in Lexington, Kentucky, in early August. 
The Academy is for players finishing their 6-8 grade years as Stephens, who played on the Benton Junior High eighth-grade squad this past season, will be going into his ninth-grade year at Bauxite in the in upcoming season.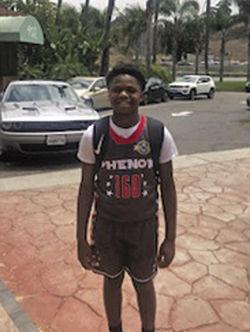 In last year's camp in San Diego which has had 133 NBA players, 46 WNBA players and over 2,500 Division I college players, Stephens scored a 4.3 out of 6.0 overall, including Excellent marks in acceptance of criticism, and Solid reviews in effort, team play, penetration ability, ability to finish and ball-handling skills. NBA Hall-of-Famer Bill Walton was the guest feature at last year's camp. 
Stephens, who is all basketball all the time, will look to improve on those numbers at the Hoops Middle School Academy in Kentucky, which is set to take place Aug. 2 - Aug. 4, and features the No. 1 prospect in the class of 2023, Elijah Fisher. Jalen Duren, the No. 1 post prospect in 2022, will also be there, as will several other top-50 prospects. 
Stephens' natural position is point guard, but he also plays shooting guard as well. 
According to the Academy, it is "an intense, highly competitive, skill-driven camp designed for sixth-, seventh- and eighth-grade boys. Through dynamic drill stations, that teach modern basketball concepts, campers are able to expand their skills in a competitive environment. Through 3-on-3 and 5-on-5 game play, as well as NBA style combine testing, the Academy staff will evaluate each prospect in layers, including skill level and basketball IQ."