BRYANT – The Bryant Lady Hornets are returning to Razorback Field in Fayetteville for the second straight year. After suffering a heart-breaking 3-2 overtime loss to the Rogers Lady Mounties in the title game last year, the Lady Hornets will attempt to finish the job this season against the only team they've lost to this year - the Conway Lady Wampus Cats. 
Bryant and Conway will kick off for the 6A State Tournament title Friday at 4 p.m. at Razorback Field. 
"Our goal was to have two Central Conference teams represented in the finals," Bryant Coach Nicole Inman said after defeating Bentonville in the semifinals. "They're (Conway) a good team. But my dad reminded me when I was in high school, we played a team once that beat us twice in the season, and we went and beat them at state, so they have some strong players, but it's going to be a good game and I'm excited about that. They're not going to outplay us; it's going to be a matter of if we come out ready to go."
The Central No. 1 seed Wampus Cats (19-1-1), which went 14-0 in league play to win the 6A Central Conference, barely got the better of the Central No. 2 seed Lady Hornets (18-2, 12-2 Central) in the regular season as Conway edged Bryant in a 5-4 shootout after a 1-1 regulation in Bryant, and picked up the regular-season sweep with a 3-2 win in Conway right before the state tourney began. 
Since that loss, Bryant has thrown a shutout in their two state tournament matches. After a first-round bye, the Lady Hornets downed Fayetteville 1-0 in the quarterfinals and won 2-0 over Bentonville in the semis.
For Conway, also with a first-round bye, the Lady Wampus Cats defeated Rogers Heritage 4-1 before holding on to a 1-0 victory over Mount St. Mary's in the semis. 
Bryant senior Alyssa Fason leads the way scoring for the Lady Hornets with 19 goals while adding four assists. Sophomorre Ashton Inman has nine goals and a team-leading 13 assists, and Rachel Buck adds seven goals. Senior Mary Catherine Selig has six goals, with senior Madison Humbard and Lauren Heath with five goals apiece. Sophomore Abbey Inman has five assists, with Heath, Grace Carmack and Abbie Patton contributing four assists each.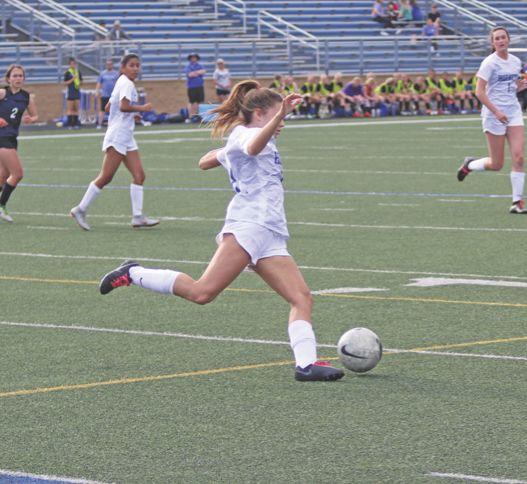 At the net, sophomore Addison Funk has 100 saves on the season. 
It will be key for the Lady Hornets to keep Conway junior Kailyn Pavatt in check, as she leads the Lady Wampus Cats with 31 goals, including all three against Bryant in their last match, and 12 assists. Freshman Rebecca Boone has nine goals, while freshman Tristyn Pavatt has six goals and seven assists.