Opening the cross country season at the Little Rock XC Classic, the Bryant Hornets and Benton Panthers got off to decent starts to the season. For the boys, the Hornets took fifth overall, while the Panthers were eighth out of 20 teams. For the girls, the Lady Hornets were seventh and Lady Panthers ninth out of 14 teams.
For the boys, Lake Hamilton took the team title with 45 points, with Rogers Heritage second at 79. Cabot (102), Jonesboro (168) and Bryant (181) rounded out the top five, with Benton's 216 points good for eighth.
Leading the way for the Hornets were sophomores Mason Lewis and Brady Bingaman. Lewis was 23rd overall in a time of 18:16.99 for the 5K, with Bingaman 31st in 18:36.08.
"Our top two finishers, Mason Lewis and Brady Bingaman, are both sophomores," Bryant boys XC Coach Steve Oury said."I've been very pleased with how hard they have been working. I think we will be fine later in the season. It's just going to take some hard work to accomplish what I think we are capable of." Rounding out the scoring for the Hornets was junior Drew Macintire (41st - 18:52.51), junior Jaxon Holt (42nd - 18:53.48) and junior Chris Herrera (44th - 18:55.72). Seniors Ammon Henderson (47th - 19:16.09) and Bresner Austin (49th - 19:18.19) followed.
"It was nice to line up and compete," Oury said. "We were without a couple of runners who could have helped us, but it was a nice effort. Bresner Austin, who placed second here last year, dealt with cramps early in the race and was never able to recover. Sometimes that just happens to all runners, so I'm sure he will be back to his normal self next time out."
Senior Jesse Bennett led the way for the Panthers, turning in a top-20 finish. Bennett's time of 18:05.39 was good for 19th overall. Following Bennett was junior Samuel Morales (32nd - 18:36.63), junior Mason Lucas (43rd - 18:54.24), senior Gage Epperson (54th - 19:31.44) and senior Tyler Smith (68th - 20:11.63) to round out Benton's scoring. Sophomore Ben Watson (70th - 20:18.69) and senior Russ Hooks (74th - 20:30.64) followed.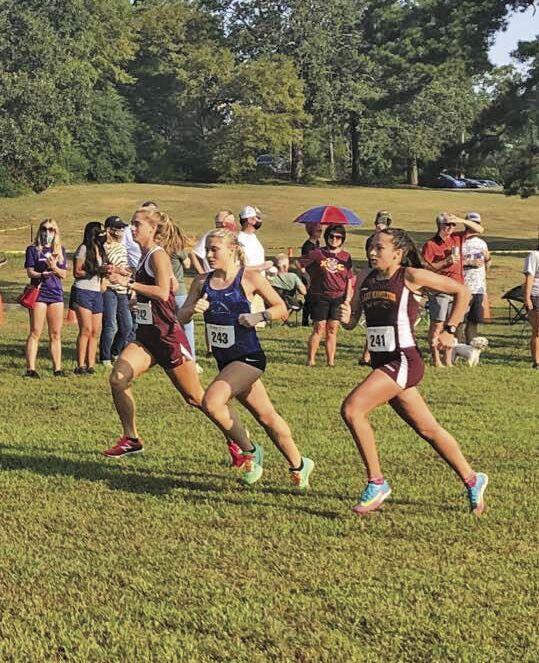 For the girls, Lake Hamilton again took the team title. The Lady Wolves won the meet with 82 points with Cabot second at 92. Vilonia (105), Jonesboro (114) and Conway (120) rounded out the top five, with Bryant's 163 points good for seventh and Benton's 179 good for ninth.
"This race is very deceiving," Bryant girls XC Coach Keith Dale said. "Lots of long hills that cap off with steep inclines to really burn the legs, mixed with wet areas creates conditions that will push any runner's physical ability and stamina. I don't see us breaking any records on this course, but it shows us how much perseverance we have and gives us a great grasp on our current abilities."
The Lady Hornets were led by junior McKenzie Hicks' top-20 finish, taking 16th overall in 23:15.00. Sophomore Brylee Bradford (24th - 24:00.94), senior Aryn Stiles (27th - 24:02.41), sophomore Ashleigh Byles (47th - 25:52.33) and junior Heather Hammett (49th - 26:07.27) finished out the scoring for Bryant. Sophomore Maddie Nelson (50th - 26:08.08) and sophomore Miranda Merkel (62nd - 26:60.98) rounded out the top seven.
Though the Lady Panthers were ninth as a team, Benton senior Emma Selph really shined. Selph finished third overall at the meet with a time of 20:56.65.
"It was a hard course," Ginther said. "Selph and Bennett were definite bright spots on the day."
Following Selph's excellent finish was junior Melina West (23rd - 23:59.98), junior Abigail McElhaney (39th - 25:10.69), junior Karis Guthrie (54th - 26:25.60), with sophomore Morgan Calaway (60th - 26:48.60) rounding out the Lady Panther scoring. Sophomore Mallory Crosby (71st - 27:32.05) and junior Anna Dixon (74th - 27:49.04) followed.
Both Benton and Bryant will compete in the Bison XC Invitational in Searcy on Saturday.