The Bryant Hornets tennis team would get the better of the Benton Panthers Monday at Tyndall Park in Benton, upending Benton 7-1 overall in a match cut short due to lightning in the area. 
In girls' singles, Bryant sophomore Kate Keith would down junior Hannah-Grace Fritz 6-0, while Lady Hornet junior Hannah Henderson claimed an 8-2 win over freshman Emma Young. 
Bryant sophomore Hope Hartz and freshman Simone Dinstbier downed Benton senior Ashlyn Gibbs and sophomore Rylee Sisco in doubles play, while junior Megan Brown and freshman Janie Ray won a 6-4 decision over juniors Erin Welch and Allison McMillan to close out the Lady Hornet sweep.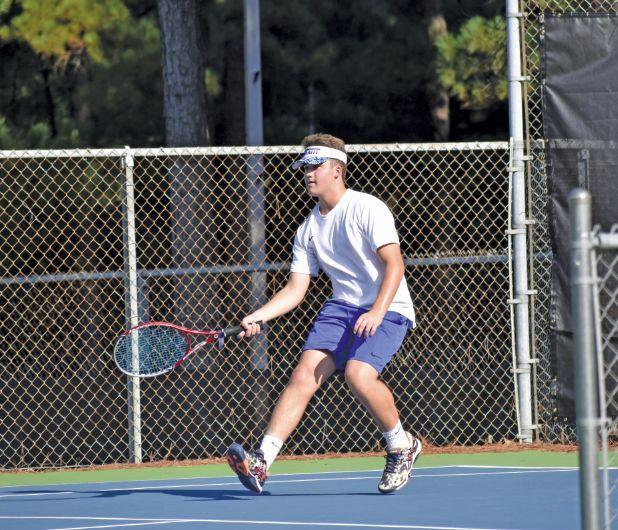 In boys' singles, the Panthers picked up their lone victory when sophomore Eli Rose won a shortened set 4-2 over Bryant freshman Pablo Garcia. But, the Hornets would win the rest of the way when senior Jalen Dinstbier won 8-5 over Benton sophomore Marcellus Nash. 
The closest match of the day came in boys' doubles. Tied 8-8 after regulation, senior Donte Baker and sophomore Nick Skaivo gave the Hornets the tie break 7-3 over Benton sophomores Luke Pelton and Peyton Shipp. Bryant sophomores Caleb Greiner and Connor Martin won a 3-1 short set over Benton juniors Nathan Williams and Hank Herzfeld. 
Bryant is back in action today when the Hornets face the Central Tigers at Rebsamen Tennis Center in Little Rock. Benton also plays today, hosting the Sheridan Yellowjackets at Tyndall Park, with both matches starting at 3:30 p.m.