North Little Rock and Bryant have faced off six times in four years — Bryant has won twice.
The last two contests between the two have gone to the Hornets, including last year's 7A state championship game — first trophy in Bryant's history.
Tonight, Big Blue will battle the Charging Wildcats once more as the two face off in the 2019 7A title game at War Memorial Stadium in Little Rock.
Kickoff is set for 7 p.m.
While North Little Rock has been a tough opponent for Head Coach Buck James and company, the head Hornet is looking forward to a good matchup.
"It is a tough battle," James said. "You have to physically and mentally be prepared to battle guys like this. They are tough and hard-nosed. They are a physical football team and our guys have to raise their level of play to be able to match their intensity."
The title game will mark the third straight playoff game against a team Bryant has already beaten in the regular season, having downed Fayetteville and Bentonville West in the quarters and semis. Both were won via mercy rule.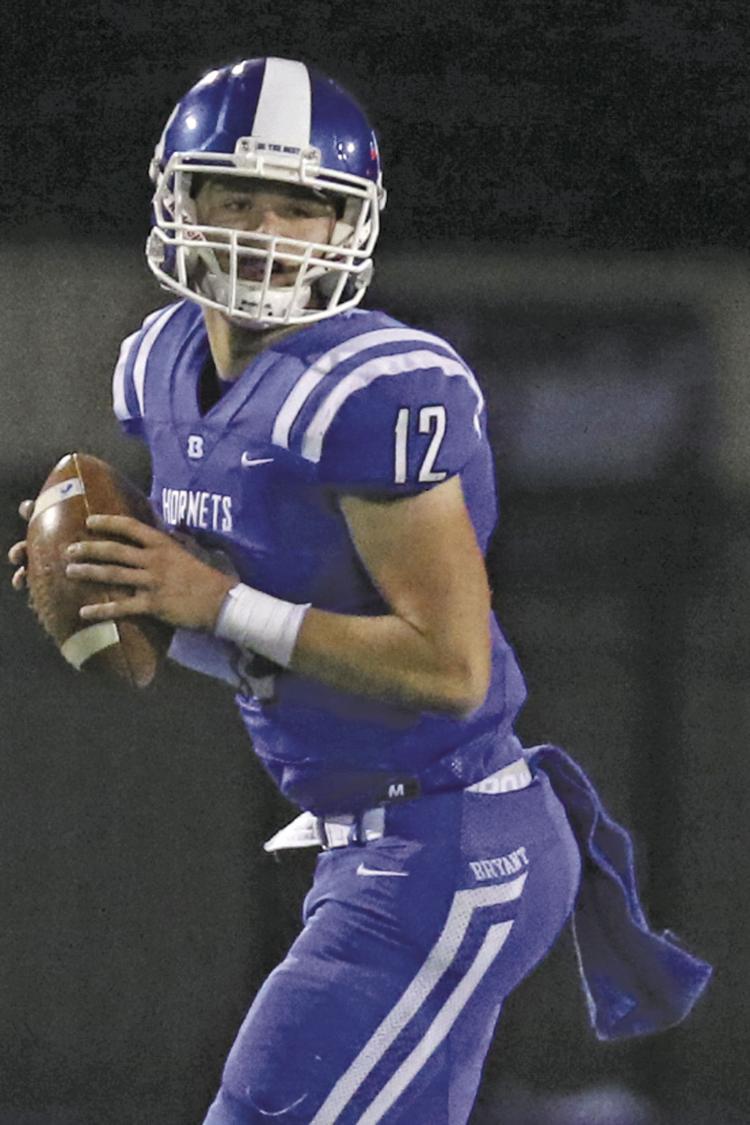 Bryant defeated North Little Rock in Week 9, the first time a Hornets team had won over the Cats in the regular season.
Bryant's offense was stellar, though the Hornets won 35-21.
Junior quarterback Austin Ledbetter was 19 for 39 for 323 yards and five touchdowns against the Cats that night, while being picked off once.
On the ground, the Hornets were held to a mere 55 yards with Ledbetter leading with 25 on six carries. Bryant ran the ball only 23 times in the win.
Hayden Schrader, one of Bryant all-time receivers, had a big night against the Cats in Week 9, bringing in 10 receptions for 185 yards and a score while averaging 18.5 yards per catch.
On the year, Schrader has hauled in 53 catches for 819 yards and nine scores.
Only one catch behind him is senior receiver Jake Meaders, who leads the team in yards and TDs with 889 and 16. Meaders is averaging 17.1 yards per reception thus far.
While Bryant has won nearly every game this season via mercy rule, James says the past is the past and focus has to be on the game ahead.
"We have to do what we can do," James said. "Every offense and defense has a game plan and what we have to execute to basically stop them from running or throwing. Then what we can do to run and throw on them. Basically, that is what we have tried to hammer into our kids and try to establish a game plan and get it to fit for what we can do in a week.
"Really, we have gone no different than any other week. It is just bigger stakes, I guess."
One major plus for the Hornets this year has been the health of every athlete.
According to James, "we don't even have any bumps or bruises, that I know of."
North Little Rock uncharacteristically started the season off with a 1-2 record before winning 7 of 9 to close the year.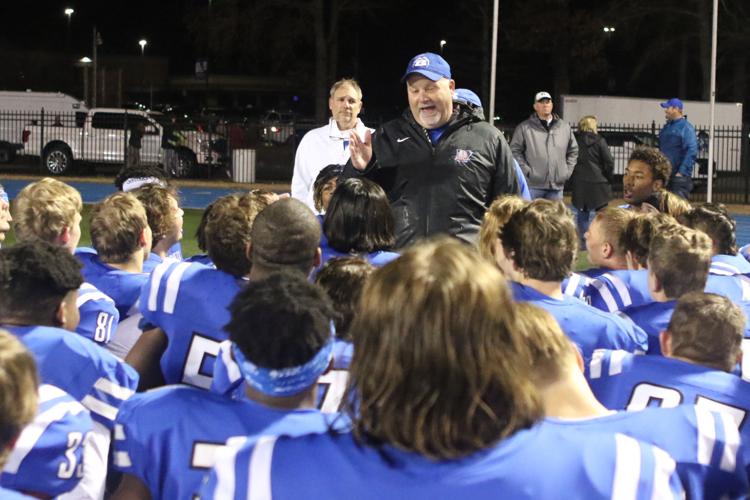 The Cats played a close game to halftime in last week's semifinal against Bentonville, leading 21-17 at the break.
The third quarter proved to be huge for North Little Rock as it scored 21 points in the frame to all but seal the victory.
Neither team would get on the board in the fourth as NLR won 42-24 to advance to its forth straight title game.