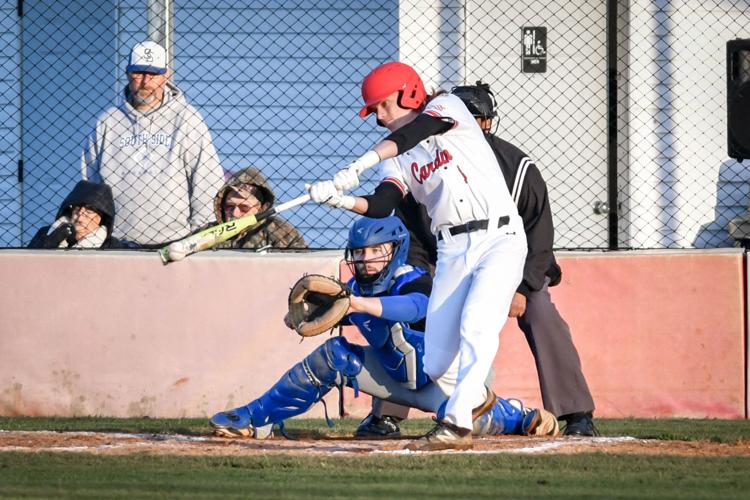 CAMDEN — For the third straight time, the Harmony Grove Cardinals captured the Battle of the Grove crown, defeating Camden Harmony Grove 12-2 to open the season Monday.
After a scoreless first, the Cardinals led 1-0 after two before dropping a 5-spot in the third.
Harmony Grove would tack on another run in the fourth before scoring again in the sixth and four more times in the seventh.
Camden's two runs came in the bottom of the fifth.
Hayden Hilson crossed the dish to kick off the scoring, coming in on a squeeze bunt from Matthew Rouse in the second.
In the third, Hayden Lumpkins motored in on a wild pitch before a passed ball allowed Connor Burrow to make it 3-0, immediately followed by a run-scoring error that brought home Chase Chilton.
Hilson and Hayden Toler would cap the inning, both scoring on a 2-RBI single from Cameron Palmer as the Cardinals led 6-0.
In the fourth, following a fly out from Jared Toler, Burrow gained some cheers as he went deep for a solo home run to make it 7-0 after four.
Camden would use an error and sacrifice fly to score its only two runs of the game in the bottom of the fifth.
The Cardinals, though, quickly answered with a run in the sixth, scoring on an RBI single from James McCormick. Chilton would cross the dish again on the play.
Already up plenty, the Cardinals tacked on in the seventh, scoring three on a bases-clearing double from Chilton, followed by an RBI single from McCormick to make it a 12-2 final.
Both McCormick and Burrow led the Cardinals with a trio of knocks, combining for three RBIs and three runs scored.
Chilton also scored three times in the game, while going 2 for 4 with two RBIs.
On the mound, McCormick opened the contest, throwing 4.1 innings of work while allowing two unearned runs on three hits, striking out four and not walking a man.
Trey Miller followed with 1.2 innings of perfect action, striking out a pair.
Burrow would close the contest striking out three while allowing a hit over an inning of work.
Harmony Grove will take the field once again Thursday as it travels to England. First pitch is set for 4:30 p.m.