BENTON – After the Benton Panthers boys bowling team won their first ever state championship with the 5A crown in February, the Arkansas High School Coaches Association named Benton Coach Brandy Chumley Bowling Coach of the Year recently. Chumley also earned Bowling Coach of the Year in 2015, not to mention garnering two Volleyball Coach of the Year honors in 2012 and 2014. 
"I couldn't do it without the bowlers," Chumley said. "It's a big honor. They're great kids and great bowlers, so it really just goes back to them. I couldn't have gotten this award and honor without them."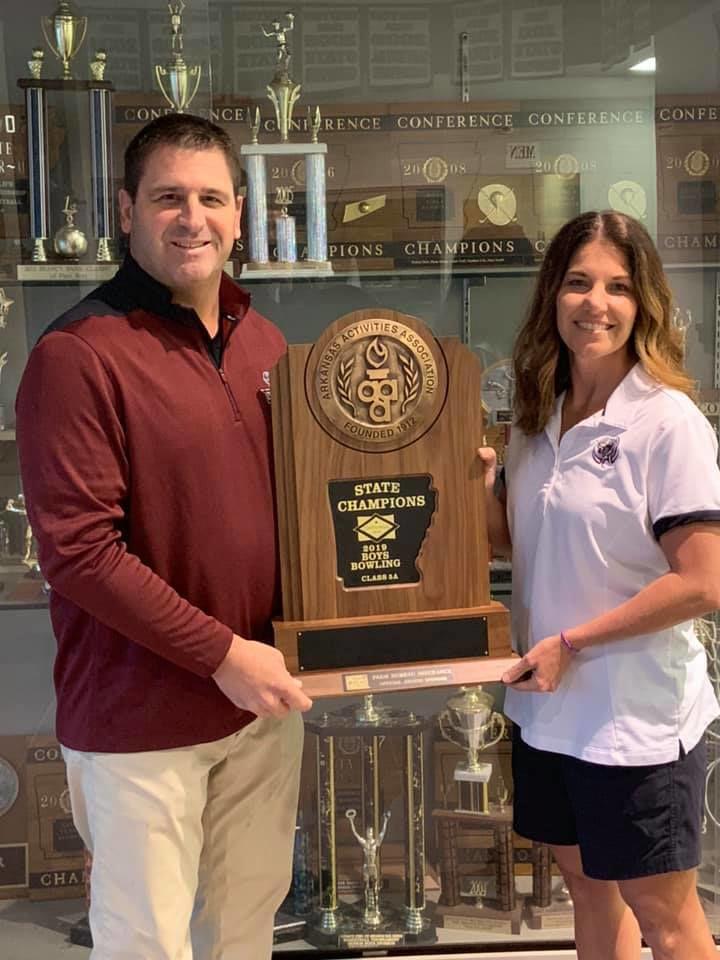 The Panthers won the state title by 60 pins over runner-up Siloam Springs a year after finishing fourth at the state tournament. Just as they did this year, the Panthers won the conference tournament a year ago, but struggled at state. They got the job done this season.  
"We've had a lot of great years where we're right there, and last year they did really well in conference," Chumley explained. "We won conference and maybe got a little big-headed going into state. This year, they knew what to expect, buckled down and did what they had to do. They wanted it really, really bad. 
"It takes six to be on a team. It takes everybody to do well and it helps when they get along and not get frustrated. It's a lot of pressure to do well, too, and they handled it really well. They were just so determined."
Senior Seth Morgan definitely did his job as he took the gold medal at state this year with a three-game series of 731 (243.7 average) and also earned All-State honors. 
"Seth was the leader on the team," Chumley said. "Everybody just respects him. He's a good guy and a really good bowler. The other kids looked up to him. He was kind of our rally person as far as getting everybody on the same page and working hard. They would meet at the bowling alley on their own time. 
"With his heart and his desire and wanting to win, especially being so close the last few years, we owe a lot to Seth."
Sophomore Carter Robinson also earned All-State, coming in with a 598 series. Chumley said Robinson leads by example. 
"He doesn't have a lot to say, so when he says something, people listen," Chumley said. "He kind of backed Tyler (Skaggs) up. He is such a good bowler. He bowls league and goes to tournaments throughout the year just to compete and get better. He's a solid kid."
Senior Tyler Skaggs bowled a 552 series, improving in many ways from a year ago.  
"Tyler moved in last year and has matured so much just from last year to this year," Chumley said. "He was good last year, but just his maturity as far as being able to control his frustration, he has just gotten so much better. He has grown as a person and a bowler."
Junior Scotty Garner and freshman Alex Roberts both were huge all season for the Panthers, as they both came in with 542 series at state.  
"To be able to win and go to state, you have to be able to bowl and bowl well," Chumley said. "Alex is young, but he bowls a lot. He bowls league and is in tournaments all the time, so he knows how to compete. Same thing with Scotty. I can't say enough what great kids they are. Not only are they great bowlers, but their good kids, good people."
Senior Parker Wilson bowled a 460 in state his first year to bowl for the Panthers. 
"He was our surprise," Chumley said. "He stepped in this year and really just a couple weeks before conference he started picking things up."
Also contributing to this season's squad was senior Kelsey Wright. 
"He helped us get there," Chumley said. "He's got one of the biggest hearts on the team."
And according to Chumley, the Panthers wouldn't have won state without Marian James, a longtime volunteer, and husband David James, who passed away in 2016. 
"Without Marian we wouldn't have the team that we have," Chumley said. "Marian has just helped these bowlers. Seth really worked with David, so that was kind of cool him winning and still having that memory of David around." 
Though the Panthers are losing seniors Morgan, Skaggs and Wright, there is still plenty of talent returning next season. 
"Alex, Carter and Scotty will come in and contribute next year," Chumley said. "They helped big-time this year and they'll help bring some of these other younger ones in and do what Seth did and how he led the team this year. 
"They bowl league and love it. They want to win so I hope they can come together next year and be just as strong as they were this year."
Chumley will be honored and receive a plaque for her Coach of the Year at halftime of the AAA All-Star girls basketball game on Saturday, June 22, at the Farris Center in Conway. The game begins at 1 p.m.