Leading the Mills Comets 32-23 at the half in the Jammin' for Jackets championship game Saturday at Cirks Arena at Hall High School in Little Rock, the Bryant Hornets' poor shooting in the second half would lead to Mills claiming a 57-53 victory, their second straight Jackets tournament title. 
It was Mills junior guard Caleb Allen leading the comeback bid in the second half. With the Hornets leading 50-47 after 1 of 2 free throws from Bryant senior Catrell Wallace at the 3:26 mark, Allen nailed a three assisted from freshman QJ King to tie things up, and Comet junior forward Jakari Livingston picked off Bryant sophomore Khalen Robinson, the Hornets first turnover of the second half, and dunked it to give Mills its first lead of the game, 52-50, with 2:50 to go. 
Robinson hit 1 of 2 free throws to make it 52-51, but Allen hit another three to push the Comet lead to 55-51 before Bryant junior Camren Hunter's offensive rebound and put back made it 55-53 Mills with 48 seconds left. Livingston followed with a big bucket assisted by King and the Hornets couldn't come back. 
Bryant (6-2) shot just 7 of 26 (27 percent) from the field in the second half, including just 3 of 16 (19 percent) from 3-point range, unable to knock down open looks. Mills shot 14 of 23 (61 percent) in the second half, with Allen hitting 4 of 4 from deep to score 15 of his team-leading 24 points in the game.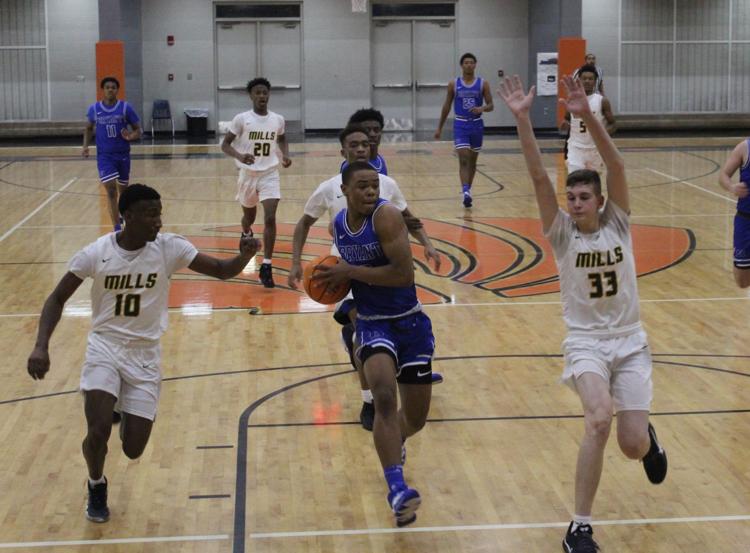 It was mostly Bryant in the first half, though, as junior Aiden Adams hit a three assisted by senior Treylon Payne to get the scoring started and Hunter put the Hornets up 5-3 with two free throws. Hunter's offensive rebound and put back and-1 put Bryant up 8-5. After a Mills bucket got the Comets within one, the Hornets responded with a 6-0 run capped by a Payne offensive rebound and put back to lead 14-7 with 9:12 left in the half. 
Two free throws from Robinson made it 16-9 Bryant and it was all Hunter after that as he scored Bryant's next 10 points to put the Hornets up 26-19, with another Adams three assisted by Hunter making it a 29-19 advantage with just over four minutes to play in the half. Mills responded with a 4-0 run, but Hunter closed the half with a three assisted by Robinson for the 32-23 lead at halftime. 
Hunter scored 18 of his team-high 25 points in the first half, adding seven rebounds, with Adams and Robinson adding nine points and five rebounds each. Payne, after scoring 30 in a win over Parkview on Friday, was held to just seven points as he was in foul trouble most of the game. 
For Mills, Livingston had 14 points and 13 rebounds, including four dunks in the game. 
The Hornets play next on Saturday night, traveling to Conway to play in the Conway Classic against Izard County.