The Glen Rose Beavers (6-2, 5-0) wrapped up their fifth straight win last week, defeating Perryville 41-6 at home.
The win was also the 12th straight in conference play, dating back to Week 4 last season.
Glen Rose will make the trek to Atkins (7-1, 5-0) on Friday, facing off against a Red Devils team that sits tied atop the standings after routing Mayflower 34-6 on the road in Week 8.
Quarterback Wesley Launius completed 10 of 19 passing attempts for 154 yards last week, while rushing for 122 yards and two scores on 12 carries. To this point, the senior has thrown for more than 1,300 yards with 15 touchdowns and has gained more than 600 yards on the ground.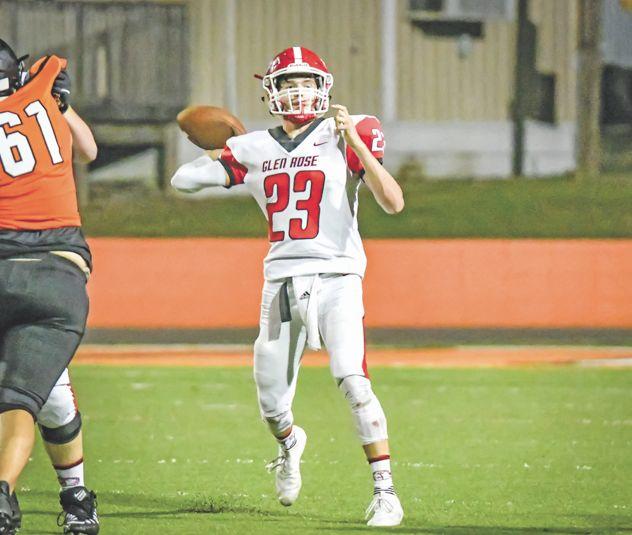 Atkins uses a balanced attack on offense, led by senior quarterback Elijah Roberson.
The gunslinger has completed 134 of 202 passes (66 percent) for 2,297 yards and 31 touchdowns this season. He has also been intercepted five times.
"He is probably one of the top two quarterbacks, for sure, in 3A," said Head Coach Mark Kehner. "He is a good quarterback and can sling it. He is big bodied. He has skilled guys all over the field."
Through seven games, Roberson has passed for at least 300 yards five times, including 331 on 22 of 28 passing against Danville in Week 7. 
His career night came in Week 4 against Baptist Prep when he threw for seven touchdowns in a 52-35 win.
On the ground, Roberson has rushed 46 times for 244 yards and two scores for Atkins. 
Senior running back Rylee Bowden leads the ground attack with 59 carries for 365 yards and 10 scores, but did not play in the Devils win in Week 8. As a team, Atkins as rushed for 1,036 yards and 16 touchdowns.
"They are a lot faster than we are," Kehner said. "Last year, they big played us a few times that killed us. That is our key going into this game — we are going to have to try and cover them up and take away the big play because they are capable of doing that on any given play."
Defensively, Michael Dunagan makes things tough on opposing quarterbacks, having intercepted five passes on the year.
Bowden leads the team with 64 tackles, followed by Dylan Felton with 56. As a team, Atkins has 29 tackles for loss on the year.
This week's game will likely decide the conference champion as the next closest team in the standings is Jessieville at 3-2, which has been beaten by both Glen Rose and Atkins already this season.
Since Week 2, Glen Rose has allowed more than 14 points only one time (Week 6 30-27 win over Danville).
"I thought we hit adversity early and addressed the issues that kind of caused us to lose the first couple of games of the season," Kehner said. "Since then, I think the kids have done a good job of addressing those areas. Attitudes are great and they are bringing a lot of energy to practice every day. This late in the year, any time you have that in a team, as a coach, you feel good about it."
Kehner said he expects a wet and sloppy setting for Friday's game, adding that the team that takes care of the ball the best can be huge "in a game like this Friday."
Kickoff is set for 7 p.m.