The Bryant Hornets began their quest to glory two seasons ago. After winning the first 7A state championship in school history in 2018, the Hornets had major deja vu in 2019 with a repeat — but in style — going undefeated.
The feat set the Hornets on the highest pedestal in Arkansas high school football history as arguably one of the greatest teams ever.
Currently, Bryant is on a 17-game winning streak coming into Saturday's season-opener with Benton in Salt Bowl XXI at War Memorial Stadium.
But with big accomplishments comes bigger challenges, the main one being staying at the top.
Bryant enters 2020 as the top-ranked team in the state.
Despite COVID-19 wreaking havoc on every team across the nation, Head Coach Buck James and company are ready to push for a three-peat.
"We are coming along slowly," James said. "We have been held back by so many different restrictions. Just until a couple weeks ago, we didn't start doing football itself. The kids' attitudes are great. They are working hard and trying to get better. We just haven't been able to do a lot of football.
"Probably nobody understands how much team camps and 7-on-7 counts toward your progression until you miss the whole summer of it."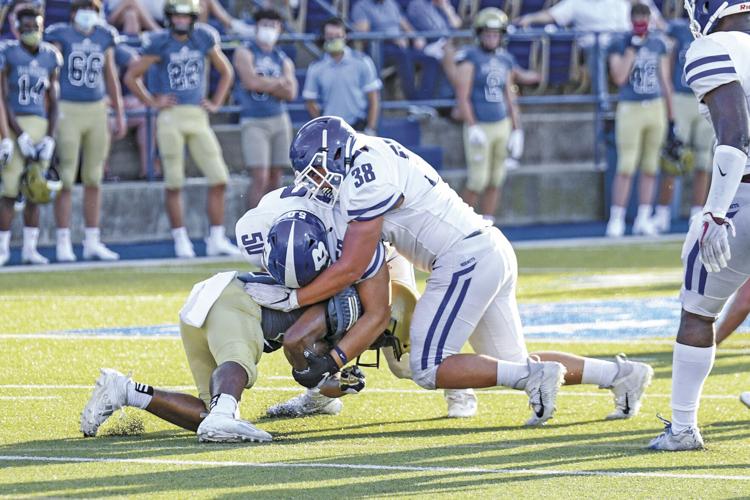 Even with the hold back in preseason, James is poised to keep the top ranking and continue toward a third title.
"It is going to be difficult because we are going to get everybody's best shot," he said. "We are not going to play somebody and they are going to underestimate us. They are going to try and knock us off and try to beat us. They are going to be excited to get to play us. We've got to understand that those guys that have been here are the ones that set the table — it's the guys that are here now that have to use it and do what they are supposed to do. It is a big challenge for our football team."
With a three-peat in the balance, Bryant has all the weapons on offense to do so.
"We have eight returning starters on offense," James said. "Each one of those guys were a big part of what we did last year. They are all expected to play at a high level. I expect our offense to be good and I expect it to score points, go out and dominate games and play at the level they played last year or even better.
"It's just that we have some young guys that took some places and we've got to coordinate them and their mindset and what we want them to do."
Key Hornets returning on offense include Saline County's top passer and All-Stater Austin Ledbetter.
The senior threw for more than 3,200 yards a season ago, tossing for 43 touchdowns and only nine interceptions.
Ledbetter's stat sheet speaks for itself. However, he only played half of most games as the Hornets dominated teams up and down the schedule which allowed for starters to rest most second halves.
Bryant pitched three shutouts in 2019 and only allowed more than 14 points once (North Little Rock in Week 9).
Also returning in 2020 is Hayden Schrader at receiver after tying teammate Jake Meaders for the most catches in the county with 58. He would haul in nine scores and eclipsed the 870-yard mark in the process.
Meaders, who caught 18 TDs for the Hornets last season, graduated in the spring.
James said that even with Meaders absent this time around, his receiving corps is still strong with the likes of River Gregory, sophomore Cory Nichols, Joseph Young, Jordan Knox and Clay Curtis.
Young averaged 20 yards per catch as season ago.
"A lot of those guys played last year and play significant roles," James said. "We've got to have a lot of guys step up."
The running game will also be strong again, but will see a new full-time back for the third straight year after Ahmad Adams graduated in the spring.
James said he plans to use Tanner Anderson, Xavier Foote and Jamarien Bracy in 2020.
"I think our running backs can be as good or better than what we have had here the last three years," James said. "Those guys can play with anybody. They should be bell cows themselves."
James also mention that four of five offensive lineman return, helping Bryant to be productive on offense.
Defense, according to James, will be the biggest weakness as only four starters return from last year.
"We really have three and a half guys back from last year's team," he said. "Three in the secondary and one defensive lineman. We have to step it up over there. That is where we really struggled in the scrimmage. That is our biggest hurdle."
James said Bryant's kicking game returns nearly everyone but that special teams lost some key players.
"I feel like we can still be pretty good at special teams, we just have to step up to the plate, carry our own weight and do our job," James said. "Quit looking over our shoulder for those guys that have been here to pick it up and do it. These guys are going to have to be honest with themselves and play at a high level. If somebody is better than us, we can live with that, but if we don't play our best and do what we are supposed to do is what's going to make us sick."
Looking at the 7A Central, James is expecting to play the state's best with the likes of North Little Rock and Conway in weeks 9 and 10, along with newly joined Southwest Little Rock, and improved Little Rock Central squad, a much-improved Cabot team and an always feisty Little Rock Catholic group.
James said no game is a given, but he expects Bryant to compete and be in it at the end.
Bryant will battle Benton at 7:30 p.m. Saturday, a game the Hornets have won or tied each of the last 14 meetings.