BENTON – Making it to the state title game the prior two seasons, the Benton Panthers had the potential for big things last year until the coronavirus COVID-19 struck. The Panthers were hungry for more and rolling early on sitting at 5-1 going into a rivalry game with the Bryant Hornets in the Big Red Series before things shut down, ultimately for good cancelling the season due to the virus. 
"It was a rough year last year," Benton Coach Mark Balisterri said. "We had a lot of talent coming back from the year before and felt good about where we were. We were playing really well. The only game we lost was 1-0 in a pitchers' battle. The last game we played Jaden Woolbright threw a no-hitter in six innings against Little Rock Christian. Then COVID hit and everybody knows the rest of the story from there."
Unlike college where you get an extra year of eligibility due to the virus, high schoolers didn't get that same luxury and Woolbright was one of seven Panther seniors which graduated in their lost season.
Despite that lost season, most of the returning Panthers played plenty of baseball throughout the summer.  
"The good thing about it was most of the summer baseball continued on," Balisterri said. "Most of my players got a good number of games in during the summer. They probably got 20 to 30 games in during the summer and then when we came back to school, we started our offseason program in October. It went really well."
But that good start for baseball came at a price for the football program, which had also made it to the title game the two seasons prior. The Benton footballers saw their season come to an end the day before their first playoff game as COVID quarantine ransacked the school district that week in mid-November. 
"Unfortunately for our football program, COVID took its toll on them," Balisterri explained. "From a baseball standpoint it was a good thing for us because we got to start early. We're not used to having our football kids until December, for good reasons. Like us, they've been in the state championship the past two years. 
"We had a good fall, had our fall world series and we came back in the spring. It's different. It's hard to see kids' faces. We have to wear masks. There's not a lot of standing around. We do our best to keep everybody separated. We've been hard on them on that and they've bought into it."
The Benton baseball team did add a familiar face to the coaching staff as former Panther All-Stater Drew Harris joined the team.
"As far as baseball goes, we've been able to get a lot done in January," Balisterri said. "We got a new assistant this year in Drew Harris. He's made a good impression and adapted well to our program. He's a former player of ours and he knows what we do and how we do it."
But, Benton did suffer a big loss when senior Tristan Hawkins, shortly before signing with the Little Rock Trojans, had an arm injury to shut down his senior season. Hawkins was expected to be the ace this year. 
"Our pitching is going to be a little different than it has the last two or three years," Balisterri said. "We've had at least one guy on the mound, sometimes more than one, that can chunk it up there around 90-91 (mph) and could dominate a game at times. We had a big blow to our team this year in losing Tristan Hawkins to an arm injury. Big arm, big body, low 90s, great 12-6 curveball and he was going to be our dominant guy on the mound. He was also going to anchor the outfield in right field and he was good for 20-25 RBIs a year. It's tough when you lose his arm and his bat, but that's baseball and sometimes baseball throws you a curveball. 
But Hawkins didn't pack up and go home as he is still a leader for the Panthers this year. 
"Tristan has been a vital part of our success so far this spring," Balisterri said. "He's stayed with us and is helping coach the pitchers. Just having him around, he's a leader and still doing a great job of pushing his team forward."
Though Benton doesn't have that fireballer of recent years past, it wasn't that long ago the Panthers had plenty of success without that dominant arm on the hill. 
"In 2009 we didn't have a pitcher out there throwing over 82 and we won 28 games and a state championship, so we're not concerned," Balisterri said. "We've got an opportunity to play great defense, score some runs … we just have to make good pitches and have complete command of our pitches because a walk is like an error for this team. We have to make the other team put the ball in play."
Though not throwing in the 90s, the Panthers have a few pitchers who can throw it harder than 82 and will look to lead the way on the mound this year.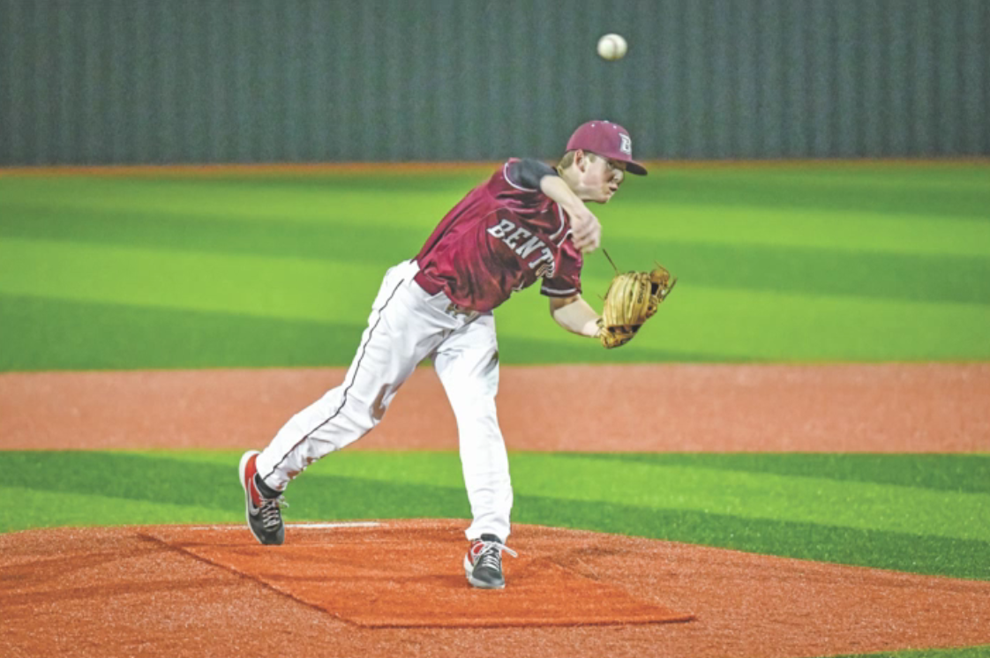 "We've had some guys step it up," Balisterri said. "We have a lot of arms. We don't have huge arms, but Aidan Garrett, Jake Jones and Caleb Sollars will all bump mid-80s. The rest of our pitchers are 78-82, but we've got 11 or 12 solid guys on the mound. We've got guys going out there to compete. 
"Sollars is a lefty that's going to be good for us. Aidan Garrett is a senior and we're expecting big things out of him everywhere, but he's also a fireplug on the mound. He's a fighter and competitor. Jake Jones is a sophomore that we feel like he's going to be one of our guys. He's got real good command of three pitches." 
The depth doesn't stop there. 
"Ethan Perry is a junior who unfortunately didn't get to play his sophomore year a whole bunch, but did a great job," Balisterri said. "I think he was going to have a big year for us. He's got really good command of his pitches. Then we've got Garrett Brown who hasn't played since his freshman year. He had a knee injury that prevented him from playing baseball. We know he's got a big arm from football and I think he has a chance of helping us a little bit. He might be a closer-type guy for us."
Brown broke every major passing record for the Benton football team, and still there is more depth on the mound with Balisterri mentioning junior Dawson Turner, senior Karsyn Buchannon, sophomore Jack Woolbright and junior Austin Phillips also helping with pitching.  
Other than Garrett, a three-year starter at shortstop, the rest of the infield will sort itself out with plenty of options at every infield position. 
"We're a young team. We're going to have a whole new look in the infield," Balisterri said. "First base is still up in the air. Caleb Sollars and Austin Phillips, Jack Woolbright and Jake Jones. It just depends on who's pitching and who steps up and performs on game day. 
"At second base, right now we have a sophomore, Brooks Lane, working there and he's done a really good job. Has had a good spring camp so far. Seth Mejia has a lot of promise. Jack Woolbright."
When (Aidan) Garrett is on the mound, Balisterri said, "we might end up playing Ethan Perry (at shortstop). He's an infielder/outfielder, very versatile. Probably the most athletic and versatile kid on our team," while also mentioning Mejia and Woolbright as shortstop candidates. 
Woolbright will likely start at third, with Jones, "one of those kids you could put him anywhere and he's one of the better players at any position," Balisterri said, also possibly seeing time at third when he's not behind the plate or pitching. 
"Jake Jones is a sophomore and is considered one of the better catchers in the state," the coach said. "Also Jackson Cobb (at catcher). He's worked his tail off all year. He's gotten bigger and stronger and faster. He's probably gained 25 pounds and it's all good weight. He's developed into a heck of a player. He'll be one of our leaders offensively, too." 
In the outfield, "it looks like Jake Green has found a spot in centerfield," Balisterri said. "Jake's a small guy but he can fly. He's one of the fastest players that I've coached. He can really get after it. If he puts the ball on the ground, he bats from the left side, there's a 90-percent chance he's going to beat it out, even if it's on the right side of the field. He can play infield, too.
"Ethan Perry will probably be our guy in left field. He can play multiple positions, he can swing it, he's going to be a leader on this team. He's a gamer. 
"In right field, Karsyn Buchanan. Karsyn is also a kid who can play anywhere in the infield. He's a possible candidate for shortstop when Aiden is pitching. He bats from the left side, too. We have an opportunity to have four to six guys in our lineup that bat from the left side."
Balisterri also said sophomores Caiden Phillips and Justin Mitchem, and junior Andrew Armstrong will see some time in the outfield, as well. 
A luxury for the Panthers this season is the versatility and depth of this squad, which gives Balisterri plenty of options to play the hot hand. 
"We've got a bunch of guys we feel like can play multiple positions," he said. "Everything is really unknown right now. The only true position we know for sure is shortstop. (Aidan) Garrett's going to be that guy. Some of them have outperformed others to this point, but now it's going to be those who can perform in the game. 
"I can see us having a completely different lineup depending on who's pitching. I'd rather not play a kid at shortstop one game, third the next and first the next, but these guys can do it. They don't have egos, they just want to play and do anything to help their team. That's the beauty of having a young team, too. They just want to get out there and play." 
The Benton Maroon & Gray game was originally scheduled for Saturday, but wintry weather has postponed it to Saturday, Feb. 27. The Panthers will host the North Little Rock Charging Wildcats in a benefit game on Thursday before opening the regular season with a bang, beginning with the Benton Invitational starting on March 1, followed by a tournament in Sheridan and the Big Red Series vs. Bryant on March 12. 
"These first two weeks is going to be like going through the gauntlet," Balisterri said. "The first two weeks we're going to play nine games in 10 days, basically, counting weekdays. It's going to be a lot of fun."