Fresh off their second straight year as the 5A state runner-up, the Benton Panthers baseball team again goes into a season with a lot of unknowns, but still plenty of talent returning from last season's 23-6 team which fell 2-0 to rival Sheridan Yellowjackets in last year's title game. 
"Every year you're going to lose guys, and we lost some really good players," Benton Head Coach Mark Balisterri said, "but we've got some good ones coming back. Any time you've got any experience coming back after a year like last year and the year before, you just feel fortunate. We're excited."
And like last year's team with then senior Jesse Barker the lone Panther throwing more than 10 innings the season prior, there are again question marks on the pitching staff, which not only lost UCA signee Barker to graduation, but Benton's top three pitchers in innings pitched with Arkansas Razorback signee Peyton Pallette and lefty reliever Colen Morrow. 
"You look back at last year's team as an example," Balisterri said of the question marks. "Coming into the year we didn't have a whole lot of experience coming back. Pallette hadn't thrown a whole lot of innings and the most experience we had coming back was Barker and he had only thrown like 18 or 20 innings the year before. So we're in kind of a familiar situation."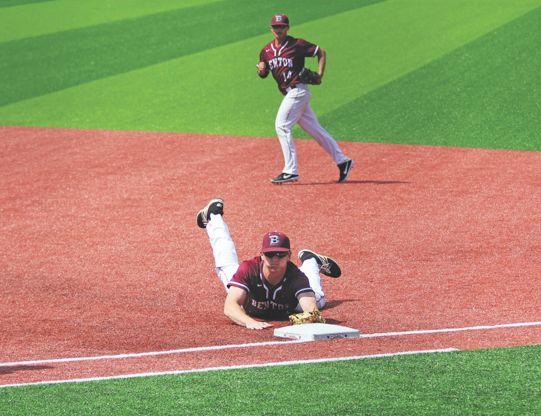 That pitching trio shined for the Panthers. In a combined 149 innings pitched, Barker, Pallette and Morrow went 19-4 with a 1.59 ERA while striking out 193 batters. 
But, just with the unknowns at the beginning of last year, the same applies this year.  
"If Jaden Woolbright will step up and get command of his pitches, he can take the spot of a guy like Pallette," Balisterri said. "We also have Tristan Hawkins (threw seven innings last season, which lead Panther returnees), a hard-throwing guy that could fill that type of a role too - that throws the ball hard and has a hard breaking ball. 
"We have Dalton Pugh. His velocity went up some and we're looking at him to maybe fill that spot of maybe a Jesse Barker guy. Someone who can eat up innings and get people out. 
"We've got a lefty in Caleb Sollars, we're hoping he'll fill that gap of Colen Morrow. He's a lot like him. Same type of velocity. If he can keep command of his pitches, he can be that guy. And then we've got several other arms that we're looking to possibly help.
"We really have a lot of similarities in the pitchers we've got coming back. They're just going to have to go out there and perform just like those guys did."
But one big difference in last year to this year is the absence of catcher Logan Easterling, who was a stalwart behind the plate for the Panthers the past three years while also leading Benton with a .370 batting average, three homers and 29 RBIs.
"We've got three guys back there fighting for that position," Balisterri explained. "(Blake) Farrell is a senior coming back and he's done a good job of managing the pitchers so far. We have a sophomore, Jackson Cobb, a guy who is getting better every day. Then we've got a freshman in Jake Jones that's got a lot of potential. He can swing real well from the left side, too."
Junior Aidan Garrett returns to shortstop after a big year of hitting .338 his sophomore season. 
"Garrett will be our shortstop," Balisterri said. "We really feel like he's going to be a leader on the field and we're excited about him. He had a great sophomore year and is already committed to Little Rock. We feel really good about him up the middle."
Another Division I signee (Arkansas State), Woolbright looks to have a position change after his big junior season at first base which saw him bat .324 with three home runs and 21 RBIs, while leading the team with 34 runs.  
"We're probably going to move Jaden Woolbright to third," Balisterri said. "Having those two guys on the left side of the field is going to be big for us." 
The freshman Jones and senior Pugh would likely man third when Woolbright's on the mound, and it's Pugh again who could get a shot a second, as will junior Eli Williams. 
"Second base is kind of up in the air right now," Balisterri said. "Eli Williams has been working there and is going to get an opportunity to win that position, along with Dalton Pugh. Pugh is going to be on the field somewhere. He can play multiple positions."
With Woolbright moved to third, Balisterri said little used junior last year and now senior Adam Sims has shown he can handle the first-base duties. 
"At first base we've got a kid who will probably be a surprise with Adam Sims," Balisterri said. "He's about 6-4, 6-5, big kid. He can move at first base. He's long and he's been a big surprise for us. He's been swinging it really well." 
Balisterri said senior Ethan Hambric will also see time at first, as well as at designated hitter. 
The Panthers also lose a main cog from last year's outfield in graduated senior Michael Allison, who hit .333 last season, but still return experience, especially with senior center fielder Peyton Hudgins. But, Hudgins, who also hit .333 and led the team with 18 stolen bases, is currently injured (calf), though could be close to returning when the official season begins with the Benton Invitational against Pine Bluff on Monday, March 2, at Everett Field at Panther Stadium, the site of today's Maroon & Gray game in Benton, which starts at approximately 1 p.m.
"Dalton (Pugh) can play any of the positions in the outfield," Balisterri said. "If we started tomorrow, Dalton would be in centerfield because Peyton has been hurt. He's day-to-day and don't really know when he's coming back. 
"Tristan Hawkins is going to play a lot of outfield for us, too. He'll probably play right field. 
"Kip Tracy is back and played a lot for us last year. He'll be our left fielder. He can move around and play different positions. Ethan Perry will help. Jake Green is a sophomore who can run and he'll help us out, too. We feel really good about our depth at each position." 
But, it will be no easy task to return to the state title game as the Panthers still have to be top four in a very tough 5A South Conference. 
"Our kids want to get back to where we were and we want to win it," Balisterri said. "I don't ever want to say we're tired of coming in second, because that's really, really good in high school baseball, but it's going to be tough. Our conference is going to be really, really tough. We've got nine Division I SEC guys that have committed and are in our conference. 
"Our first and foremost goal is to get back to the state tournament. We know if we get to the state tournament we can win it. That's our focus. Doing everything we can between now and the state tournament to make sure that we secure a spot." 
But, with any team losing key players, the Panthers still have plenty of question marks despite the talent returning. 
"There's going to be some ups and downs with some of the younger players," Balisterri said. "We don't really know for sure a complete starting lineup. We're not sure about what's going to happen at second base. We're not sure what's going to happen totally in the outfield. We're not sure what's going to happen behind the plate, on the mound. There's a lot of pieces that have to come together between now and when conference starts. 
"We'll find out a lot about this team in the next three weeks. Our tournament is really good and then we go to Sheridan and play in a really good tournament, and then we start conference. We're going to find out a lot about ourselves."