The Benton Everett Buick GMC (17U) junior American Legion squad stayed alive in the Junior State Tournament Tuesday in Sheridan. After falling in a 6-5 squeaker to Cabot Monday to open the tourney and fall to the loser's bracket, Everett came back to take a 6-3 decision over Carlisle on Tuesday.
It was a back-and-forth game on Tuesday with Everett taking a 2-0 lead in the first inning. Leadoff man Caleb Goines was hit by a pitch and Jackson Regan singled to center. Goines stole third before tagging home on Karsyn Buchanan's sacrifice fly to left field. Gustavo Rico courtesy ran for mound starter Regan and stole second before a Brendan Burks single plated Rico for the 2-0 lead.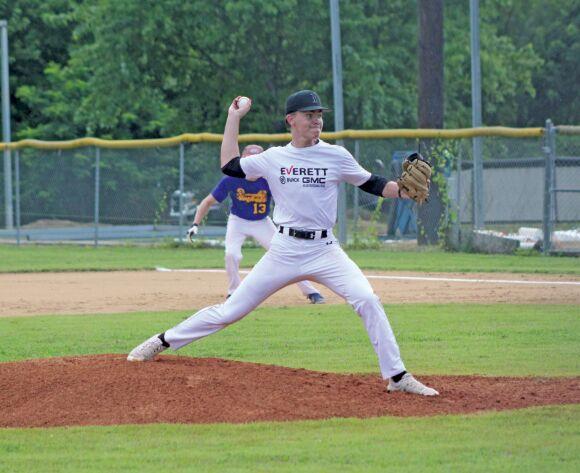 It remained a 2-run game until the bottom of the fourth inning when Carlisle tied things up, scoring on an error and RBI single. Carlisle loaded the bases with no outs in the fifth, scoring on a 6-4-3 double play, but that would be the only run scored to give Carlisle the 3-2 lead.
But, Benton retook the lead in the top of the sixth. Junior Acosta laid down a squeeze bunt to score Buchanan, who reached on an error, and Ethan Matthews singled in Zack Gurrieri for the 4-3 Everett lead. Acosta scored right after on an error for the 5-3 lead after six.
Benton tacked on a run in the seventh when Goines tripled and scored on Regan's single for the 6-3 final.
Regan earned the win giving up three runs (one earned) on four hits and a walk, striking out six in five innings pitched. Buchanan was absolutely dominate in two innings of relief, striking out all six batters he faced for the save.
Regan also went 2 for 4 at the plate, with Goines adding a multi-hit game going 2 for 3 with two runs. Buchanan, Burks, Acosta and Matthews all added a hit and RBI apiece, with Jake Green also garnering a hit.
Everett continues play in the tourney tonight at 5:30 in Sheridan.