Benton junior track and field athlete Sakari Faulkner was named to the Arkansas Track Coaches Association 5A All-Arkansas Team for her performance in the Arkansas Indoor High School Championships in late February. Faulkner would finish second in the shot put with a toss of 36-2.75 to earn the honor. 
"Sakari is a two-sport athlete (she also plays volleyball) and we get a lot of success out of our multiple-sport athletes in track and field," Benton girls Coach Randy Shaw said. "She's a great kid. She works really, really hard. She is very goal-oriented. She wants to be one of the best throwers in the conference and the state and she's up there right now as a junior. We've got one more year with her and she's going to be a really good senior and a really good track athlete at Benton High School."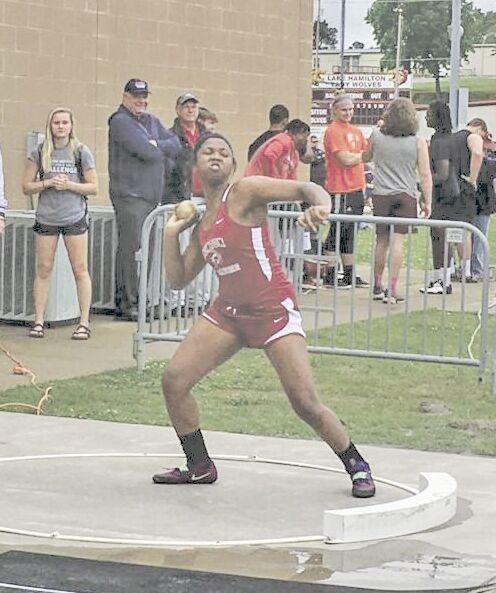 Shaw doesn't claim credit for Faulkner's success, though. 
"Coach (Garrett) Hammons is an assistant boys track coach and has taken over the throwing," Shaw explained. "We really team up and he is our throwing coach and does an awesome job with our boys and girls. That program they're going through, and the three years I've been the head girls track coach, he's been our throwing coach and he's done a great job evolving that throwing program and getting them really to buy into it. With strength training and all the stuff that goes along with it. 
"He works with (Faulkner) more than I do and does a lot of good things with the throwers."
The Lady Panthers were ready to take off this season as they dominated their host meet, the Benton Panther Invitational, to open the outdoor season and were set to compete at the Michael Tinsley Relays on Thursday, March 12. It was that same day sports came to a halt as Arkansas Gov. Asa Hutchinson postponed high school spring sports due to the coronavirus pandemic. The postponement eventually resulted in a canceled season. 
"First off, I hate it for the seniors," Shaw said. "We had some seniors we planned on having a great year this year. Had a good showing and won our host meet. We had a pretty dominate showing at that meet. The girls did a great job in the field events and I really hated to see it end that way because I had a very good feeling about this season. I thought we had a really good chance to compete in conference and state. 
"I really hate it for the seniors and we had a lot of juniors and sophomore that were going to have great years this year to build on. We kind of had a lost season."
The Lady Panthers will say goodbye to nine seniors: Lauren Baker (qualified for state in the high jump), Kate Beard, Grace Bowling, Kimaray Callins, Kya Carroll, Kelsey Fritzius, Mallory Furgason, Cintya Olvera and Erin Wade.