Hot Springs native, former Arkansas Razorback and WNBA All-Star Shameka Christon has been spending time in Benton lately. Christon, who moved back to Hot Springs after retiring from the WNBA to spend time with family, has been running skills and drills camps at the Boys & Girls Club of Saline County in Benton the past few months.
"It's for everyone," Christon said of her skills and drills. "It's not necessarily structured for one position. It's for everyone and it's skills that every player needs. You need to know how to dribble the ball. You may be the tallest player in junior high, high school, as I was too, but when I got to college, when I got to the league, I was a guard. There were girls taller than me, so I had to have guard skills, too. That's why it's very important that everyone get all the skills of basketball. It's only going to help and elevate your game."
Christon runs her skills and drills in Benton on Monday's and Tuesday's, from 5-7 p.m. She moves her camp to Little Rock on Wednesday's and Thursday's, and is open for individual sessions on Friday's.  
"As we continue to progress, there will be more camps strictly by position," Christon explained. "But with the way the game is going now, there's not really any true 5s (centers) anymore. Back to the basket is not really happening. My job is to give you that, but develop a mid-range shot, as well. You need to be able to shoot the ball; shoot threes as well, because that's where the game is at. The more you know, the better off. You become a versatile player."
And a versatile player is what Christon was forced to become after her days at Hot Springs. Standing at 6-2, Christon went to Arkansas under the tutelage of Coach Gary Blair and averaged 15.9 points and 5.8 rebounds during her four-year career, including netting the SEC Player of the Year her senior season after averaging 21.8 points per game, 7.0 rebounds and 1.7 assists, including hitting 36.4 percent of her shots from behind the arc and 75.9 from the charity stripe.  
"My time at Arkansas was great," Christon said. "I was recruited heavily coming out of high school. The recruiting process was a little stressful for me. The only other person who played basketball was my brother (LaJuan Christon) and he was already off to college, so I didn't know really what I was getting into. That day they were allowed to contact me, the letters, the calls just did not stop.
"I narrowed my choices down to LA Tech, Texas, University of Arkansas, Duke and Howard, only because it was like so far away. I ended up committing to Arkansas. As soon as I went up there, I enjoyed the campus, the people, my teammates, all of it. It was a great experience. It was my first visit and I committed right there and canceled my other visits."
Christon listed her most memorable moment in college coming during the SEC Tournament and some high accolades received from an idol.  
"We lost, but we were down by a lot," Christon said of an SEC Tourney game vs. Vanderbilt. "Coach came in and ripped us a new one at halftime. I think I had 12 points in the first half, and after he ripped me a new one pretty good, I scored 28 points, so I had 40 points for the game, but we still ended up losing by one point. 
"The game before that I scored 36 but got a busted lip and had to get stitches. I was so mad, but I'm walking up the stairs and I'll never forget, a voice said, 'Man, they didn't know what to do with you. You were just absolutely amazing.' I was like, 'Thanks, thanks," and I looked up and it was Cynthia Cooper. She was my idol. I was just so starstruck, and I don't really get starstruck, but I was starstruck with her because she was my favorite player." 
Cooper won two NCAA Tournament championships while at USC, gold medals with Team USA and was an introductory member of the WNBA, where she played five years for Houston averaging 21.0 points and 5.0 assists and won four WNBA championships, in 1997. 
Christon would come onto the WNBA seen almost a decade later as hard work paid off for the self proclaimed "late-bloomer." Christon would be selected the No. 5 overall pick in the 2004 WNBA Draft and went on to have a successful 11-year career.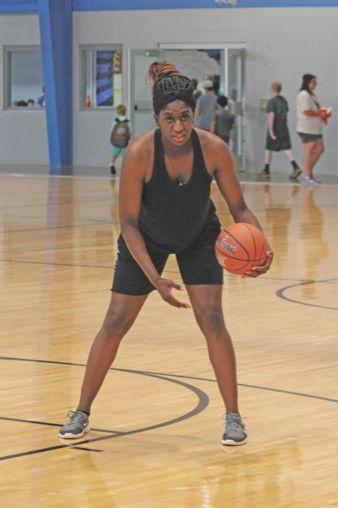 "I was very, very happy, but I had to work for it," Christon said of her first-round selection. "It was by far one of the best experiences ever. Just to know where I came from, it just made me that much more proud. People think of the latest, most recent thing that I've done, not when I first started. 
"I first picked up a basketball in seventh grade and I was godawful, so bad. I would shoot right over the basket. I had a coach literally tell me I'm raw meat and would never make it as a basketball player. I went home and cried to my mom. She was like, 'Hey, this is what you need to do. Either you go out there and prove him wrong or you quit. But just know if you quit, you're going to quit everything else in life.'"
Christon didn't quit and went on to become an All-Star for the New York Liberty in 2009 when she averaged 16.1 points, 4.9 rebounds and 1.9 assists, a long way removed from that "raw meat" seventh-grader.
"So my seventh- and eighth-grade year, I played two years up in AAU against boys the whole time," Christon said. "I played against my brother who is two years older than me. To this day I still can't beat him. I just made sure I stayed in the gym. It got so bad my dad said you have to get in the kitchen and learn how to cook, and I was like, 'No, dad.' I was a gym rat. I was trying to prove somebody wrong. It wasn't that I was passionate about it or that I love the game … I didn't figure that out until the ninth grade. For me to come from that to go first round, fifth pick, I'm very proud of it. 
"It was a lot of sacrifice. I was always away from my family because with the WNBA, we played in the summer, and then we would go overseas to supplement our income. We were literally playing basketball 12 months out of the year. That was tough, but at the end of the day I loved the sport. I was able to travel and meet a lot of different people, experience different cultures, eat a lot of different food, because I love food."
Christon was a success her first year playing overseas, as she won a championship with Israel in the 2004-05 season. Christon would definitely get cultured overseas as she went on to play in France, Spain, Russia, Poland, Czech Republic and Italy.
"I had a great career," Christon said. "In my sixth season I was named All-Star. I'll never forget all the work I put into that season, as well. I was invited to try out for the Olympic Team, and I got pretty far, but I ended up messing up my knee, which was a bummer because I felt like I was never the same player after that. 
"Once I got back, I ended up playing three seasons in San Antonio and then my last season in Phoenix. I was ready for family. Basketball as a career has been great. Getting paid to play basketball was great, but I was ready (to retire). But, I could still be around it by helping others, training others, because I had a great plethora of knowledge. I had great coaches in the WNBA, as well as Jr. Olympics and Olympics."
That family she was ready to get back to is her 12-year-old daughter Skylar, 8-year-old son Logan and the newest addition, 5-month-old Gauge. Of course, Christon credits her mother, Beverly, with overwhelming support. 
"My mom has been my biggest supporter through all the kids, period," Christon said.
Growing up in Hot Springs since she was 2-years-old, Christon was actually born in Springfield, Illinois. 
"I have no recollection of that because my mom only stayed there I think my first two years and then she moved back to Hot Springs, so I was raised in Hot Springs, so that's all I know," she said. 
And from Hot Springs to Fayetteville to the WNBA to playing overseas, Christon lists Becky Hammon, the current San Antonio Spurs assistant coach and longtime WNBA player, as her best friend from her playing days.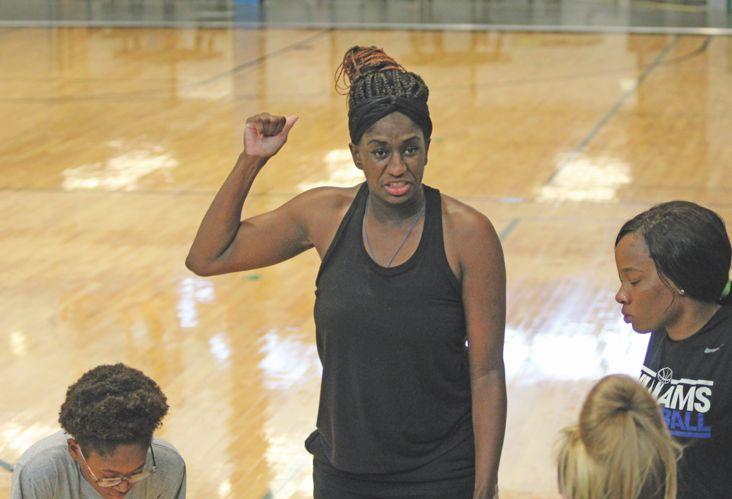 "Becky Hammond is still to this day my go-to person," Christon said. "We take family vacations together. Obviously she's busy because she coaches for the Spurs right now, but she was my go-to person. We played a lot overseas. She was probably the one player I played the most with because we played in New York for six years and overseas another three to four years together and against each other, as well.  And we played in San Antonio another three years. 
"She is my go-to person for everything, on and off the court. She is such a great person, a great friend to have. She doesn't know it yet, but I'm going to have her come talk to some of my campers. She'll come. I love her to pieces."
Christon also played under some legendary coaches, as well, from Blair at Arkansas, UConn Coach Geno Auriemma in the Olympics (where Christon won bronze in 2001) and Anne Donovan with the New York Liberty.  
"I really enjoyed Coach Gary Blair," she said. "He's just a great guy. He's a great basketball coach, but he's a very genuine, great guy, so I really appreciated having him as my coach for three years. Overall I had a great experience. I love Fayetteville, it's a great city. 
"Gary Blair and Gino Auriemma because I've never been cursed out more in my life, but I respected him because you know he knows his X's and O's, but his delivery, you just got to be ready for it. He says exactly how he feels and you just deal with it. I remember Gary Blair, he said, 'Oh, so he makes me look like a Charmin's Little Angel.'
"In the WNBA, I'm going to say Ann Donavan, rest her soul, she was great. X's and O's. She used to tell me, 'Shameka, you're too nice. You come from Arkansas, I get it, but you can be nice off the court. You have to be able to be that B.' She was an Olympian, won medals coaching as well. She was amazing."
And playing under some excellent tutelage, Christon has much to offer to those she mentors.  
"I learned so much and that's why I've come back and I'm here and just training," she said. "I give all my players this knowledge. More than anything I want to instill a confidence in them. Especially around this age, it's all about the confidence. It's so easy to say, 'I can't do it, I quit.' I was that same player, I had that same option to just quit. I didn't and it paid off for me. 
"I want to start at Pre-K because the sooner you start, the better chances you have as well. I'm not saying it's impossible because I was a late-bloomer and still made it to the top of the league level."
"I want to help out as much as I possibly can, but at the same time I'm just one person," she said. "Normally when I have my big groups, I'll bring my brother because he is a basketball genius. He has a basketball mind. He trained his sons and they have played at college with one still at LA Tech now. He went to college to play. He has a son, a sixth-grader, who is a beast, he trains them. He has a daughter in fifth grade, who is just starting out, and she will also be a beast. He helps me with my big, big groups just to make sure every client is getting the attention they need and I'm not spread too thin. 
"Technically he taught me. I had to play against him and he didn't take it easy on me at all. He treated me as if I was a guy. It paid off. He has that basketball mind, as well."
Christon said she's in it for the long haul.  
"If anybody wants to come train with me, I'm definitely here and passionate about it," she said. "If you want to learn, I'm here to teach you because basketball has treated me so well. I'm here for any type of basketball, and it's not just girls. I love what I do. I love the game. It's not work for me."