It's been a whirlwind the last few years for former Bauxite Miners multi-sport star Ben Madison. After leaving Bauxite for college ball, Madison started his next step at Crowder College in Neosho, Missouri, and would come closer to home the next two seasons, dominating at Central Baptist College in Conway. 
In those three college seasons, Madison would finish 17-11 with a 3.26 ERA, striking out 376 batters in just 234.1 innings, a 14.4 strikeout-per-9-inning rate. 
After his junior year at CBC, in which he struck out 172 batters in 96.2 innings, he and some teammates headed to Minnesota for summer ball. It was there where he got the heads up of possibly something special on the horizon. 
"I was in Minnesota to play summer ball, me and a few guys from CBC," Madison said. "Coaches and people were telling me, 'Hey, you did your thing in college ball so don't be surprised if you get drafted.' I'm a humble person and when I see that I wouldn't continue on the conversation. I smiled and said thank you, but that's not what I really want. I just want to have a good season for all four years until I get drafted."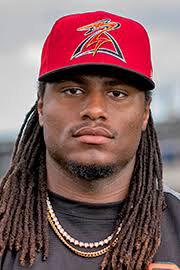 "I think I was in Minnesota for like four days. I pitched one game in Minnesota: six innings, I think, 12 K's, one hit. Two days after that my agent called me and he said, 'Hey, today's the big day.' We talked about what was going on, a few hours passed and it was a few picks before the Giants, and he was like, 'So, Ben, how do you think you would look in orange and black?' I said, 'I'm down for it, I'm all in.'"
That fourth year of college ball wouldn't come as the San Francisco Giants selected Madison with the second pick of the ninth round, No. 256 overall, and it blew Madison away. 
"I didn't know I was going to get drafted that high or that early," he said. "I got picked and that was breathtaking, for sure. Just knowing with what all I've been through growing up, what I had to do to succeed in baseball with people doubting you. I had to keep my head up and prove it to them on the field. But as soon as I got drafted, that was the greatest moment of my life. My mom, my brother and sister were all crying and calling me. I was an emotional wreck that day, but also a joyful moment."
Those joyful moments kept coming for Madison, who started his professional career in Rookie ball with Giants Orange in the Arizona League, striking out 23 batters in 16 innings with a 3.38 ERA in his short stint after getting drafted. 
Madison began the 2019 year with the Augusta (Georgia) GreenJackets (Class A), and though going 4-0 with a strikeout an inning, he had a 4.58 ERA and was moved to A- for the Salem-Keizer Volcanoes. It was in Oregon where Madison got back on track, going 2-0 with a 1.95 ERA, striking out 33 in 27.2 innings. Mostly starting on the mound throughout his baseball career, the Giants decided to make a change with Madison to relief. It worked out well. 
"I got drafted as a starter and they started me off my rookie year as a starter," he said. "And then they looked at my stats and I was touching 94, 96 (MPH) the first three, maybe three and a half innings. They had a talk with me and said they were going to start me off in middle relief and see how I like it. I loved it and they pulled me aside and asked me how I would like being middle relief/closer. I said let's give it a shot and I've been succeeding since then. I really love it. I really loved starting, too, but they knew what was perfect for me."
The 6-3, 205-pound Madison finished 2019 with a 6-0 record, a 3.04 ERA and also notched a save between the two squads on the opposite ends of the United States. Madison currently holds a 3.14 ERA and a 10.7 strikeouts-per-9-innings in just over a year of minor league ball, but 2020 couldn't have started better for him. 
While getting drafted was a dream come true for Madison, he had another dream fulfilled when the Giants brought him on as a non-roster invite (a player not on the team's 40-man roster) during spring training. Madison would see his first action with the big-league club on March 8 and he made the most of it. 
"That was actually my fourth game going in a big league spring training game," Madison said. "I warmed up a few times in the bullpen with professional catchers and professional bullpen guides there watching you and giving you advice."
But it wasn't just bullpen work this time. Madison's name was called and he entered the game against the Seattle Mariners in the top of the fourth inning with two outs and runners on the corners in relief of 12-year MLB veteran Jeff Samardzija, in a 1-1 game. 
"That was the best moment of my life," the 22-year-old Madison said. "Just hearing your name getting called to go in the game with all those people there … growing up, that was my biggest goal to get to, just having that feeling coming from the bullpen to the mound in front of thousands of people."
Madison would also have a cherry on top of that as he was throwing to a former MVP, Rookie of the Year, Gold Glover, batting title winner and three-time World Series champion, catcher Buster Posey.  
"With me being a pitcher, Hall of Famer Buster Posey catching me, that was the most exciting part of my life, because I grew up watching Buster Posey," Madison said. "I still get chills thinking about that time."
There's no doubt that anyone's nerves would be on high alert in that situation and it showed as Madison walked the first batter he faced, Tom Murphy. But, Madison settled down to get the next man, three-time stolen base champ Dee Gordon, to line out to shortstop and get out of the inning. 
The tie ballgame would become untied the next inning as Hunter Pence and Jaylin Davis both hit solo home runs to give the Giants the lead for good in an eventual 8-4 win. Madison picked up the win. Not bad for a third of an inning. 
"I was so excited just to get an out, just to step on the mound," he said. "And then coming in with a runner on first and third was a little nerve-wracking. I think it was a tie ballgame and we came out and scored two or three, held them … actually my physical trainer was talking about that I would probably get the win (if the Giants held on). I was just smiling the whole game and the next thing you know I got the win."
But, with Madison's elation on March 8 with his first big-league action, it was just a few days later when everything came to a screeching halt. The coronavirus COVID-19 reared its ugly head and baseball was put on hold across the country. 
Madison was hoping to start the minor league season with either Augusta or A+ San Jose (California) Giants, but with the minor league season in serious doubt, it's all up in the air right now.  
"I talked to my pitching coach in Augusta, Georgia, for the Green Jackets," Madison said. "I started off there early last year. I was having a talk with him and told him I want to get to high-A and asked him what I have to do to get to high-A. He gave me the rundown of working on it day by day, practice, the weight room. A few days later he told me I was going to the big league game. Be ready."
Currently living in Chino, California, Madison isn't sure about the future right now. 
"I do not," he answered of knowing of future plans. "I follow ESPN a lot and follow it on my phone. They haven't said much about minor leagues. I've seen teams are getting back to work in the facilities, but I haven't really heard much about minor leagues. I'm going to always stay ready just in case something does happen. I'm going to always be ready."
"Just jogging around my apartment, doing core workouts, a little leg, a little arm/shoulder care," he said. "I really don't have a throwing partner, but they just said stay in shape. Just jogging, building my stamina up and a lot of core."
But whatever happens next, Madison will be ready.  
"This last year and a half … I have a baseball bag, I have a cleat bag and a little duffel bag with all my clothes, basketball shorts, shirts," he said. "I really haven't unpacked my suitcase in a year and a half because I know I'm always on the road."
But there is one sentiment we can all get on board with.  
"I'm itching for baseball," Madison said.